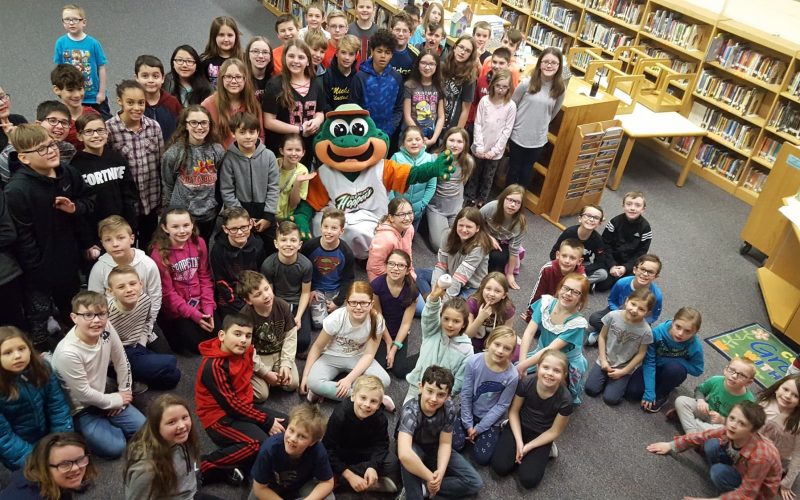 The USPBL Is Ready To Race Into Reading Month
February 11th, 2020
ROCHESTER, Mich. – February 11, 2020— The United Shore Professional Baseball League Reading Program is gearing up for another packed March, as reading month is starting in three weeks. This free opportunity is offered to any school that wishes to provide an incentive to its students for achieving reading goals. The reading goals are set by the teachers and they can include anything from reading a set number of books, to reading a set number of minutes a day, to turning in literacy assignments, participating in spirit days, or completing the popular One School, One Book program. Each student who achieves the reading goal set by their teacher receives one free ticket to a USPBL baseball game this summer at Jimmy John's Field (May 8-Sept. 13). Educators that assist with the program also receive a free ticket.  At the baseball game, all USPBL Reading Program achievers are welcomed on to the field prior to the game for special recognition.
"I encourage any school who wants to add a little extra fun to their reading month activities to enroll, and give their students a chance to be rewarded for all of the hard reading they do during March is Reading Month," said USPBL Community Relations Manager Heather Cook.
USPBL Reading Program Enrollment is open at this time, and this year's participation comes with an extra perk. All schools enrolled and participating in the 2020 USPBL Reading Program will be eligible to win one of three $100 gift cards for classroom supplies as a thank you from the USPBL for helping assist their students earn a ticket to a game at Jimmy John's Field.
"Lake Shore Public Schools looks forward to participating in the USPBL Reading Program every year. In addition to our own reading activities like One Book, One School, author visits, and peer reading pals, the USPBL Reading Program allows us to continue fostering reading in a personalized and incentivized way," said Lake Shore Public School's Digital Media Coordinator Tasha Candela, who helps coordinate reading month activities for the district.
As USPBL CEO and Founder Andy Appleby said, "I learned to read through collecting baseball cards when I was a young boy, so we understand how sports can make reading such a positive experience. We have achieved record participation numbers of more than 50,000 students with this program, and now, in our fifth year, we know this is a wonderful way to interact with the students in these great communities during March is Reading Month. We look forward to recognizing their accomplishments at Jimmy John's Field along with our 2020 USPBL Reading Program sponsors Hungry Howie's and CGC Water Treatment."
Follow the USPBL through reading month as the league and its team mascots visit Metro Detroit Schools and encourage students to reach their reading goals. If you are an educator and would like to enroll your school before reading month, please contact Heather Cook at hcook@uspbl.com or 248-266-8264.
#USPBL