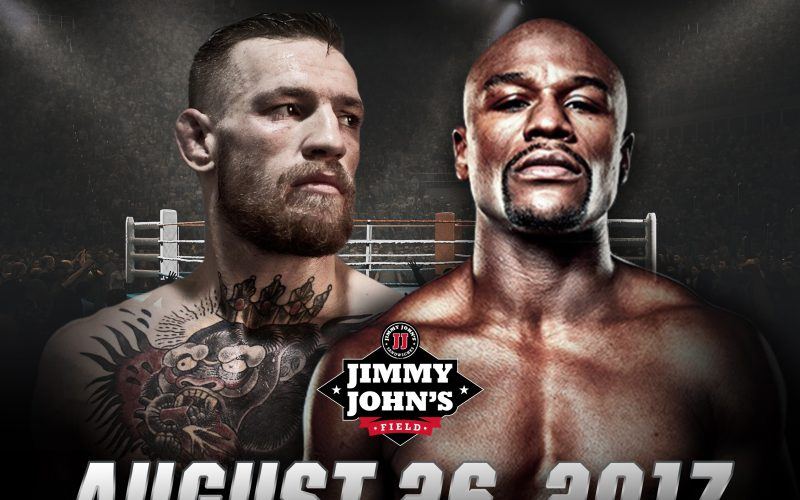 Mayweather vs. McGregor AAA Clubhouse
Saturday, August 26th, 2017
9:00 PM
Saturday, August 26, 2017 We will Show the Mayweather vs. McGregor Fight in the AAA Clubhouse at 9:00pm
Mayweather vs. McGregor in the AAA Clubhouse, Saturday, August 26, 2017 at Jimmy John's Field.
We will be hosting a private viewing party inside the AAA Clubhouse starting at 9:00 pm!!!!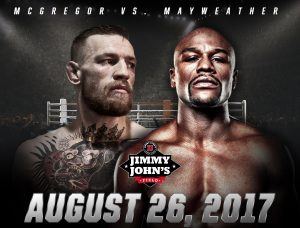 $50 Advanced Ticket includes complimentary buffet, 1 drink ticker, appetizers, dessert!! And also viewing of the event!
Tickets for the fight event must be purchased separately from tickets to the 7:05 pm USPBL baseball game at Jimmy John's Field on August 26. 
Add on fight tickets to an existing game ticket!
$25 add on to a grandstand seat
$30 add on to a lawn seat
Buffet Menu:
The Tenderloin Dugout- Action Station with Beef Tenderloin with an array of gourmet fixings: Garlic Mushrooms, Sautéed Onions, Asparagus Tips, Crumbled Blue Cheese, Lump Crab, and Chef Joe's Zip Sauce
Corned Beef Reuben Egg Rolls with Brown Ale Mustard
Smoked Wings with Spicy-Buffalo Blu , Bourbon BBQ, Hoisin Lime Sauces
Ribi's Crab Cakes with Spicy Chipotle Aioli and Crudité
Classic Triple Play Wedge with Candied Bacon, heirloom Tomatoes' and Crumbled Blu
Spicy Shrimp Margarita Shooters
Jim Beam Banana Fosters Station with toppingsClick here for tickets or call the Box Office at 248-601-2400 ext. 1.
Buy Tickets