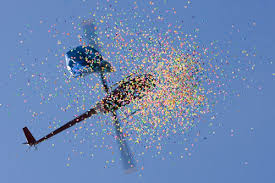 Helicopter Candy Drop for Kids / Memorial Day Weekend All-You-Can-Eat Buffet
Sunday, May 28th, 2017
1:35 PM
Helicopter Candy Drop for Kids after the game presented by MCDental Care / Memorial Day Weekend All-You-Can-Eat Buffet
Come and rock with the kids of Rock 'n Roll Prep School! These headliners will be play throughout the entire game leading up to a helicopter candy drop presented by MCDental Care at the very end! Yes, hundreds of pounds of candy will be dropped from the sky via helicopter. Kids are then welcome to charge the field and collect their favorite candies to take home! SWEET victory!
Memorial Day Weekend Buffet Ticket – $20
Includes Party Patio Game Ticket and All-You-Can-Eat BBQ Buffet in the Chevrolet Pavilion from 12:30 pm – 2:00 pm featuring smoked pulled pork, smoked chopped chicken, chips, corn on the cob, coleslaw, watermelon, and unlimited soft drinks and water.  Party patio ticket allows you to stay in the Chevrolet Pavilion to watch the game,  Game starts at 1:35 pm.
Upgrade to a seat in Grandstand for $5.
Buy Game Tickets