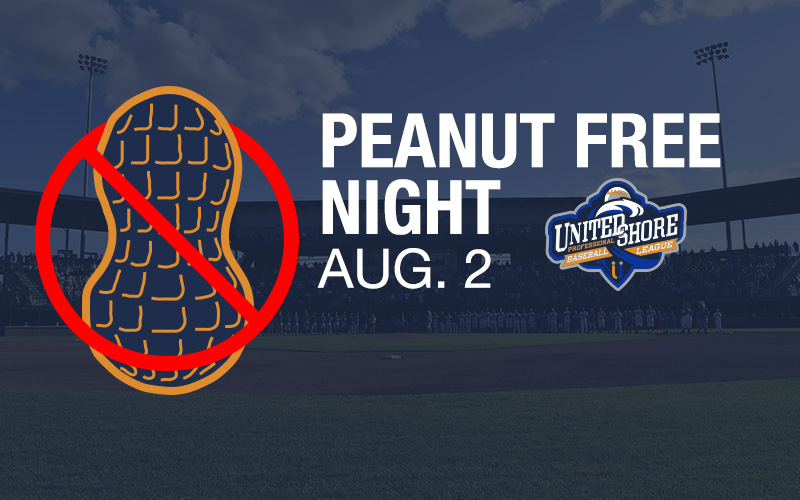 Peanut Free Night Returns to Jimmy John's Field on Aug. 2
February 20th, 2018
ROCHESTER, Mich. – The United Shore Professional Baseball League will host the third annual Peanut Free Night game at Jimmy John's Field in Utica, Mich., on Thursday, Aug. 2. The Westside Woolly Mammoths will tangle with the Eastside Diamond Hoppers and first pitch is slated for 7:05 p.m.


"We are excited to offer Peanut Free Night once again at the ballpark," said Owner and CEO Andy Appleby. "We have received so many letters from parents thanking us for their kids finally getting a chance to see a baseball game without the threat of becoming ill."
Many fans that love the game of baseball are prevented from attending games due to a threatening allergy to peanuts, but Peanut Free Night at Jimmy John's Field gives those fans an opportunity to watch baseball live. The USPBL will create a menu for the night to accommodate baseball fans who are allergic to peanuts.
"You made a huge impact on my 9 year old daughter, who has a very severe peanut and
tree nut allergy," said Melissa A. in a testimonial to the USPBL. "I am so thankful you did this!!! I am so happy for my girl! Keira was FINALLY able to attend a baseball game and be safe at the same time. Jimmy John's Stadium went above and beyond. I am so thoroughly impressed and cannot praise them enough."
In order to purchase tickets for this game, please click here.


#YourSummerDestination