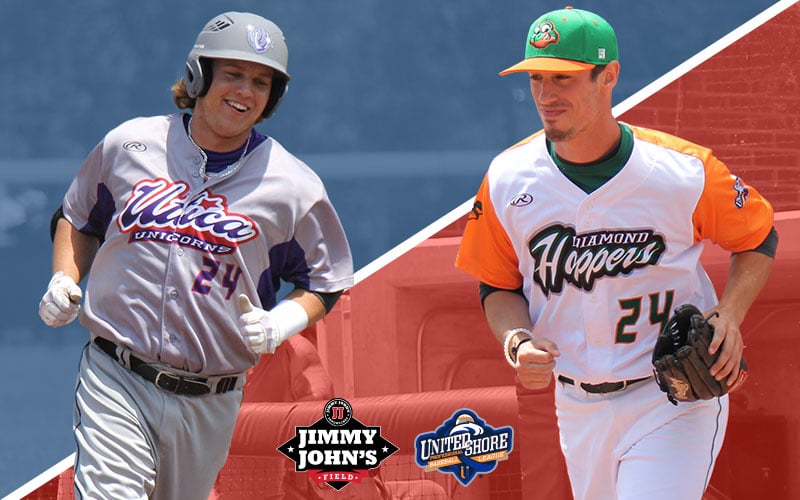 Kraft and Lollio Headed to Switzerland for Swiss Reality TV Show
June 18th, 2018
ROCHESTER, Mich. – The United Shore Professional Baseball League will partake in a Swiss Reality Television Show, Job Swap, announced by the league office on Monday. Eastside Diamond Hoppers' John Kraft and Utica Unicorns' Nicco Lollio will compete in Switzerland on a Swiss baseball team on June 20-24, and two Swiss baseball players will compete in the USPBL at Jimmy John's Field in historic downtown Utica, Mich.
"This allows the USPBL to extend our development system to international players and simultaneously allows our players to experience the game of baseball in a new culture," said Director of Baseball Operations Justin Orenduff.
The USPBL invites all fans interested in being in the TV show to attend a send off for Kraft and Lollio on Tuesday, June 19, from 4-5:30 p.m. at Jimmy John's Field. Players, staff, friends and fans will gather in front of the ballpark to wish the two players well in their professional debuts in Switzerland.
Kraft is an outfielder on the Diamond Hoppers and is in his second year. He batted .500 in last year's USPBL playoffs and played collegiately at Coppin State University. Kraft grew up in Nuttley, N.J.
"I'm excited and honored to be able to represent the USPBL as we head over to Switzerland," said Kraft. "I am very thankful for this opportunity and I am looking forward to competing against my Swiss counterparts and learning more about their culture."
Lollio is a native of Carleton, Mich., and is in his second season with the Unicorns. Lollio hit six home runs last season and has one so far this year. He played his college baseball at St. Catherine College in Kentucky.
"I'm super excited to experience their culture and bring a little of ours to them," said Lollio. "It's not every day that you can say you have an opportunity to play professional baseball here in the United States and overseas in the same year."
The USPBL and Diamond Hoppers' Manager Paul Noce will welcome the newest members of the Hoppers on Thursday at the conclusion of practice at Jimmy John's Field. The two Swiss players will compete in a game on Sunday, June 24 against the Westside Woolly Mammoths at 1:05 p.m.
#YourSummerDestination