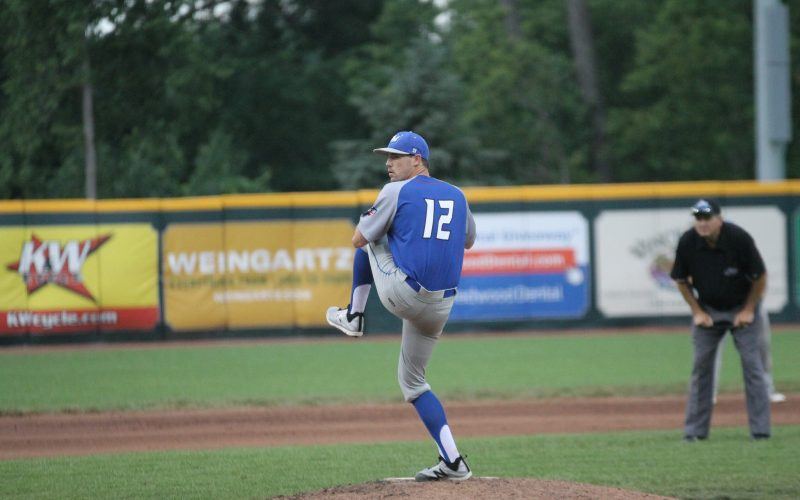 Holcombe Throws Gem, Leads Mammoths to 4-0 Victory
July 14th, 2017
By Steve Marowski
Westside Woolly Mammoths 4 vs. Utica Unicorns 0
Utica — In a rematch of starting pitchers from the USPBL All-Star Game, Donny Murray and Jeremy Holcombe battled each other on the mound, but it was Holcombe and the Mammoths who took home a 4-0 victory.
Holcombe threw seven innings of shutout baseball, gave up just two hits, walked two batters and struck out six. Holcombe now leads the league with five wins in the 2017 season.
"My fastball was pretty good, but the curveball was really the game-changer for me tonight," Holcombe said. "This was probably the best it has been here [in the USPBL]."
The Mammoths opened the scoring in the top of the fourth inning when Ethan Wiskur scored on a fielding error.
In the sixth inning, Kyle Hamner hit an RBI single to extend the Mammoths lead to 2-0. The Mammoths scored twice in the top of the ninth on an RBI single by Riley Palmer and a double steal which allowed Kent Blackstone to score.
Murray started for the Unicorns and threw exceptionally well. Through 6 1/3 innings, he gave up two runs, but only one was earned. He scattered six hits, walked two and had seven strikeouts.
Murray now leads the league with 56 strikeouts this season.
"Hats off to Jeremy Holcombe, he pitched a great game," Mammoths Manager Shane McCatty said. "Our bats aren't there yet, but they came through when we needed it.
Upcoming Games
Saturday, July 15, Eastside Diamond Hoppers vs. Utica Unicorns, 7:05 p.m. (WCSX Classic Rock Saturday/Girl Scouts Sleepover)
Sunday, July 16, Westside Woolly Mammoths vs. Birmingham-Bloomfield Beavers, 1:35 p.m. (Buzz Bobblehead Giveaway)
Standings
1. Eastside Diamond Hoppers 14-12
2.Utica Unicorns 14-13
3. Westside Woolly Mammoths 13-13
4. Birmingham-Bloomfield Beavers 12-15