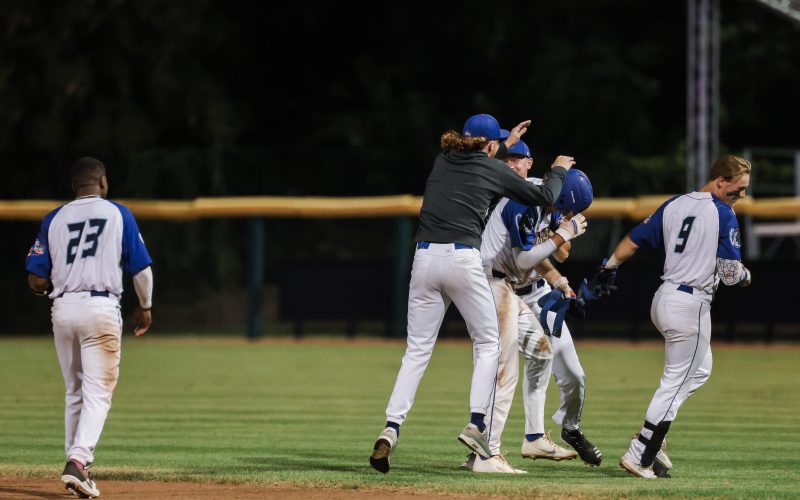 Mammoths Clip Beavers, 7-6
UTICA, Mich. – Dre Williams-Nelson scored the walk-off, game winning run in the bottom of the ninth inning to lead the Westside Woolly Mammoths (27-18) over the Birmingham Bloomfield Beavers (21-23), 7-6, in their last regular-season games at Jimmy John's Field on Friday night.
The Beavers and Unicorns will face off again in the first round of the USPBL Playoffs on Thursday night at 7:05 p.m. The winner of that game will take on the No. 2 seed Eastside Diamond Hoppers (22-20) on Friday. The Championship game will feature the winner of that game against the regular season champions, the Westside Woolly Mammoths on Saturday at 6:05 p.m.
Despite giving up two early home runs, RHP Nathan Witt pitched a strong 3.0 innings for the Mammoths, striking out six of the 12 batters he faced. Jonathan Haab picked up the win, improving his record to 4-0 in the regular season. Burle Dixon and Nick Lucky each drove in two runs for Westside.
For the Beavers, Chris Davis hit his seventh home run of the season off the first pitch of the game. Davis finished the night 2-for-3 with two runs scored. Christian Ortega also hit a home run, giving him two home runs in the last two games. Rudy Ramirez finished with one hit and three RBIs. The Beavers scored one run in the top of the ninth, tying the game.
#ThePlaceToBeIn2023