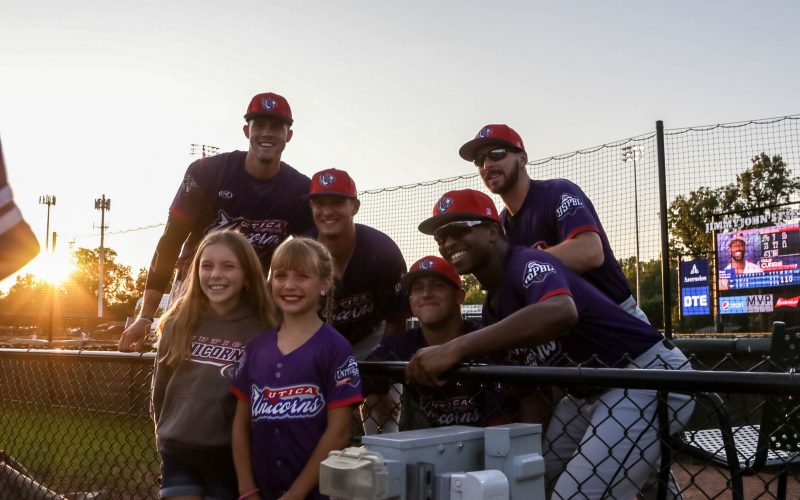 Big Inning Leads to 6-4 Win for Unicorns
July 31st, 2019
UTICA, Mich. – Right-handed pitcher Donald Goodson (2-1) tossed 6.2 strong innings, striking out a season-best eight, while Eric Jones went 3-for-5 with two RBIs and a double to lead the Utica Unicorns (18-17) to a 6-4 victory over the Birmingham Bloomfield Beavers (17-16) on Wednesday at Jimmy John's Field.
The Unicorns used a six-run fourth inning to hold on for the two-run win. Dan Elliott and Ashton Bardzell each went 2-for-5 for the Unicorns. RHP Nolan Clenney recorded his third save of the season, tossing 1.2 innings and striking out three on his hometown's City of Novi night.
Adam Gauthier drove in three of the four runs scored by the Beavers, going 1-for-4 with a double. Alec Olund finished 2-for-5 and RHP Jared Price tossed 4.1 scoreless innings in relief.
The Beavers will take on the Eastside Diamond Hoppers on Thursday night at 7:05 p.m. It's Andy Appleby Bobblehead Night and the first 1,000 fans will receive this collectable item. It's also Thirsty Thursday with $2 Bud/Bud Light and $5 craft beer specials.
#MakeTimeForFun
#YourSummerDestination
#UnicornsUnite