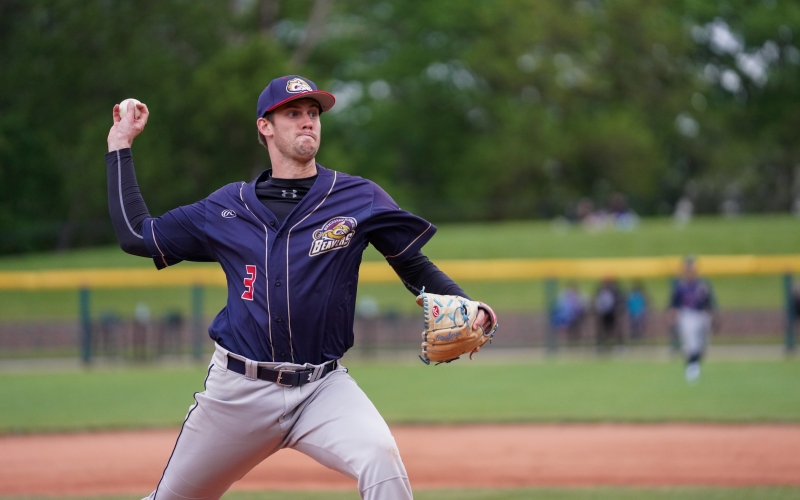 Beavers trounce the Unicorns by a score of 10-1
June 3rd, 2021
UTICA, Mich – The Beavers (1-2) trounced the reigning champ Utica Unicorns (2-1) by a score of 10-1 on Friday at Jimmy John's Field. 
Birmingham Bloomfield Beavers pitcher A.J Kullman went 5.0 innings and racked up seven strikeouts while only allowing five hits that resulted in zero earned runs.
Left fielder Roy Verdejo powered the Beavers offense to the win, going a stellar 2-4 with three RBIs as a result of two home runs and crossed the plate twice. Travis McFarland chipped into the effort with a 2-3 performance, knocking in three runs and crossing home plate twice. The squad managed to drive in five total home runs, which ties a league record for most in single game.
Max Foody was the lone bright spot in an otherwise tough day for the Unicorns pitching staff, throwing 1.2 innings of shutout baseball, allowing just two hits and adding two strikeouts. Malik Blaise, Jonathan Hodo, and Marques Irving led the Utica offense each going 1-3. Frankie Lusca achieved the only run scored for the Unicorns on an error.
The Unicorns suffer their first loss of the season, moving to 2-1 while the Beavers pick up their first win in dominant fashion to move to 1-2 in 2021.
Friday, June 4
Eastside Diamond Hoppers (1-1) vs Westside Woolly Mammoths (1-1), 7:05 p.m. (Gates open at 6 p.m.)
Promotions: Meet the Mammoths, Fireworks Spectacular – Read More
Saturday, June 5
Birmingham Bloomfield Beavers (0-2) vs Westside Woolly Mammoths (1-1), 7:05 p.m. (Gates open at 6 p.m.)
Promotions: Country Music Night featuring American Ages Band – Read More
Sunday, June 6
Utica Unicorns (2-0) vs Eastside Diamond Hoppers (1-1), 1:05 p.m. (Gates open at Noon)
Promotions: Princess Day presented by F45 Training, Princess Brunch, Kids Crafts – Read More
#BringingBackTheFun