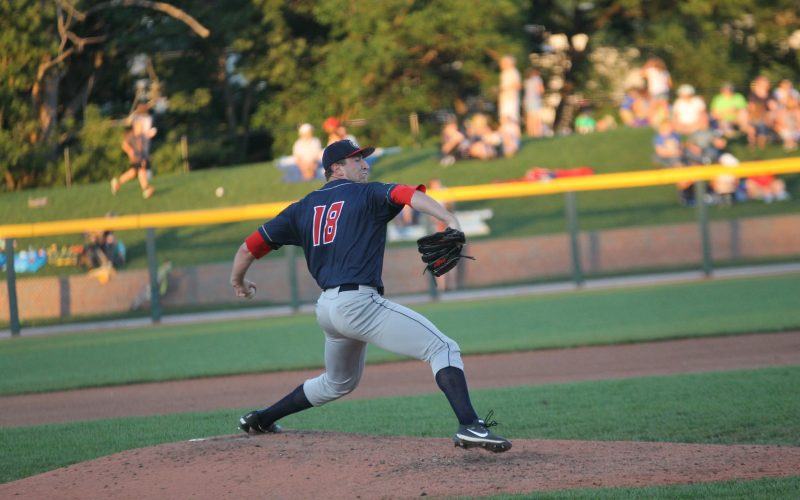 Beavers Marnon Signs with Twins Organization
July 28th, 2017
By Zach Libby
Utica — Kevin Marnon wasn't expecting to hear anything the day of the MLB Draft back in June, but still had hopes of continuing his baseball career. 
He also didn't think his time with the USPBL would end so soon. 
Marnon, the 23-year-old and native of Shelby Township, Michigan, said goodbye Thursday when it was announced that he signed with the Minnesota Twins organization. 
The former left-handed pitcher of the Birmingham-Bloomfield Beavers is expected to join the GCL Twins of the Gulf Coast League in Fort Myers, Florida. He's the 16th player from the league to be signed by an MLB affiliate and the third this season.
"The goal is obviously to make it to the show," Marnon said. "I just have to keep working hard, get a little bit better every single day and learn from the guys at that level."
Marnon's time at Jimmy John's Field began when his head coach at Ball State University, Rich Maloney, reached out to manager Chris Newell helped organized a tryout with the Beavers. 
"[Newell] is like a second father to me," Marnon said. "I've known him for just a short time but we have a very good relationship and we'll definitely keep in touch down the road."
Marnon spent last summer playing for the Kalamzoo Growlers, a summer collegiate baseball team in the Northwoods League. After a brief bullpen session, the 6-foot-7, 246-pounder immediately earned a roster spot that same day. 
Since his debut on June 8 against the Westside Woolly Mammoths, Marnon has not lost one game in 16 appearances while having an ERA of 1.72 and WHIP of 1.53. 
His 29 strikeouts are only behind former pitcher Kevin Matthews, who's currently with Double-A Gwinnett of the Atlanta Braves organization. 
Third baseman Alex Maloney was the first player from the USPBL to leave this season. He signed with the Chicago White Sox on May 24. 
"It's always an awesome experience," Marnon said about playing for the USPBL. "You get to play in front of great crowds every game and you're treated like a professional. It's just a great atmosphere, I was fortunate for the opportune to play here."