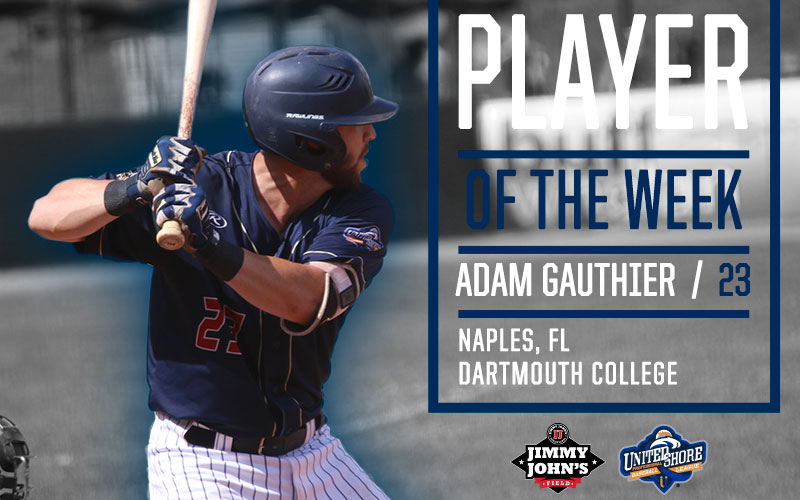 Adam Gauthier Collects USPBL Player of the Week
September 3rd, 2018
ROCHESTER, Mich. – Adam Gauthier earns the final United Shore Professional Baseball League Player of the Week accolades for the 2018 season, announced by the league office on Monday. Gauthier helped lead the Birmingham Bloomfield Beavers to the No. 1 seed and third consecutive USPBL regular-season title.
A native of Naples, Fla., Gauthier hit .500 (6-for-12) for the week, with a home run, six runs batted in and scored four runs. He posted an impressive .833 slugging percentage and .500 on-base percentage. Gauthier ended the season on a four-game hitting streak.
Championship Weekend has arrived at Jimmy John's Field. The No. 3 seed Utica Unicorns will take on the No. 4 seed Westside Woolly Mammoths on Friday night. The winner advances to face the No. 2 seed Eastside Diamond Hoppers in the semifinals. Winner of that game plays the top-seeded Beavers for the championship on Sunday.
To purchase tickets for championship weekend, please click here.
PLAYERS OF THE WEEK
Week 1 (May 11-13) – Chris Mangus, 1B/DH, Eastside Diamond Hoppers
Week 2 (May 14-20) – Ethan Wiskur, OF, Westside Woolly Mammoths
Week 3 (May 21-27) – Jalin Lawson, 2B, Westside Woolly Mammoths
Week 4 (May 28-June 3) – Spencer Ibarra, OF, Utica Unicorns
Week 5 (June 4-10) – Carter Grote, INF/OF, Utica Unicorns
Week 6 (June 11-17) – Ryan Smith, OF, Birmingham Bloomfield Beavers
Week 7 (June 18-25) – Cody Brown, RHP, Utica Unicorns
Week 8 (June 26-July 1) – Dan Ward, 3B, Utica Unicorns
Week 9 (July 2-8) – Jimmy Latona, C, Utica Unicorns
Week 10 (July 9-15) – Jack Hranec, 1B, Birmingham Bloomfield Beavers
Week 11 (July 16-22) – Gunnar Buhner, INF, Eastside Diamond Hoppers
Week 12 (July 23-29) – Dan Ward, INF, Utica Unicorns
Week 13 (July 30-Aug. 5) – Brandon Rawe, OF, Birmingham Bloomfield Beavers
Week 14 (Aug. 6-12) – Dan Elliott, 1B, Utica Unicorns
Week 15 (Aug. 13-19) – Ethan Wiskur, OF, Westside Woolly Mammoths
Week 16 (Aug. 20-26) – Ethan Wiskur, OF, Westside Woolly Mammoths
Week 17 (Aug. 27-Sept. 2) – Adam Gauthier, C, Birmingham Bloomfield Beavers
#YourSummerDestination