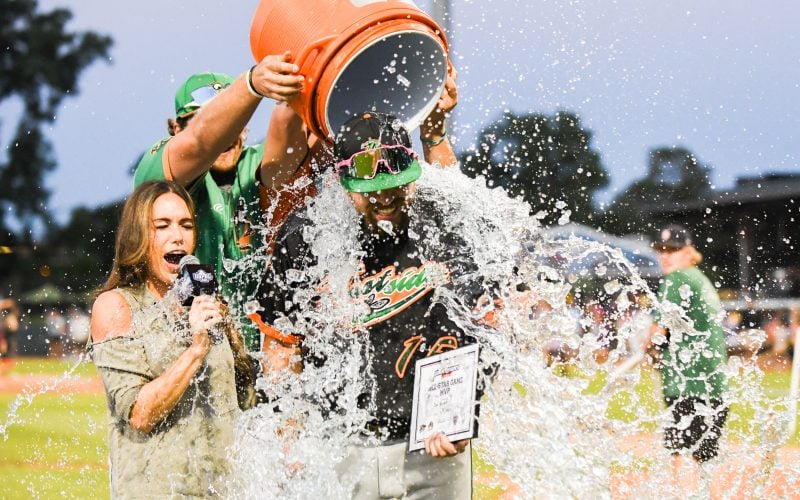 2022 Home Run Derby and All-Star Game
July 9th, 2022
UTICA, Mich. – The USPBL hosted its annual Home Run Derby and All-Star Game in front of a packed out ballpark on Saturday night.
The evening kicked off with the Home Run Derby, which showcased six of the league's best sluggers: Eastside Diamond Hoppers Joe Burke and Nick Kreutzer, Westside Woolly Mammoths Greg Vaughn Jr. and Buddy Dewaine Jr., Birmingham Bloomfield Beaver Dakota McFadden, and Utica Unicorn Ari Sechopoulos.
The Home Run Derby was comprised of three rounds with each hitter getting two minutes and thirty seconds to hit as many bombs as he can.
McFadden took home the title of Home Run Derby Champion as he broke a USPBL record, hitting a total of 39 home runs. He hit 9 in Round 1, 12 in Round 2, and 18 in Round 3.
Upon receiving awards, a humbled and honored McFadden said, "Every day you wake up, there's a chance to be great, and everybody out here can believe it, and achieve it, and do anything that they want to do by the grace of God and themselves."
The All-Star Game immediately followed, featuring some of the most talented players from all four teams. The team captains were Sechopoulos and Drue Galassi.
It was a tight, low-scoring game all the way to the end with each team scoring a run in the fourth inning. The defense was perfect as neither team committed a single error. The final score was a 1-1 tie to cap off the night.
For Team Ari, Sechopoulos led the way, going 1-for-1 with a double and scoring off a sacrifice fly by Bryant Shellenbarger.
For Team Drue, Burke went 1-for-2 with a double and hit a sacrifice fly that scored what would end up being the game-tying run. Burke was crowned MVP of the All-Star Game.
The Unicorns will take on the Beavers on Thursday night for First Responders Night as the USPBL shows its appreciation for the dedicated men and women serving in Michigan. All first responders can receive a free ticket by calling the box office. Family members can receive $2 off a ticket. First Pitch is at 7:05 p.m. Gates open at 6 p.m.
Written by Danielle McKinney
#SummerNightsUnderTheLights