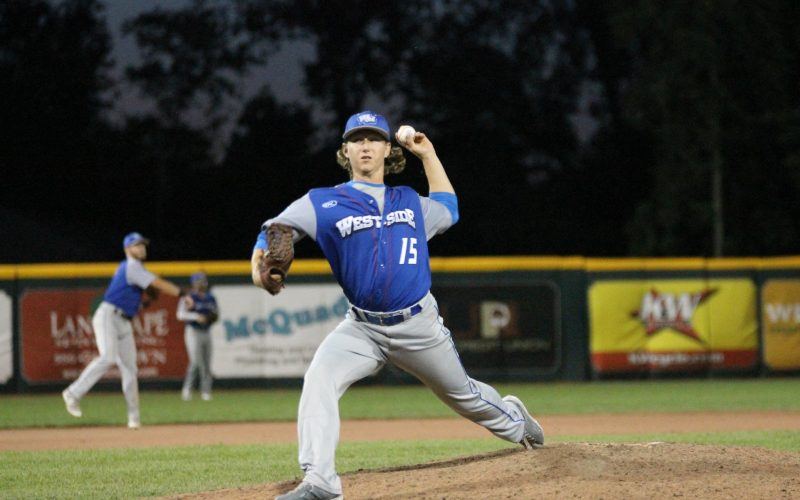 Week in Review: Week Ten
July 16th, 2017
By Steve Marowski
Utica — The Utica Unicorns and Birmingham-Bloomfield Beavers each scored walk-off wins on Saturday, July 15, and Sunday, July 16, respectively. While the Mammoths went 1-1, Jared Gaynor threw one of the best games of the season on July 16 when he took a tough 1-0 loss after throwing 8.2 innings of shutout baseball.
Thursday, July 13: Birmingham-Bloomfield Beavers 15 vs. Eastside Diamond Hoppers 4
The Beavers continued their surge back into contention with a convincing 15-4 victory over the Diamond Hoppers. Four different Beavers had two RBI's in the victory, and second baseman Thomas Roulis was 3-4 with two walks, three RBI's and three runs scored.
Starting pitcher Randy Wynne threw six innings of quality baseball, giving up just two runs on six hits. He also had three strikeouts on the night.
Diamond Hoppers second baseman Kam Stewart was 2-4, and John Kraft hit a pinch-hit two-run home run in the bottom of the eighth inning.
Friday, July 14: Westside Woolly Mammoths 4 vs. Utica Unicorns 0
Mammoths ace Jeremy Holcombe was stellar in yet another start this season as he quieted the Unicorns offense for seven innings. Along with scoreless innings of relief from Sean Kennedy and Corey Kimber, the Mammoths cruised to a 4-0 victory.
Holcombe allowed just two hits, walked two, had six strikeouts, and he also picked up his league-leading fifth win of the season. Holcombe is also fifth in the league in strikeouts and third in ERA.
Mammoths first baseman Riley Palmer was 3-5 with an RBI, and Ethan Wiskur was 2-4 with a walk and a run scored in the Mammoths win.
Saturday, July 15: Utica Unicorns 3 vs. Eastside Diamond Hoppers 2
For nearly six innings, Diamond Hoppers starting pitcher Devin Alexander was perfect. However, it was Unicorns first baseman Nicco Lollio who got the last laugh with a walk-off sacrifice fly in the bottom of the ninth to give the Unicorns a 3-2 victory.
Alexander finished the game giving up two runs on just three hits. He walked just one batter and struck out eight.
Unicorns outfielder Brandon Shaffer was 1-3 with two RBI's, and catcher Taylor Grzelakowski was 2-4 with two runs scored.
Diamond Hoppers center fielder John Menken was 2-4 with two RBI's.
Sunday, July 16: Birmingham-Bloomfield Beavers 1 vs. Westside Woolly Mammoths 0
In one of the best games of the season, the Beavers came out on top with a 1-0 victory on a walk-off walk from Dan Kennon.
Unfortunately for Mammoths starter Jared Gaynor, he was handed the loss after an outstanding performance. In 8.2 innings, he gave up just five hits and struck out 10. The only run of the game was earned to him after he departed.
Beavers starting pitcher Jake Welch was also fantastic in his outing. He threw seven innings, gave up only two hits and struck out seven.
Offensive League Leaders
AVG: Kam Stewart, .376
HR: Taylor Grzelakowski, 8
RBI: Kent Blackstone, 24
Pitching League Leaders
Wins: Jeremy Holcombe, 5
Strikeouts: Donny Murray, 58
ERA: Jordan Pannell, 2.00
Upcoming Games
Thursday, July 20, Birmingham-Bloomfield Beavers vs. Utica Unicorns, 7:05 p.m. (The World Famous Team Ghost Riders/Wayne State Night/Thirsty Thursday)
Friday, July 21, Eastside Diamond Hoppers vs. Westside Woolly Mammoths, 7:05 p.m. (Fireworks Friday presented by XFINITY)
Saturday, July 22, Utica Unicorns vs. Eastside Diamond Hoppers, 7:05 p.m. (Rockin 4 Hunger)
Sunday, July 23, Birmingham-Bloomfield Beavers vs. Westside Woolly Mammoths, 1:35 p.m. (Lego Day)
Standings
1. Utica Unicorns 15-13
2. Eastside Diamond Hoppers 14-13
3. Westside Woolly Mammoths 13-14
4. Birmingham-Bloomfield Beavers 13-15