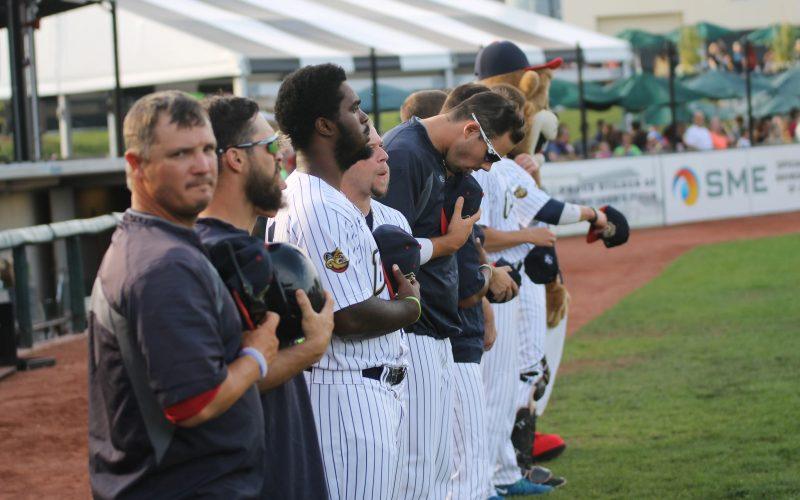 Week in Review: Week Eight
July 3rd, 2017
By Steve Marowski
Utica — The eighth week of the 2017 UPSBL season was all about the Beavers. Going 3-0 this weekend with wins over the Diamond Hoppers, Woolly Mammoths and Unicorns, the Beavers are now 10-13 this season.
The highlight of the week was on Thursday, June 29, when Beavers pitcher Kevin Matthews was signed by the Atlanta Braves organization.
Prior to his departure, Matthews led the league with 43 strikeouts and an ERA of 1.80.
Thursday, June 29: Birmingham-Bloomfield Beavers 6 vs. Eastside Diamond Hoppers 3
The Beavers took on the Eastside Diamond Hoppers on June 29 and earned a 6-3 victory. In his third at-bat as a Beaver, Brandon Rawe hit a two-run home run in the bottom of the fifth inning.
Diamond Hoppers shortstop Ricky Castro was 2-4, and his two hits extended his hitting streak to a league-best 16 games.
Friday, June 30: Utica Unicorns 8 vs. Eastside Diamond Hoppers 6
The Utica Unicorns used a five-run sixth inning to help defeat the Eastside Diamond Hoppers, 8-6.
Four different Unicorns had RBI's in the victory. Connor Reynolds was 2-3 with two walks and a run scored, and Brett Balkan was 1-4 with a walk, an RBI and two runs scored.
For the Diamond Hoppers, Ricky Castro and Chris Power were each 2-5 with 2 RBI's and a run scored. Castro extended his hitting streak to 17 games.
Saturday, July 1: Westside Woolly Mammoths 8 vs. Utica Unicorns 1
Unicorns right fielder Brandon Shaffer homered in his first at-bat in the USPBL, but it was Ethan Wiskur and the Westside Woolly Mammoths who took home an 8-1 victory.
Wiskur hit a three-run home run in the bottom of the fifth inning which happened to be his first hit as a member of the USPBL.
Kent Blackstone was 2-3 with a walk and three RBI's. Mammoths starting pitcher Sean Kennedy threw six innings, scattered six hits, gave up one run and tallied four strikeouts.
Sunday, July 2: Birmingham-Bloomfield Beavers 9 vs. Westside Woolly Mammoths 2
The Beavers picked up their second win of the weekend with a 9-2 victory over the Mammoths.
Beavers first baseman Nic Wilson was 3-5 with three RBI's and center fielder Brandon Rawe was 3-5 with two RBI's and two runs scored.
Making his second start this season, Jake Welch held the Mammoths to just one run through six innings. He only allowed three hits and struck out six.
Monday, July 3: Birmingham-Bloomfield Beavers 7 vs. Utica Unicorns 6
Unicorns starting pitcher Donny Murray threw five innings of perfect baseball, but the Beavers came back to defeat the Unicorns, 7-6.
After being down 2-0 going into the sixth inning, the Beavers got two-RBI singles from Brandon Rawe and Robert Lucido.
The game was tied 6-6 in the top of the eighth inning, but DJ Martinez hit an RBI single to secure the victory for the Beavers.
Rawe was 1-4 with three RBI's and Lucido was 1-4 with two RBI's.
Offensive League Leaders
AVG: Brett Balkan, .377
HR: Taylor Grzelakowski, 7
RBI: Kent Blackstone, 22
Pitching League Leaders
Wins: Jeremy Holcombe, 4
Strikeouts: Donny Murray, 49
ERA: Michael Gomez, 1.83
Upcoming Games
Thursday, July 6, Eastside Diamond Hoppers vs. Birmingham-Bloomfield Beavers, 7:05 p.m. (Viva Las Vegas Elvis Night/University of Michigan Night/Thirsty Thursday)
Friday, July 7, Utica Unicorns vs. Westside Woolly Mammoths, 7:05 p.m. (Fireworks Friday presented by XFINITY)
Saturday, July 8, 2017 USPBL All-Star Game, 7:05 p.m. (USPBL All-Star Game presented by Dave & Buster's featuring America's Got Talent Quick Change)
Sunday, July 9, Eastside Diamond Hoppers vs. Westside Woolly Mammoths, 1:35 p.m. (Superhero Day)
Standings
1. Eastside Diamond Hoppers 12-10
2.Westside Woolly Mammoths 12-11
3. Utica Unicorns 12-12
4. Birmingham-Bloomfield Beavers 10-13