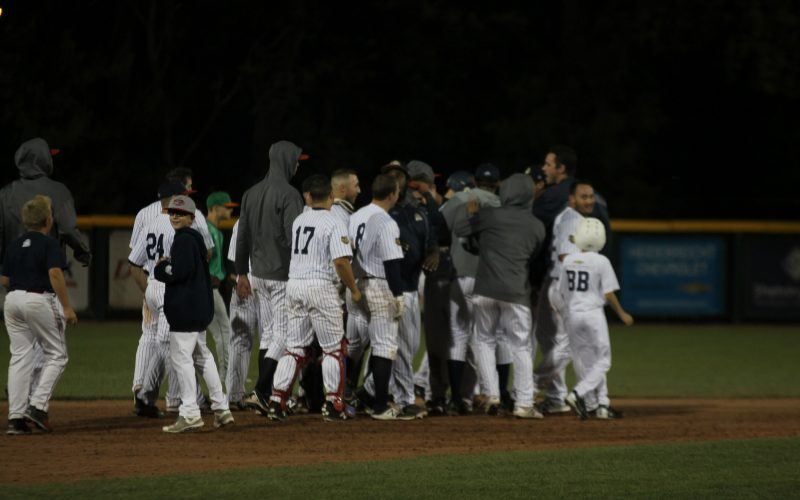 Week in Review: Week 13
August 6th, 2017
By Steve Marowski
Utica — The 13th week of the 2017 USPBL season featured great pitching performances from Jeremy Holcombe and Donny Murray, as well as a walk-off win for the Beavers.
With the win, the Beavers are now tied for first place overall with the Diamond Hoppers.
Thursday, August 3: Birmingham-Bloomfield Beavers vs. Westside Woolly Mammoths
Thursday's game between the Beavers and Mammoths was postponed due to rain. The game was rescheduled for Saturday, August 19, at 1:00 p.m. as a part of a day-night doubleheader.
Fans with tickets to the game on August 3 can exchange their tickets for the game on August 19.
Friday, August 4: Birmingham-Bloomfield Beavers 5 vs. Eastside Diamond Hoppers 4
Although the Beavers were down 4-0 after five innings, their bats came alive late as Brandon Rawe hit a walk-off double to earn a 5-4 victory for the Beavers.
Diamond Hoppers starting pitcher Tanner Kiest was outstanding in his five innings pitched. He allowed only two hits and struck out 11.
Five different Beavers' hitters had RBI's in the victory. Diamond Hoppers outfielder John Menken was 3-4 with two RBI's on the night.
Saturday, August 5: Westside Woolly Mammoths 2 vs. Utica Unicorns 0
The Mammoths got another great pitching performance from Jeremy Holcombe, and a two-run home run from Alex Abbott helped lift the Mammoths over the Unicorns, 2-0.
Holcombe picked up his league-leading sixth win of the season. In six innings of work, he gave up just four hits and struck out seven batters.
Unicorns pitcher Cody Brown was great as well. He also threw six innings, gave up three hits, two earned runs and had four strikeouts on the night.
Sunday, August 6: Utica Unicorns 5 vs. Eastside Diamond Hoppers 0
Unicorns starting pitcher Donny Murray threw eight innings of shutout baseball to help the Unicorns earn a 5-0 victory over the Diamond Hoppers.
Murray scattered five hits, walked just one batter and struck out 10.
Conor Reynolds was 2-4 with an RBI and a run scored, and Brett Balkan was 1-3 with two walks and two runs scored.
Active Offensive League Leaders
AVG: John Menken, .341
HR: John Menken, 8
RBI: Kent Blackstone/Kam Stewart, 28
Active Pitching League Leaders
Wins: Jeremy Holcombe, 6
Strikeouts: Donny Murray, 82
ERA: Jake Welch, 2.22
Upcoming Games
Thursday, August 10: Birmingham-Bloomfield Beavers vs. Eastside Diamond Hoppers, 7:05 p.m. (Peanut Free Night/Thirsty Thursday)
Friday, August 11, Utica Unicorns vs. Westside Woolly Mammoths, 7:05 p.m. (Fireworks Friday/Women's Veterans Day at the Ballpark)
Saturday, August 12, Utica Unicorns vs. Eastside Diamond Hoppers, 7:05 p.m. (WYCD Country Music Night/Family Campout)
Sunday, August 13, Birmingham-Bloomfield Beavers vs. Westside Woolly Mammoths, 1:35 p.m. (Spongebob)
Standings
1. Eastside Diamond Hoppers 19-18
2. Birmingham-Bloomfield Beavers 19-18
3. Westside Woolly Mammoths 18-17
4. Utica Unicorns 18-21