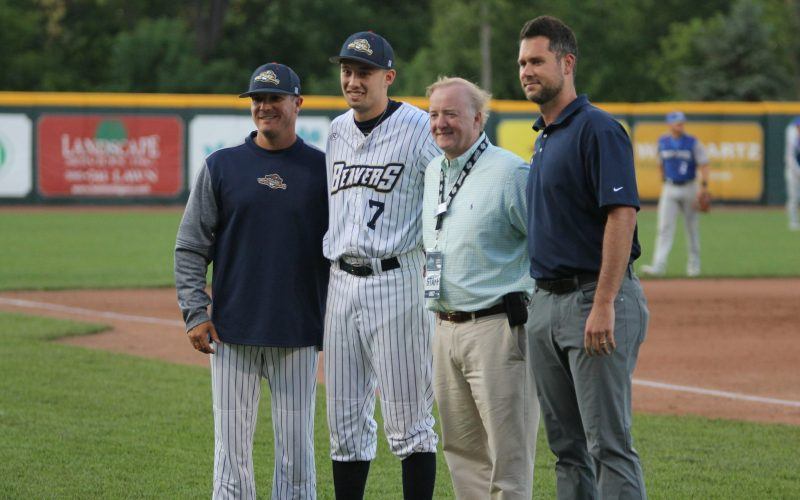 Week in Review: Maloney Signed by White Sox Organization
June 25th, 2017
By Steve Marowski
Utica — In the seventh week of the 2017 USPBL season, the league saw its first player move to the next level. On Saturday, June 24, Birmingham-Bloomfield Beavers third baseman Alex Maloney was signed by the Chicago White Sox organization.
Maloney is the fourteenth USPBL player to sign with a major league organization.
Thursday, June 22: Utica Unicorns 7 vs. Eastside Diamond Hoppers 4
In a game shortened due to rain, the Utica Unicorns lead the Eastside Diamond Hoppers, 7-4.
The remainder of the game will be determined at a later date.
Friday, June 23: Westside Woolly Mammoths 7 vs. Birmingham-Bloomfield Beavers 2
With a four-run eighth inning, the Westside Woolly Mammoths defeated the Birmingham-Bloomfield Beavers, 7-2.
Mammoths starting pitcher Sean Kennedy scattered six hits across 6 1/3 innings of work. He gave up two earned runs, walked one and struck out seven.
Hagen Wilkey was 1-2 with two RBI's and Alex Abbott was 2-4 with a walk and an RBI in the Mammoths victory.
Saturday, June 24: Westside Woolly Mammoths 9 vs. Birmingham-Bloomfield Beavers 7
The Mammoths and Beavers squared off against each other once again on June 24, but it was the Mammoths who would come out on top with a 9-7 victory.
Alex Abbott was 2-5 with a home run and four RBI's, and Kent Blackstone was 3-3 with a home run, a double, two walks and four RBI's.
Beavers first baseman Nic Wilson was 2-5 with two RBI's.
Sunday, June 25: Eastside Diamond Hoppers 4 vs. Utica Unicorns 1
Eastside Diamond Hoppers starting pitcher Devin Alexander threw five innings of one-hit baseball in their 4-1 victory over the Utica Unicorns.
Alexander didn't allow a run and tallied four strikeouts.
Unicorns starting pitcher Randy Dobnak threw five innings of his own, giving up just one run and striking out four.
Offensive League Leaders
AVG: Brett Balkan, .396
HR: Taylor Grzelakowski, 7
RBI: Esteban Gomez, 18
Pitching League Leaders
Wins: Jeremy Holcombe, 4
Strikeouts: Kevin Matthews, 43
ERA: Jared Gaynor, 1.75
Upcoming Games
Thursday, June 29, Eastside Diamond Hoppers vs. Birmingham-Bloomfield Beavers, 7:05 p.m. (Zombie Night/Thirsty Thursday)
Friday, June 30, Utica Unicorns vs. Eastside Diamond Hoppers, 7:05 p.m. (Fireworks Friday presented by Metro PCS/Social Media Night)
Saturday, July 1, Utica Unicorns vs. Westside Woolly Mammoths, 7:05 p.m. (WCSX Classic Rock Saturday)
Sunday, July 2, Birmingham-Bloomfield Beavers vs. Westside Woolly Mammoths, 1:35 p.m. (Minions and Kids Candy Hunt)
Monday, July 3, Birmingham-Bloomfield Beavers vs. Utica Unicorns, 1:35 p.m. (Independence Celebration/Star Spangled T-Shirt Giveaway/Hospitality Worker Appreciation)
Standings
1. Eastside Diamond Hoppers 12-7
2. Utica Unicorns 11-9
3. Westside Woolly Mammoths 10-10
4. Birmingham-Bloomfield Beavers 6-13