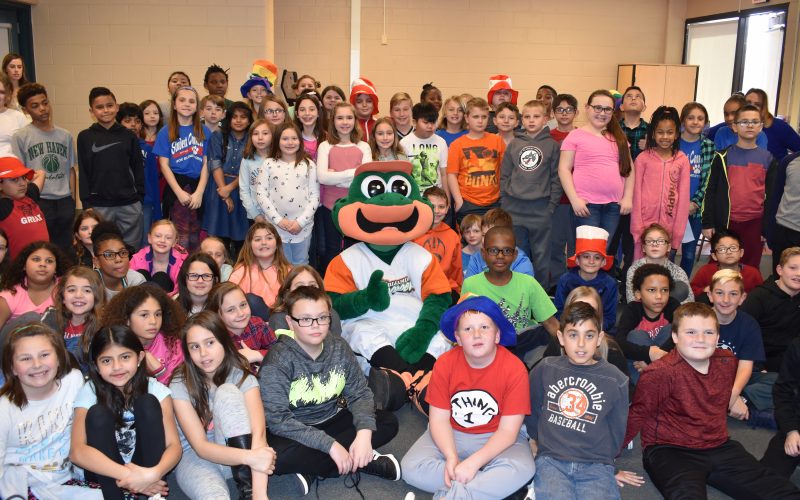 USPBL Reaches Record Numbers in Reading Program
March 5th, 2018
2018 Reading Program Photo Gallery
ROCHESTER, Mich. – The 2018 United Shore Professional Baseball League more than doubled its output from last year with nearly 50,000 reading program participants and 118 schools in surrounding metro Detroit counties, announced the league office on Monday. The USPBL Reading Program is a fun way to encourage reading development in students during March is Reading Month.
"We understand the importance of reading and how it can intersect with sports in such a positive way," said Owner and CEO Andy Appleby. "I learned to read through collecting baseball cards when I was a young boy. "We are excited that we were able to double the amount of participants in our third year and and look forward to partnering with these great communities during March is Reading Month."
The goal for each student is to hit a home run by meeting certain goals and requirements during the month of March. Educators will work with students to set the requirements and goals according to their reading level. Every student that hits a home run will receive one free ticket to a baseball game this summer at Jimmy John's Field (May 11-Sept. 9). Educators that assist with the program will also receive a free ticket, and family members of each student that hits a home run are offered discounted ticket options.
"It's important for the USPBL to engage students in the community and help encourage kids to read by partnering with local schools," said Vice President of Marketing and Public Relations Scott MacDonald. "Our Community Relations Coordinator Megan Malloy did a tremendous job with this program this year and we are excited about being part of March is Reading Month."
#YourSummerDestination