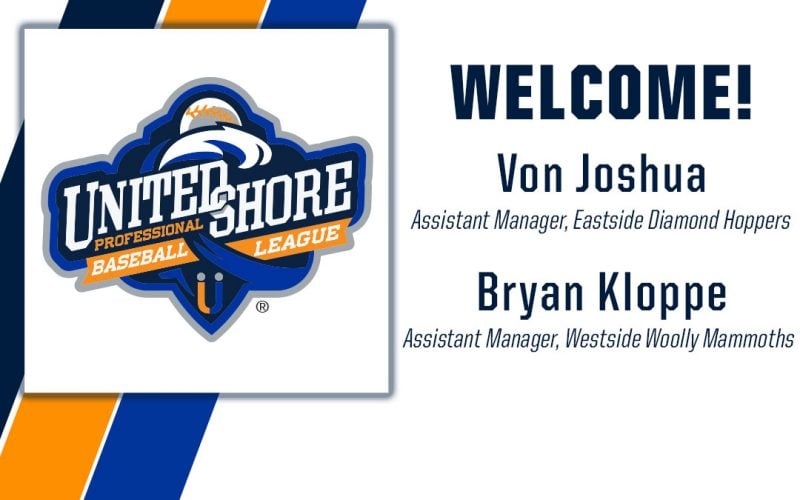 USPBL Adds Big League Experience to Baseball Staff
February 21st, 2019
ROCHESTER, Mich. – The United Shore Professional Baseball League continues to build a strong coaching staff, adding former first round Major League Baseball Draft Pick Von Joshua and Pecos League Championship Manager Bryan Kloppe, announced by Director of Baseball Operations Justin Orenduff on Thursday. Joshua has over 30 years experience in Major League Baseball organizations and Kloppe served as one of the youngest Managers in professional baseball last season.
Joshua served over 30 years as a hitting coach in MLB with the LA Dodgers, Chicago White Sox, Toronto Blue Jays and Chicago Cubs. He played 10 seasons in the Major Leagues, leading the Dodgers to the World Series in 1974. Joshua played in 822 games, batting .273 and posted a .306 on-base percentage. He will join the coaching staff of the Eastside Diamond Hoppers.
"Von will provide immense value to our players this season," said Orenduff. "As both a former MLB player and coach who is widely respected in the game of baseball, Von will mentor and communicate to our players what it takes to play at the next level."
Kloppe will join the Westside Woolly Mammoths staff after leading the Bakersfield Train Robbers to a Pecos League Championship in 2018. He was one of the youngest coaches in professional baseball at 28 years old and played professional baseball for five seasons as a pitcher. Kloppe spent time working with MLB managers Tony Pena, Tommy John, Tom Foley, Buck Showalter and Ron Washington.
"Bryan encompasses a passion for coaching, teaching, and building a positive environment for our players to develop," said Orenduff. "With his recent managerial success in the Pecos League and ability to motivate players, we know he will make an impact in 2019."
Returning to the USPBL in different roles this season will be former Woolly Mammoths Manager Shane McCatty and Assistant Manager Alan Oaks. McCatty will take on the role of Pitching Coordinator for the league, while Oaks will serve as the Assistant Pitching Coordinator.
"Shane has been an integral part of the success of the USPBL both as a Assistant Manager and Manager since 2016, and now will take on a more expansive role as the Pitching Coordinator in 2019," said Orenduff. "Shane has proven he can develop pitchers as he oversaw back-to-back Pitcher's of the Year in Josh Mason (2018) and Jeremy Holcombe (2017). Shane will be primarily responsible  for overseeing the  integration of the DVS System within all teams with a focus on improving pitcher's mechanics, pitching sequencing and development, and in-game execution.
"Over the last two seasons, Alan has used his diverse skill set to help both position players and hitters. In 2019, Alan will join Shane as the Assistant Pitching Coordinator with a primary focus on a pitcher's health, recovery, and functionality by implementing specific protocols to maximize performance on the field."
John Dombrowski will also return for the USPBL, working with the Utica Unicorns once again. He assists with the daily practices and games for Jim Essian.
"John returns in 2019 and will continue to provide value to both the Unicorns and the USPBL," said Orenduff. "John has gone above and beyond to help with team practices, games, and scouting potential players for the USPBL. We are excited to have him as part of the USPBL."
#USPBL