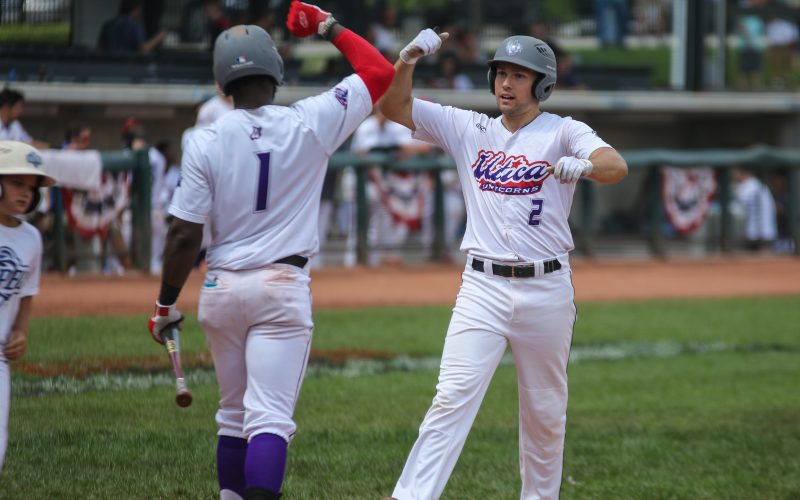 Unicorns Win Third Straight
August 4th, 2019
UTICA, Mich. – Ashton Bardzell hit the game-winning home run and Colie Currie finished 2-for-4 and made a home run saving catch over the fence to lead the Utica Unicorns (20-17) to a 3-1 win over the Eastside Diamond Hoppers (14-22) on Sunday at Jimmy John's Field.
The Unicorns' pitching staff limited the Diamond Hoppers to one run and no earned runs. Greg Jacknewitz tossed 2.0 scoreless, Max Bain came in relief for 3.0 innings of work, Bobby Kametas earned the win in relief with 2.0 scoreless innings, while Sam Cottingham-Beard threw a scoreless eighth inning and Nolan Clenney earned a league-best fourth save with two strikeouts in the ninth.
Colby Nealy was strong for the Diamond Hoppers on the mound, tossing 5.0 innings and fanned seven, scattering two hits and allowed one run for a no decision. Pat Adams reached base for the 37th time in 38 games with two walks and Zack Gray tripled and then later scored for the only run for the Hoppers.
How about them Utica Unicorns? Oh, and nice catch! ? ⚾️ #JayAndDan pic.twitter.com/Jz8XL5JrB3

— #JayAndDan (@JayAndDan) August 5, 2019
#MakeTimeForFun
#YourSummerDestination
#UnicornsUnite