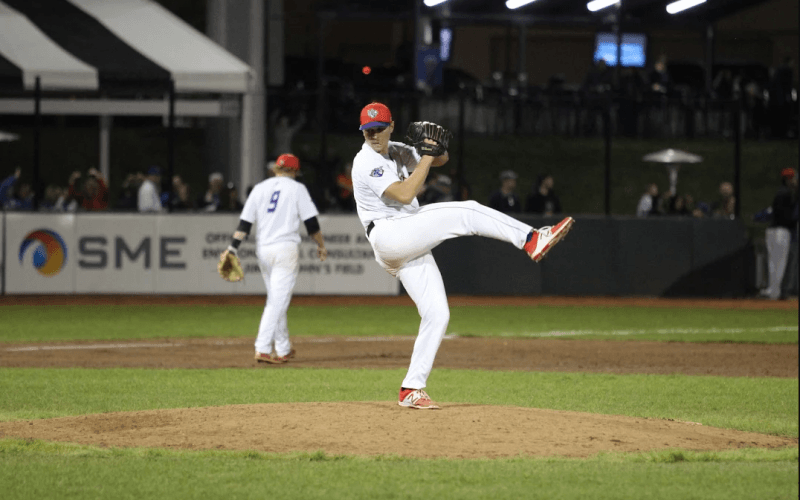 Unicorns Win Season Opener
May 11th, 2017
By Steve Marowski
Utica Unicorns 4 vs. Birmingham-Bloomfield Beavers 0
Strong pitching from starter Donny Murray and the Unicorns bullpen helped the Unicorns defeat the Beavers, 4-0, in the USPBL's 2017 season opener. Murray struck out the first two hitters he faced, and of his 61 pitches, 51 were strikes.
"Establishing strikes and all of my pitches is the key to all of my pitching performances," said Murray. "Doing that early gets me in a good rhythm and I can keep that flow of the game going, especially with my defense playing so well behind me."
Murray racked up seven strikeouts in his five innings of work and earned his first win of the season.
"We pulled him after five because it's early in the season and we have to build up his pitch count," Unicorns Manager Jim Essian said. "He did a great job, and so did the three relievers that followed."
Beavers starting pitcher Randy Wynne was perfect for 3 1/3 innings, but the Unicorns were able to string together three hits to score the first two runs of the game in the fourth inning. Second baseman Mike Rampone and right fielder Chris Cruz hit back-to-back singles, and centerfielder Brandon Rawe lined a triple to right-center field. Wynne went four innings and struck out five.
Clay Ardeeser singled home Rawe to make it 3-0. In the seventh, Nick Todero drew a bases loaded walk to extend their lead to 4-0.
Although the Beavers offense was shut down by strong pitching from the Unicorns, Beavers Manager Chris Newell knows this is just the first game for his squad.
"It's nice to get the first game out of the way," said Newell. "Donny did exactly what I expected him to do, and they hit the ball where we weren't. Early on, the pitching should be dominant, and it certainly showed tonight."
The Beavers will be back on the field Friday night when they take on the newest team in the USPBL, the Westside Woolly Mammoths.
Upcoming games
Friday, May 12, Birmingham-Bloomfield Beavers vs. Westside Woolly Mammoths, 7:05 p.m. (Fireworks Friday/Meet the Woolly's)
Saturday, May 13, Westside Woolly Mammoths vs. Eastside Diamond Hoppers, 7:05 p.m. (WCSX Classic Rock Saturday)
Sunday, May 14, Utica Unicorns vs. Eastside Diamond Hoppers, 7:05 p.m. (Mother's Day)