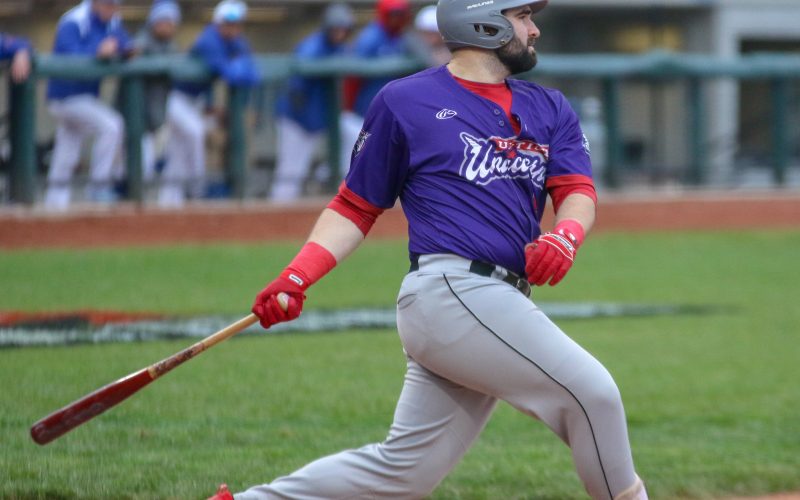 Unicorns Win Pitching Duel over Woolly Mammoths, 5-1
May 11th, 2019
UTICA, Mich. – Right handed pitcher Albert Neff (1-0) tossed 3.0 scoreless innings and Colie Currie went 3-for-4 with two RBIs to lead the Utica Unicorns (1-0) past the Westside Woolly Mammoths (0-1), 5-1, on Saturday at Jimmy John's Field.
RHP Donald Goodson, a native of Detroit, made the start for the Unicorns, throwing 4.0 innings, allowing just one hit and struck out four in the no decision. First baseman Daniel Williams blasted a two-run home run and RHP Kyle Olliges worked the final two scoreless innings, striking out two and allowing no hits to lead Utica.
The Unicorns scored five runs, on six hits and had no errors, while the Woolly Mammoths tallied one run, three hits and committed two errors.
The Williams Syndrome Association was recognized at the ballgame with over 570 participants and a check presentation from the USPBL. Williams Syndrome is a genetic condition present at birth, which can effect anyone. There are about 30,000 individuals living with Williams Syndrome in the United States. Medical and developmental problems, including cardiovascular disease, developmental delays and learning disabilities, typically occur side-by-side with striking abilities which include advanced verbal skills, highly sociable personalities and a passion for music. For more information go to williams-syndrome.org.
#YourSummerDestination