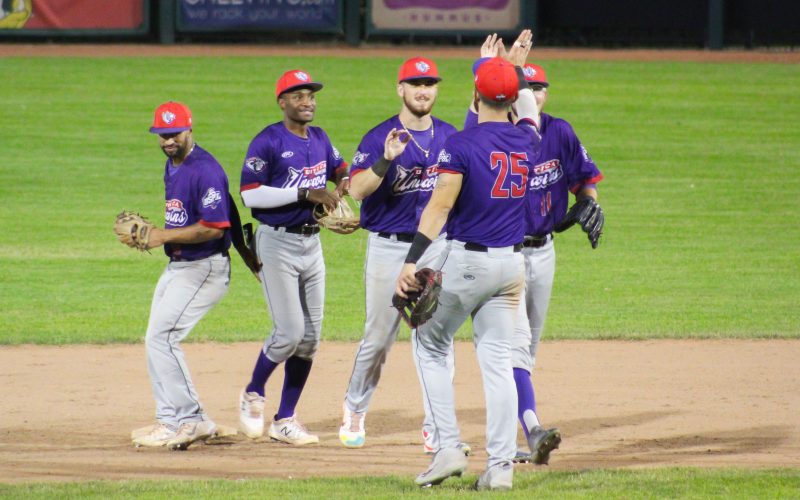 Unicorns Win In Sudden Death Overtime, Beat Mammoths, 7-6
August 7th, 2022
UTICA, Mich. – The Utica Unicorns (21-9) took the victory 7-6 over the Westside Woolly Mammoths (10-19) in sudden death overtime for Game 1 of Saturday night's doubleheader.
The sudden death format is as follows: a coin toss will take place at home plate between the managers of both teams. The home team will call their selection as the umpire tosses the coin. The winner of the coin toss will select whether they will take the field defensively or bat in the inning. The team at bat will remain the same batting order as the previous inning with the hitter making the last out placed at first base. If the team scores a run, they win. If they are held scoreless, the victory goes to the team on defense.
Drue Galassi earned Player of the Game after batting in the game-winning run for the Unicorns. Galassi also went 2-for-3 on the night. First baseman Ari Sechopoulos went 2-for-2, scored two runs, and had three RBIs. Starting pitcher Jake Fiorito tossed 4.0 innings, scattering six hits and striking out three.
Designated hitter Greg Vaughn Jr. and infielder Bryan Leef each had a hit for the Mammoths. Houston Parker went 1-for-2 and had two RBIs. Starting pitcher Devin Beckley threw 5.0 innings, striking out five and walking two.
Tomorrow the Eastside Diamond Hoppers will take on the Birmingham Bloomfield Beavers on Superheros Day. Fans will have the opportunity to take pictures with their favorite superheros around the ballpark. First Pitch is at 1:05 p.m. Gates open at Noon.
Written by Danielle McKinney
#SummerNightsUnderTheLights