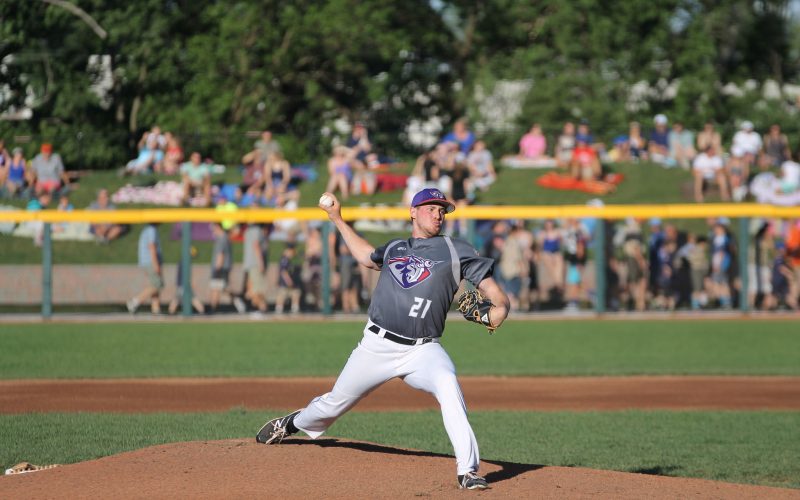 Unicorns Win 4-1 Over Mammoths
June 10th, 2017
By Steve Marowski
Utica Unicorns 4 vs. Westside Woolly Mammoths 1
Utica — Donny Murray threw seven innings of one-run baseball and Nicco Lollio was 2-4 with three RBI's in the Utica Unicorns 4-1 victory over the Westside Woolly Mammoths.
Murray scattered five hits and struck out seven in his outing. He is now 3-0 with a 2.40 ERA on the season.
"I felt great and things were working well early," Murray said. "I was able to stay in the low 90's for most of the game, so I was pretty happy about that."
Lollio gave the Unicorns an early 1-0 lead with an RBI single to center field. After the Mammoths came back to tie the game at one on a sacrifice fly by Alex Abbott, Lollio's two-RBI double in the bottom of the fourth inning gave the Unicorns a 3-1 lead.
"To start the year, most of my hits were to right field, so I was really trying to work on letting the ball get deep," Lollio said about his approach.
The Unicorns fourth and final run came on a fielder's choice by Brandon Rawe in the seventh inning.
Chris Cruz and Clay Ardeeser were each 1-3 with a run scored in the Unicorns victory.
"Donny pitched excellent," Unicorns Manager Jim Essian said. "Nicco is swinging it well and he's one of our leaders in producing runs."
Upcoming Games
Sunday, June 11, Eastside Diamond Hoppers vs. Utica Unicorns, 1:35 p.m. (Princess Day/Princess Breakfast)
Thursday, June 15, Eastside Diamond Hoppers vs. Birmingham-Bloomfield Beavers, 7:05 p.m. (Polish Heritage Night/Thirsty Thursday)
Friday, June 16, Westside Woolly Mammoths vs. Utica Unicorns, 7:05 p.m. (Fireworks Friday/Meet the Unicorns)
Saturday, June 17, Eastside Diamond Hoppers vs. Utica Unicorns, 7:05 p.m. (WCSX Classic Rock Saturday/Grand Valley State University Night)
Sunday, June 18, Birmingham-Bloomfield Beavers vs. Westside Woolly Mammoths, 1:35 p.m. (Father's Day Cookout)
Standings
1. Eastside Diamond Hoppers 8-5
2. Utica Unicorns 8-6
3. Westside Woolly Mammoths 6-8
4. Birmingham-Bloomfield Beavers 5-8