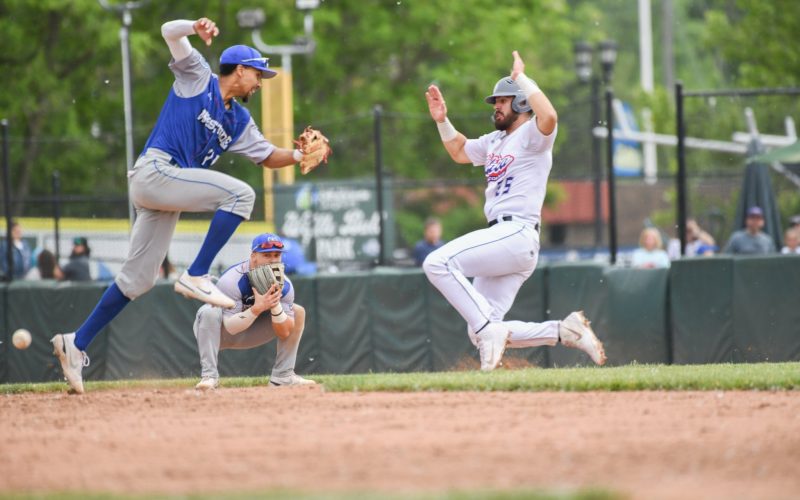 Unicorns Stay Hot with 5-4 Extra Inning Win over Mammoths
June 8th, 2022
UTICA, Mich. – Malek Bolin hit the sudden death game winning sacrifice fly hit in the 11th innings to lead the Utica Unicorns (4-0) over the Westside Woolly Mammoths (3-3), 5-4, on Sunday afternoon at Jimmy John's Field.
Centerfielder Drue Galassi went 2-for-4 with two runs today. Leandy Castro, Kevin Lambert and Jon Hodo each notched a hit.
Outfielder Tanner Thomas led the Mammoths at the dish, finishing the day 4-for-5 with one run scored, one RBI and one stolen base. RHP Greg Loukinen tossed the first 6.0 innings of the game, allowing two runs, one walk and struck out seven.
The sudden death format is as follows: a coin toss will take place at home plate between the managers of both teams. The home team will call their selection as the umpire tosses the coin. The winner of the coin toss will select whether they will take the field defensively or bat in the inning. The team at bat will remain the same batting order as the previous inning with the hitter making the last out placed at first base. If the team scores a run, they win. If they are held scoreless, the victory goes to the team on defense.
The first-place Unicorns will be in action again on Thursday night as they take on the Birmingham Bloomfield Beavers at 7:05 p.m. Gates open at 6 p.m. and it's the first Thirsty Thursday night of the season presented by Dave & Buster's. Budweiser is the official beer of Jimmy John's Field. It's also Polish-American Heritage Night presented by Apex Leadership Co.
#SummerNightsUnderTheLights