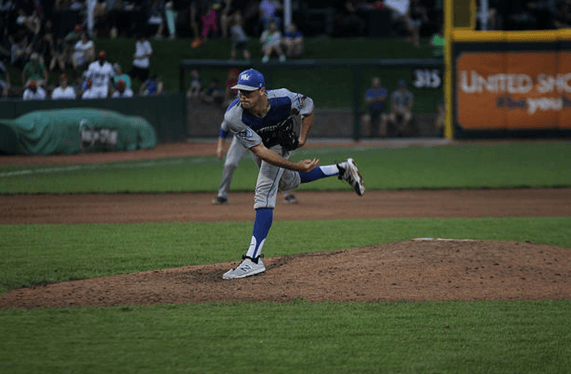 Unicorns Eliminated Backed By Holcombe's Dominant Performance
September 9th, 2017
By: Tyler Curran
September 8th, 2017
Utica, MI – The Westside Woolly Mammoths and Utica Unicorns met in the first round of playoffs at Jimmy Johns field on Friday September 8th, 2017. The Unicorns were unable to back a spectacular outing from Donny Murray and opposing pitcher Jeremy Holcombe was too much for them, as the Woolly Mammoths defeated the Unicorns 3-0.
"I was extremely tired but wanted to go out and finish the game for my team and get a win," Holcombe said.
In an absolute pitcher's duel, Holcombe went eight strong innings and began the ninth inning despite throwing 124 pitches. He had some help from his defense as they managed to escape critical scoring chances for the Unicorns in the early going.
Donny Murray was no easy obstacle either for the Mammoths as he came out dealing, retiring the first eight batters of the game. Murray was near untouchable through seven innings. The first two batters reached and both eventually came around to score on a Jeff Smith two run single.
The Mammoths would take on an insurance run in the top half of the ninth with a solo home run from Alex Abbott to go ahead 3-0.
Finishing the game in the bottom of the ninth was closing pitcher Andrew Cohen.
Holcombe won the battle against Donny Murray and it appeared to be the kind of game decided by the first run. It was an overall team effort that advances the Mammoths to game 2. The Mammoths will face the Eastside Diamond Hoppers Saturday, September 9th at Jimmy John's Field in the Semifinal round of playoffs.