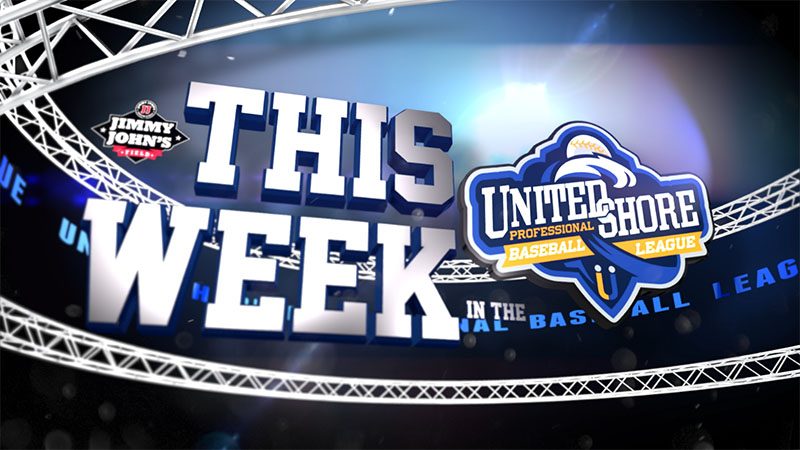 This Week in the USPBL – Episode 15
August 20th, 2019
ROCHESTER, Mich. – The race for the top seed for the United Shore Professional Baseball League's Championship Weekend (Sept. 6-8) continues to be close with the Utica Unicorns (24-19) holding a one-game lead over the Birmingham Bloomfield Beavers (21-18) and Westside Woolly Mammoths (23-20) with nine regular season games remaining to highlight This Week in the USPBL.
The Unicorns are 7-3 over their last 10 games are led by third baseman Collin Ridout at the plate. The reigning USPBL Player of the Week is riding a 17-game hitting streak and is fourth in the league with a .308 batting average. Right-handed pitcher Donald Goodson is second in the USPBL with a 2.57 earned run average and is holding opponents to a league-best .179 batting average.
The Beavers' Adam Gauthier and Ross Haffey are two of the best power hitters in the league and rank third and sixth, respectively, in batting average. Gauthier is hitting .312 with 30 RBIs and five home runs, while Haffey is batting .301 with eight home runs and 33 RBIs.
The Woolly Mammoths might have the best 1-2 punch on the mound and power hitters throughout their lineup. Matt Cronin (6-0, 2.13 ERA) and Ben McKendall (5-3, 2.77 ERA) are two of the most talented starting pitchers in the USPBL, and Ethan Wiskur and JaVon Shelby rank No. 1 and 2 with nine and eight home runs, respectively. The Mammoths set a new single-game record last Friday night with six home runs.
Eastside Diamond Hoppers outfielder Pat Adams continues to lead the way with a .329 batting average. Adams, a native of Warren, Mich., broke the single-season record with 44 walks, boasts a league-high .492 on-base percentage and is third with 31 runs scored.
#MakeTimeForFun
#YourSummerDestination