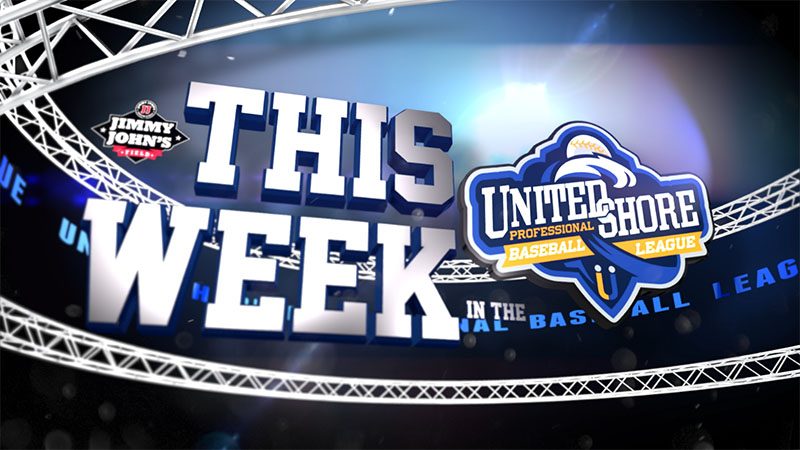 This Week in the USPBL – Episode 14
August 13th, 2019
ROCHESTER, Mich. – Randy Dobnak became the first United Shore Professional Baseball League alum to make it to the Show, pitching four scoreless innings in his Major League Baseball debut with the Minnesota Twins last Friday night, while the Utica Unicorns, Westside Woolly Mammoths and Birmingham Bloomfield Beavers are all within a half-game of each other for that coveted No. 1 seed in the USPBL Playoffs to highlight This Week in the USPBL.
Local products continue to make noise in the USPBL this season. Eastside Diamond Hoppers Pat Adams (Warren, Mich./Wayne State) leads the league in batting average at .341 and set a new single-season league record with 41 walks. Right-handed Utica Unicorns pitcher Nolan Clenney (Novi, Mich./NC State) leads the USPBL with five saves, while Detroit native and Unicorns hurler Donald Goodson (Northeastern JC) is holding opponents to a .165 batting average and is 2-1 on the season with an impressive 2.10 earned run average.
The race for Home Run Champion is heating up as five players have seven or more dingers. The Diamond Hoppers' Luke Johnson and Woolly Mammoths' JaVon Shelby each have eight, while Ethan Wiskur (Mammoths), Jimmy Latona (Unicorns) and Ross Haffey (Beavers) all have seven.
With just 14 regular-season games remaining it has become a three-team race. The USPBL Playoffs will run from Sept. 6-8 as the Beavers are seeking to become the first-ever independent professional baseball team to win three consecutive titles.
#MakeTimeForFun
#YourSummerDestination