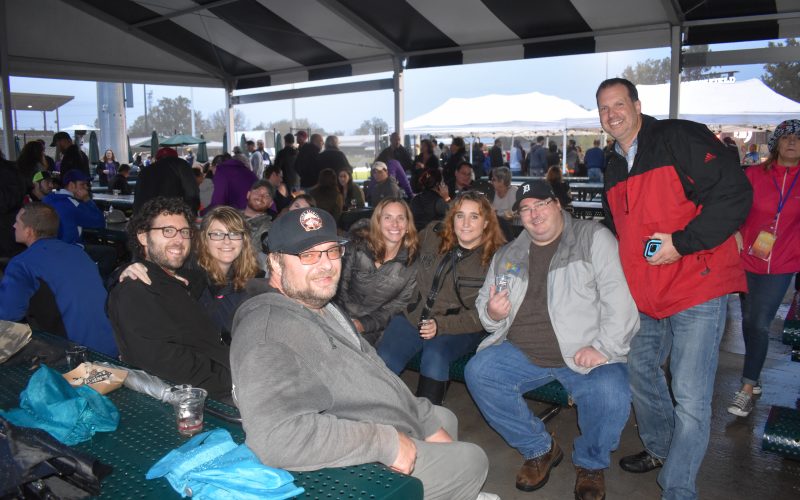 Third Annual Brew and Fall Fest
October 4th, 2018
ROCHESTER, Mich. – The Third Annual Brew and Fall Fest will be held at Jimmy John's Field in historic downtown Utica on Saturday, Oct. 13 from 4-9 p.m. There will be live music from The Laughing Madmen, Disc Golf, Fall Michigan Cornhole Tournament, food specials, cider, donuts, pumpkin painting, face painting and craft beer from nearly 30 different breweries.
Tickets are available for $30 which includes 10 three-ounce pours and a souvenir USPBL team pint glass. There is a designated driver option for $10 that offers unlimited soft drinks and water, as well as a pumpkin of your choice. To purchase tickets, please click here.
Live music will play throughout the day, and kids can enjoy pumpkin painting, face painting and kids crafts inside the ballpark. Fans that wish to play Disc Golf, can sign up for $35 that includes the 10 three-ounce pours of craft beer, or $15 to just play Disc golf. You must bring your own discs.
Check in for the Fall Michigan Cornhole Tournament will be at 3 p.m., with the matches getting underway at 4 p.m. on the Wiffle Ball Field. The cost is $30 and that includes a hot dog, 12 ounce soft drink or domestic beer, and cash prizes for the top finishers.
View Brew and Fall Fest Program Here
Here is the list of breweries and beers being offered:

Aberrant Ales
Season Anxiety
Hazy D and the Boyz
Casual Encounter
West Coast IPA
Arbor Brewing
Ypsi Gold
Crystal Peacock
Tilted Earth Autumn IPA
Violin Monster
Bell's
Larry's Latest IPA
Third Coast Old Ale
Best Brown
Blake's
Black Phillip
Grizzly Pear
Rosé
I Am Ron Burgundy?
B. Nektar
Zombie Killer
The Dude's Rug
Brew Detroit
Cornerman Red Ale
Ballantyne Sour Cherry
Brooks
Das Scheuerleinerweizen (Hefeweizen)
Peanut Buddy Porter
Goblin King (Imperial IPA)
Double Jeopardy (Doppelbock)
Cellarmen's
Moscow Miel (Mead)
Pineapple (Cider)
Crankers
Trixxx TRIPA
Blood of Crank Blood Orange IPA
Aphrodisiac Chocolate Pomegranate Imperial Stout 
Dearborn Brewing
Mocktoberfest
Hizzy Biscuss
Model IP "A"
Cream Ale
Dragonmead
Final Absolution
Erik the Red
Woody's Perfect Porter
Oktoberfest
Drafting Table
Rezolute IPA
Witty Yank
Proud Lake Porter 
Eastern Market
Elephant Juice NEIPA
Which Coffee Stout
Tangerine Pale Ale
Apricot IPA
Exferimentation
Pink Tickler
Flash Bang IPA
Rustler Reserve
Kentucky Common Sour
Fillmore 13
Procrastinator Dopplebock
Apricot Belgian Ale
War Cry IPA
Saison Farmhaus Ale 
Founders
All Day IPA
Solid Gold
Harvest Ale
Backwoods Bastard
Rubeaus
Latitude 42
South Pacific Breakfast Porter
Nectar of the Goddess
Party at the Moon Tower
Midland
Lime Rock IPA
Pina Colada Smoothie
Momo NE IPa
Jenny's Raspberry Sour
New Belgium
VooDoo Juicy Haze IPA
VooDoo Atomic Pumpkin
VooDoo Ranger Imperial IPA
Sour Saison
North Center Brewing Co.
Oktoberfest
Headless Horseman Pumpkin Ale
Pain Killer Belgian Tripel
Drippin' With Dot Porter
Odd Side
Granny's Apple Pie
Barrel Aged Implication
Caged Wisdom
Old Nation
M-43
Boss Tweed
Ten Penny Scottish Ale
River Rouge
Peanut Butter Chocolate Stencil Stout
I-75 IPA
Imperial Orange Saison
Oktoberfest Lager
Rivers Edge
Rivers and Roads Altbier
Dirty Frank Stout
The Norwegian IPA
Hamster Meister Doppelbock
Rochester Mills
IPA 1/4
Water Street Wheat 1/6
Oktoberfest 1/6
Warrior Goddess 1/6
Sherwood
Pumpkin Bread Hefeweizen
Daytripprt Trippel
Bloody Blonde
Wired Awake Black Lager
Rustic Leaf
Newbies IPA
Show me your O-Fest
Rustic Leaf Amber
Virtue Cider
Michigan Honey
Michigan Cherry
Rosé
Apple
#YourSummerDestination