Testimonials
Just wanted to send some kudos your way regarding the fan experience at your game yesterday. All of the employees I came across were really friendly and looking to assist in any way possible. All of the activities for the kids makes it a great experience for them as well (having some players walk around signing autographs was a neat touch). In this day and age when folks are quick to criticize, I prefer to point out when things are done the right way. Great job and I'll be back again.
– Len
I was sooo impressed with our experience at the park tonight!!! From the friendliness of the players , to Katherine at guest services… to coach Willie taking time to make my kid feel special!!! … Your staff was seriously amazing, professional and had their A game going on!!!! Thanks!!!
– Jen
I wanted to share how amazing your staff is at Jimmy John's Field. . . I can only compare your customer service to 'the Disney experience'.
– Amanda T.
I really don't know how you do it, but the venue just gets better every year.  The stadium has become a community gathering spot where a baseball game just happens to be played.  It's clean.  It's safe.  It's convenient.  It's affordable.  And it's fun.  I honestly can't think of another place in the region that offers more.  We are very fortunate that you made Macomb its home.
– Al
I was sooo impressed with our experience at the park tonight!!! From the friendliness of the players , to Katherine at guest services… to coach Willi taking time to make my kid feel special!!! … your staff was seriously amazing, professional and had their A game going on!!!! Thanks!!!!!
– Jen
Since 1985 I have made it my quest see a a game in every major and minor league (affiliated and unaffiliated) ballpark in the US and Canada.  At this point I've been to all the major league stadia, and all but a half-dozen of the minor league venues.  I have been to games in over 400 ballparks since then, including many that have come and gone.  Sunday was my inaugural visit to Jimmy John's, and I want to commend to you that both the stadium and the operation there is one of the very best I've experienced – especially for an unaffiliated league.  The ballpark layout was excellent, as were the seats – the ample legroom was much appreciated (and is much better than at Comerica Park, where I saw Saturday's Tigers/Chisox game).  The customer service was absolutely great – I had to buy player's caps for all 4 teams (yes, I have over 400 of them hare at home), and your staff dutifully searched both shops until they found the very last large-size Woolly Mammoth cap.
– Glenn
Every staff member I encountered was friendly, positive, and just interested in making sure the fans were having a great time. From the box office, to the ticket takers, to the grounds crew, everyone was friendly. Lancelot took time to high five Matt, my son. One of your staff saw me taking a picture of Matt, and stopped to offer to take a picture with me in the shot as well. Thanks for a great night out.
– Dave
All of the employees I came across were really friendly and looking to assist in any way possible. All of the activities for the kids makes it a great experience for them as well (having some players walk around signing autographs was a neat touch). In this day and age when folks are quick to criticize, I prefer to point out when things are done the right way. Great job and I'll be back again this Friday (25th) with more friends/family in tow.
1st time at the stadium for the Italian Celebration and found the entire experience to be outstanding. A big shout out to an employee name Phil who was a perfect gentleman and surprised my 7 year old, baseball glove carrying grandson with a used baseball. Wow what a super ambassador for your organization. I will be a loyal supporter of the Woolly Mammoths in the future. Thank you for a very enjoyable evening!!
–  Louis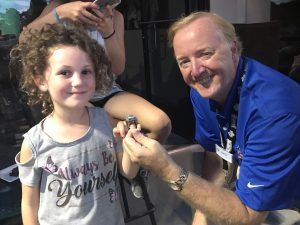 Dear Mr. Appleby, I love that your card says," Director of Fun" as it perfectly suits you and the amazing family experience you have created at the Jimmy Johns Field. We had a wonderful night and you were incredibly inspiring to all of my children. But this first pic of you and Scarlett sums up the experience perfectly! On the way home there was talk of female teams and of being bat girls someday! Keep up the great work!
Dear Jimmy John's Field managers, I and my family are new comers to the Jimmy John's Field experience. We have taken in two games thus far, a day and the night game featuring wonderful fireworks. All I can say is……..Super job! Memories were made for my daughter and grand children that will last a lifetime. Your entire venue was perfect in every way. I'm pleased to have you as my new "Go to" stadium.  Thanks again to all the Jimmy John's family.
– Rudy
Mr. Appleby just stopped by our drink rail seats to let our girls try on the USPL Championship Ring. We love this stadium, this league, the staff, the games, and everything about the experience. My birthday game is less than a month away and I just smile ear to ear when I'm here. Everyone knows the stadium as "Jay"s Happy Place". To the both of you, the staff, the teams, and Mr. Appleby, the Lobb family says "thank you" for your investment of your heart and soul.
– Jay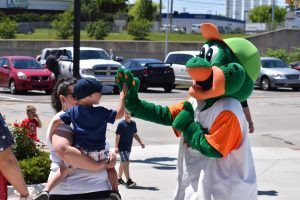 Dear Andy Appleby, Just wanted to drop you a quick note to say how much our group enjoyed the experience at the ballpark last evening. It was first class in every way.  I'm sure many will be repeat fans coming back.  The Shades of Pink Foundation is a cause Cindy and I care deeply about and this was a great event for them! -DomHi Andy, Just want to tell you.. we celebrated my wife's 89 year old mother-in-law's birthday yesterday at Jimmy Johns. The park and ambience was out of this world..I marveled at all of the thought put into it to make it a great place to spend a night or afternoon, especially with any age person. Congratulations!
-Al Dumont MD
I just wanted to take a minute to let you know how impressed we were with some of the staff at yesterday's game. It was our first time there, and our son's very first baseball game. (It was his 6th birthday yesterday and all he wanted to do was go to Jimmy John's Field!) Our son has some sensory issues that can cause him to become over-stimulated at times, often resulting in a meltdown and/or anxiety. Taking him out to big/loud events like this can be challenging, and nerve-wracking for both him and us as his parents, however we don't let that hold him back from having fun and experiencing life. Shortly after entering the park, we were trying to locate our seats and we came across one of the ushers that was stationed across from the sausage food stand. He pointed us in the right direction, all with a warm smile on his face. As we started to leave, my son was frightened by the big yellow robot mascot, which triggered a mini meltdown to start. Instead of responding with disdain or shunning him, like many people do, the usher called out to my son as he walked back towards us, and engaged him in conversation, asking him if he had ever been to a baseball game before, then reached into his pocket and presented him with a game ball. That one act of kindness and compassion made his day, while also stopping his meltdown in its tracks. A little while later, after a few innings in our seats, our son had become overheated, so we went and stood up top under the awning to cool him down. One of the ushers up there saw us trying to cool him down with a cold water bottle on his neck. She came up to us and started talking to my son, then she pulled out one of those squishy, soft baseball toys and gave it to him. Once again, day made for our little birthday boy. On the way out, we stopped at the Guest Services area to claim the coupons our section had won, and we encountered two more wonderful, super friendly employees. I just cannot express just how positive of an experience we had yesterday. It's truly a day that we will never forget. Thank you for such an amazing day, and to your employees for showing such compassion. Well done! 👏 We can't wait to come back!
– Rachael
Just wanted to drop a note and say that I was at the park again yesterday hosting another group and everyone had a wonderful time.  Food was great.  Everyone liked seeing the championship ring when Andy came by as well – very cool.   The kids (and a few adults) loved the balls that were being handed out. Your team has really created something wonderful and I hope that it just becomes more and more successful. You should all be really proud of what you have accomplished.
– Susan R. McMaster
USPBL Friends! I cannot express my thanks enough for the absolute wonderful time we've had these past two weeks at the ballpark! Your service team is top notch and I can't express my gratitude enough for making both events such great ones. The interns and staff last night were so accommodating with all the craziness of the Big Heads and Clownie…they took it in stride and didn't even flinch! Kudos!! Mr. Appleby is quite the host!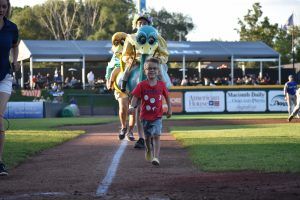 The customer experience you provide at every game is exceptional! I will be attending a game with friends of mine this Thursday. I suggested Jimmy Johns because of the great customer service you provide all of your guests. – Angie
Thank you for such a great time at the field tonight. I was very impressed with the stadium and staff! Such a great vibe! Keep up the great work! -Carrie
Thank you Andy.   We are looking very forward the new season.   You and your people did a fantastic job with the league, the teams, and the gameday experience.
-Brad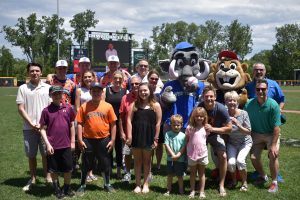 Went to the game yesterday at Jimmy John's Field. Had a great time. Love your clean facility, the friendly helpful and also pleasant employees you have. I also want to thank you for adding a new flagpole with a larger American flag. I wrote you last year about the small flag you were flying and you responded to that complaint. Thank you.
I'm an old veteran and the American flag is dear to my heart. Looking forward to attending many more games.
– George
My management team and I can't thank you enough for being a part of the incredible opening day!  The overall experience at the stadium was fantastic, to include the ride to and from the parking lot, Karen really enjoyed that part since she's 7+ months pregnant.   The drinks, food and munchies were delicious! One of the most talked about topic after the event, was how we all had the chance to be in your suite above home plate and then later behind home plate for an up close and personal experience, so cool! Great job making it all come together!  Congrats on your success bringing family and friends together for some good old ball park fun! We will be back.
– Dan
Can't Thank You enough, as always you outdid yourself for the opening of your 2017 season. You have the most dedicated team members that always are willing to help and assist everyone, you don't see that type of CUSTOMER SERVICE anywhere today. The Band, Sky Diver, Flyover, the Color Guard and the list goes on……..made me proud to be a partner with you. My family did not want to leave! GREAT JOB and wishing you a successful 2017.
– Ray
I honestly can say I do not have one bad thing to say about this entire complex that has gone up in Utica. I had the pleasure of meeting the owner last night ANDY and he portrays just what the people want. He's a great guy, it's a great complex and great family entertainment I look forward to the next game!
– Kevin
Thanks again for a wonderful night. All of my guests were first timers, some from out of state, and all of them were amazed at your park and the experience. See you at the park again. My brass group is doing the anthem July 16.
– Jeremiah
I cannot thank you enough for your generous hospitality on Saturday.  We had a blast at the game.  Your stadium, staff and teams are absolutely top notch.  As a family, we will remember and cherish that night for many years to come. Thank you again Andy.  Looking forward to working with you and Theresa on our summer event.
– Jennifer
I just wanted to drop you a quick note, to thank you for taking such great care of my family last Saturday. We were the group of 9, that had the picnic table seats, and you decided to bump us up…to the Owner's Suite 😊 We were all floored by that gesture ! We had 7 first timers with us, and all of them were very impressed with the guest service, the environment, and the general fun vibe of the game !! We will definitely be back again. (Thinking about coming out for the Wooly Mammoth bobblehead night. Being that we live in Canton, that is our new "adopted" team.) Best of luck this season, you guys should all be very proud of what you've built in the USPBL.
– Chris
I have to share our family's experience with you as 8 of us attended the game on Father's Day: It was my In Laws first game and we celebrated my Father In Law Gil Angrove's 90th Birthday. He struggles to walk but overall does pretty well with assistance. USPBL was kind enough to display and announce his Birthday – he was surprised and grateful. He also received a very nice, "round of applause" from the crowd. We will cherish that moment. Your staff continues to be polite and engaging. In particular, there was a, "Senior" Usher who seemed to take special interest in Gil and they chatted throughout the game. As I was assisting him to the car to leave, here are the words he spoke: "They do everything right". Isn't that perfect? I love this! Andy, it was a Father's Day that will be remembered for years to come and we are very grateful. ps: how do you, "control" the weather on game day?
– Raymond