Testimonials
Thanks to all our fans and partners for sharing their experiences at Jimmy John's Field.

Rodney says… "I wanted to express what a pleasure it was to be there!! It was over the top fan friendly and just an awesome evening!! My daughter got to go on the field, make a high five tunnel and slap the unicorns hands, and get pics and autographs. I work in the service industry and I know customer service when I sear it; job well done to the entire staff and those players are professional gentlemen!! I'm not sure who had a better time, my daughter or her mom and dad??!!"
Shawn says… "We just can't stop talking about the wonderful time we have every time we get a chance to visit. It's so special, we just LOVE it."
Don says… "Love Jimmy John's and the USPBL. It's very kid/family friendly with much more than quality baseball. People who say that the prices are high, have probably never been to a Major League ballpark. Compared to the Major leagues, Jimmy John's is a bargain. The USPBL is the best sports entertainment value in southeast Michigan!"
Dan says… "The USPBL experience at Jimmy John's Field was exceptional. It truly exceeded our expectations. Kudos to you for your vision and commitment to making this a reality in southeast Michigan. We're very excited about it and can't wait to return!"
Paula says… "I have just returned home from my very first experience at Jimmy John's Field for the final game of the regular season because I am overjoyed! I am so positively impressed with every detail you have covered that on my way out (using the same gate that I came in)  I saw again Lisa, the ticket taker, who gave me helpful directions on the way in and  asked me if I liked it afterward on the way out. I told her, "This is like the Disneyland of baseball." Mr. Appleby you have NAILED IT! And I dare say you are better than Disneyland. You are more affordable. As the mother of two now grown sons, I was astounded to see seven, eight, and even 14-year-old boys  responding with genuine excitement and confidence to the seventh inning stretch dancers by JOINING IN THE DANCING!  Kudos to you for putting the bat boys out there as well as the cheer girls to lead the dance! All of the activities you have put in a game night occupy absolutely everyone:  the youngsters who got to make their proudly worn headbands for their favorite team, the giveaways (I scored a JJ bobble head), the special selections of random rows for more giveaways, the Beer Batter of the night so we'll watch if he gets a hit and we get a discount, the movie night, the fireworks I've heard about, letting the kids run the bases afterwards and give high-fives to the team mascots… it all adds up to the greatest thing I've seen in baseball in decades."
Marlin says… "Thank you SO much for inviting my family and I to attend the game.  We had a great time.  I sat back and reflected on what you (Andy Appleby) built, and I'm amazed at your vision and the venue you have created for families and the community."
Deb says… "Every trip to Jimmy John's Field feels like as much or more fun than a trip to Disney World! Thank you for ALWAYS making me and my guests feel welcome and supremely cared for at JJ Field!  That park is the best thing that's ever happened to this community."
Marco says… "Not really being a baseball guy and never having been to your park before I really had no idea what to expect. From the minute of our arrival every member of your staff we encountered was professional, courteous and gave the impression that they were genuinely happy to be there. The positive atmosphere of the facility and its surroundings truly made us happy to be there!"
Albert says … "I really don't know how you do it, but the venue just gets better every year. The stadium has become a community gathering spot where a baseball game happens to be played. It's clean. It's safe. It's convenient. It's affordable. And it's fun. I honestly can't think of another place in the region that offers more."
Donald says … "I was down from the Upper Peninsula visiting family and took my daughter to the game. Beautiful stadium, very competitive baseball. Loved it. Great experience. Will definitely be back!"
Mary says … "What an enjoyable time we all had at Jimmy John's Field. I was thoroughly entertained, found the field lovely, friendly, well attended by the staff and the masses. We had some food (bratwurst, – yum!), drinks, strolled, and relaxed. I LOVED the fireworks and the kids running the bases and all the in-game entertainment. What a bang for the buck! So family friendly, and all kinds of nice details, mascots, restaurant, seating choices. Very impressed."
Dan says … "When I asked the kids what was the best part of their day, they said all of it!!!  In specific though, running the bases, meeting the mascots, sitting behind home plate to watch the action, meeting the Owner, playing in the kids park and the great ballpark food! We all really had a great time, thank you so much for creating another great memory that will be cherished for a lifetime!"
Angie says … "We were so impressed by the player talent and every detail you have put in to the league. Declan and his friends loved being able to be on the field for the player introductions, running the bases and the fireworks.  Matt was so impressed with the overall family environment, the Dole Whip (dessert) and the craft beer selection.  Addison loved JJ the dog, catching a ball and the stamp collection. My favorite were the local Michigan touches and the entire feeling of community all coming together on a Friday night to celebrate an American tradition."
Tracy says … "I just wanted to send a message to thank you for the amazing evening out with my family. This experience started off with a friendly knowledgeable shuttle driver and did not stop there. My kids were able to sign up for the Kids Club, our ticket price included a soft drink and a hot dog. The atmosphere was so family friendly it's not easy keeping a 9 and 11 year old engaged but you all did. All of the fun activities between innings were fantastic. Both of my children play baseball/softball and were able to see everything and we were in the last row! They were very excited to see the bat boys/girls and wanted to know 'how can I do that.' We came on a Friday night and were blown away by the fireworks. Now the icing on the cake, the Owner was thanking everyone while we left. Wow! I work as a trainer and one of the things we focus on is being customer obsessed. Well I think you guys know how to do this. Thank You!"
Tim says … "I have to say that it was my first time at Jimmy John's Field and what a great experience. Leading up to our visit I heard nothing but great reviews about your product and surely it did not disappoint. It is a first-class venue with a great atmosphere. The staff was super friendly and the product on the field was fun to watch. My family had a blast! You guys definitely left a great impression on us and thank you very much for being great hosts."
Audrey says … "Love the fact every night something different. We had a great time at Ladies Night Out. The food was amazing! We even met two ladies that were a riot to be with. And the ballgame itself is always fun to watch. Good players and teams. Can't forget JJ the adorable dog!"
Hunt says … "The atmosphere, family feel, and service was outstanding. This was our first time going to see a game, only due to our crazy schedule. We certainly will be back."
Jen says … "I was so impressed with our experience at the park tonight! From the friendliness of the players, to Katherine at guest services to Coach Willi (Martin) taking time to make my kid feel special! Your staff was seriously amazing, professional and had their A game going on. Thanks!!!!!"
Tracy says … "The Sorrentino family had the best time Saturday night! Everyone was so friendly and accommodating. We were loving our servers, the best service we have had in a long time! The food was amazing and the ballpark looks even better than last year! We will definitely return for some fun!"
Eric says … "Absolutely amazing in all aspects. Definitely renewing my season ticket package and referring more friends and family. Everything was top class. Social media presence was amazing. Always heard on radio and TV. Andy (Appleby) was always present and shaking hands as left ballpark. Three-hour games is awesome. Senior staff was everywhere at every game. Love the ESPN3 broadcasts with Neal, Matt & Lauren on games I couldn't make."
Linda says … "I cannot say enough good things of how much we absolutely love JIMMY JOHN'S FIELD!!! EVERYTHING about going to the game is top notch! The ballplayers are exciting. Every seat provides a good view, the tickets, concessions and parking (free) are all affordable. Love the mascots and entertainment. Awesome place to take the grandkids, family and friends. Thanks for making it the best in town!"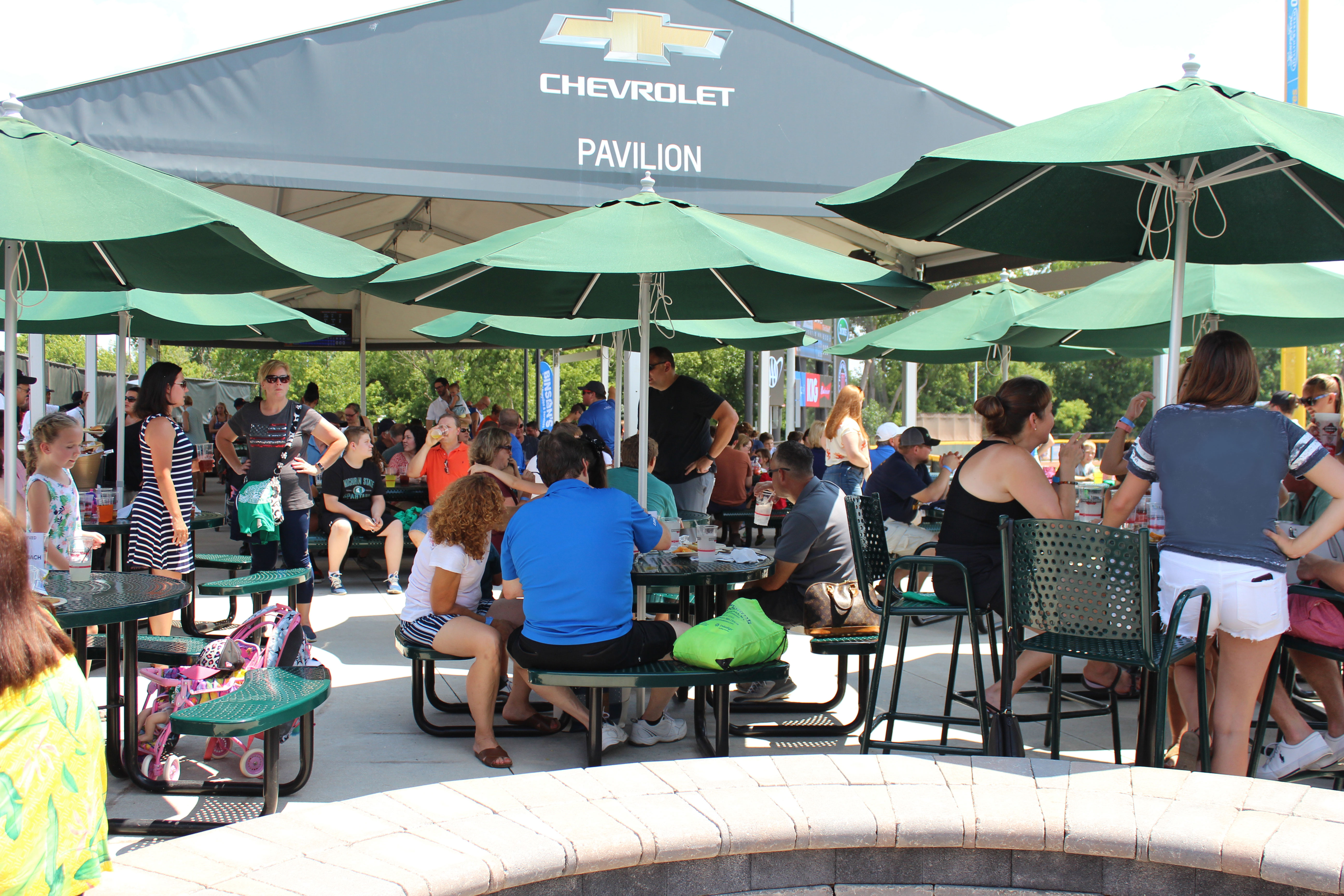 GROUP EVENTS 
Rachael says… "I just wanted to take a minute to let you know how impressed we were with the staff at yesterday's game. It was our first time there, and our son's very first baseball game. (It was his 6th birthday yesterday and all he wanted to do was go to Jimmy John's Field!) I just cannot express just how positive of an experience we had yesterday. It's truly a day that we will never forget. Thank you for such an amazing day, and to your employees for showing such compassion. Well done! We can't wait to come back!"
Dana says… "My wife hosted an event for Utica Community Schools at the stadium on May 17th and we had the best time.  We were so impressed with our first trip, you guys are really doing a great job.  My three year old got a free baseball and t-shirt that were distributed during the game, we spent some time at the playground, she loved your dog retrieving the bats and she left saying she wants to play baseball."
Megan says… "Thank yall so much for making Edy's 5th birthday so special! I wasn't quite sure what to expect but everything was fantastic! There was so many fun things for everyone to do! I really appreciate how kind and helpful yall were during the entire process: from beginning to end it was all top notch! My daughter said it was the best birthday ever!"
Adam says… "Many thanks for going above and beyond to make Bronson's third birthday a tremendous success. The kids had a great time, and we really appreciated your attentiveness, patience, and hospitality; it's clear you genuinely care about the guests and their experience at the park, and the organization is lucky to have you."
Michael says… "Hats off to you and the entire organization for making our event extra special.  Our entire group enjoyed themselves and could not say enough good things about the park.  The players were extremely approachable and they interacted with the kids quite willingly.  Really cool stuff! Thanks again for your help and hospitality.  We will definitely be back in the future."
Bob says … "I wanted to let you and the entire team at USPBL and Jimmy John's Field know that last year's company picnic was the most successful in the history of our organization.  The outing to JJ Field is still talked about today as being one of the best times any of our employees have had.  Everyone had an incredible time.  And especially noteworthy were the many, many comments I received on how very cool it was for everyone that we got to [go on the field and] hold the big flag for the anthem. Needless to say, I just had to do it again this year."
Diane says … "I just wanted to let you know that everyone had a great time on our first Jimmy John's Field outing! It went so well that we've decided to make it an annual event. Thanks so much for all your help in coordinating things for us. Everyone was so nice and very accommodating while we were there."
Katie says … "We all had a wonderful time at our event. We also would like to say a HUGE thank you to our sales representative for all of his excellent customer assistance.  He was professional, knowledgeable, detail oriented and took the time to answer all of our questions. Our event was very successful and we had a great turn out. The players came over to say hello to our group and we really enjoyed getting to say hello. The food tasted wonderful, was kept at the proper temperature and there was plenty for everyone. Our staff was able to relax, walk around and everyone enjoyed the meal and drinks. The mascots were a hit with the children (and adults) who were present and we all had a great time posing for pictures. Thank you to the entire staff for a wonderful and memorable event."
DIAMOND TABLES
Rebecca says … "This has been a great decision, we give our tickets to an employee of the week (every week during the season) at our company. I have only received wonderful feedback from them and their families about their experiences. It is such a great experience for them to be able to come to a great location, eat, have an ice cream and popcorn and not pay a dollar. What a joy watching a baseball game on a Friday night with amazing fireworks and wonderful wait staff. The stadium is spotless and all friendly faces. Thank You for providing such an amazing stadium and teams for our entertainment and enjoyment."
Joseph says … "We use our Diamond Table tickets primarily for Employee Recognition so I tell our employees that when you step into the ballpark, be ready for one of the best gameday experiences, from premium seating to gameday promotions, from the mascots pumping up the crowd to children running the bases at the end of the game, and much, much more. Every employee who has attended a game comes back saying, 'everything was great, what a fantastic and affordable family experience!' Another typical review has been 'the ballpark is beautiful with some of the nicest, most enthusiastic and extremely helpful and friendly staff.'"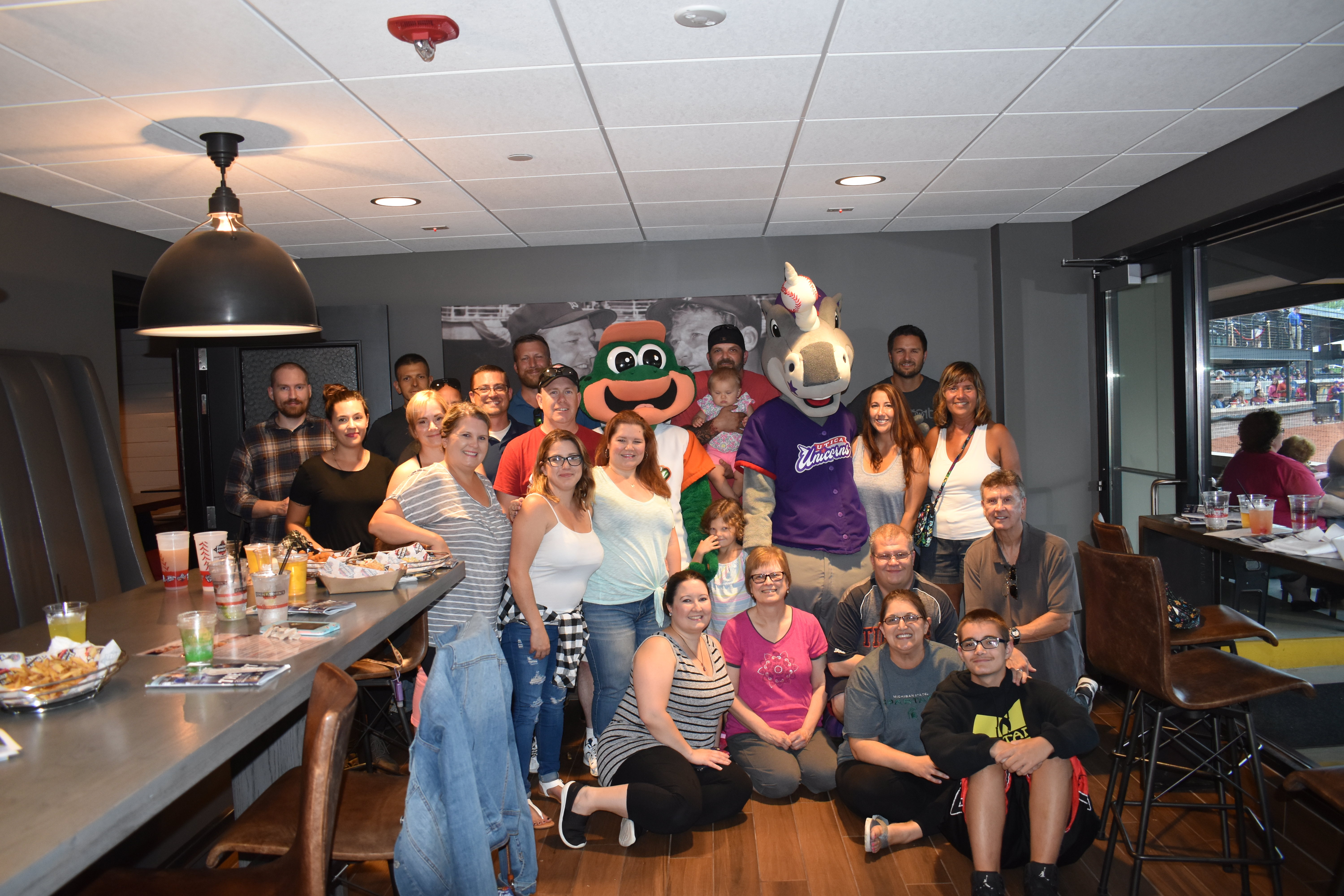 SUITES 
Andrew says… "We got a suite tonight. Just wanted to tell you the girls working this suite are top notch. Professional, super friendly and they have gone above and beyond. As always, your team never disappoints. I brought some first timers too and they are blown away."
Rhonda says… "Just wanted you to know that we went to the field today for the first time to celebrate a birthday. I can't say enough about how impressed our family was with just everything! The staff is friendly and so family oriented. My 5 year old granddaughter was so excited with the superhero dance squad who let her pose for pictures, dance with them, answered all of her questions, etc. A member of your staff helped her run the bases…I could go on an on about the wonderful afternoon. Thank you so much for one of the best memories my granddaughter will have!"
Angie says… "A quick note to say thank you for a great event for our clients and friends on Saturday.  The Chevy tent setup was AMAZING.  We received nothing but compliments on the location, food/drink and overall experience. We spent the entire weekend at the park- Friday with the Adamo Group, Saturday with our event, and Sunday in Suite 302 for a birthday party, and all of the events were wonderful.  I may be a bit biased, but I thought ours was the best!
Carol says… "I just want to Thank you and your staff for a wonderful evening for the team and their parents. Everyone had fun filled evening and have so many memories and pictures. The kids will never forget the experience that you provided for them with all of the things they got to do.  This was the first time for most of them to attend any games at JJ's and from the chatter they will be back in the form of spectator and a even someone is going to have a birthday party there."
Gordon says … "This was our first time to a game at Jimmy John's and my Grandson's first baseball game. What a special event is was viewing the game from the suite. During the game my Grandson recovered a foul ball that bounced off the roof top, what a memory. I had no idea of all the extra entertainment you had at the ballpark, kids play area, movie night, and special events you hold like the camp out on the field. You have provided a complete entertainment venue which is the perfect size and location for the Detroit suburbs. After the game we were able to run the bases, parents and kids all running together. You are providing a wonderful Family event for the community and I Thank You."
SPONSORSHIP
Cortney says… "I just wanted to send a quick note to say Thank You to everyone who assisted us in our great event last week! The staff loved the founder's suite and we hope to have another event there soon! The food and drinks were AWESOME as well as we felt the suite fitted us perfectly! Thank you all again and looking forward to another game in the near future!"
Joe says … "You have created a tremendous venue and generated so much wholesome and affordable family fun. Great job making this experience enjoyable for everyone."
Mark says … "I just want to thank you for your hospitality in inviting our family to the game on Saturday. You really have a world class park, but more importantly you have a really great family place to have a great time. Again, thank you."