Special Releases: Brew & Fall Fest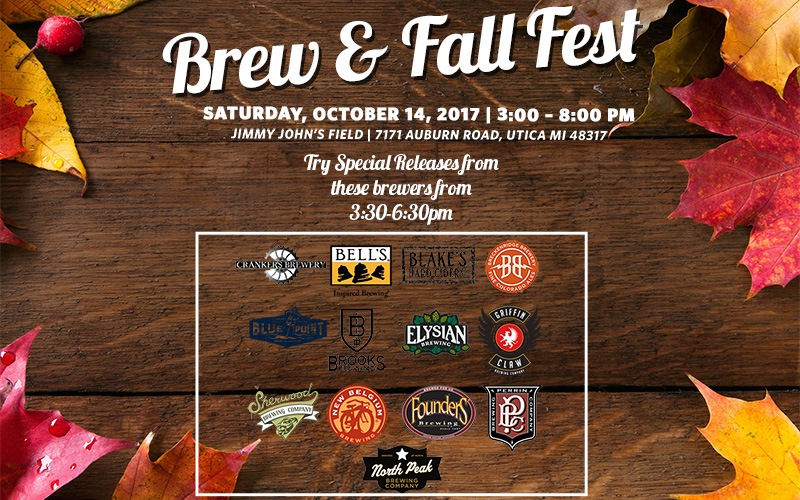 Beer Fest Schedule
Special Releases between 3:30-6:30pm
3:30pm First Release
Brooks Brewing Burn Permit (American Double Imperial Stout, 8% ABV)
– A fairly strong, highly roasted dark stout with pronounced bitterness complimented by chocolate and just the       right amount of heat from chili peppers
Sherwood Brewing Pumpkin Bread Hefewiezen (6.5% ABV)
-A Hefeweizen made with pumpkin and pie spices
Founder's Brewing Breakfast Stout (8.3% ABV)
-Brewed with flaked oats, bitter and sweetened imported chocolates, Sumatra and Kona coffee
3:45pm
Elk Brewing Crème Soda (5% ABV)
-Blonde ale base, Killed off the yeast and added cane, sugar, honey and vanilla
Cranker's Brewery Crankenstein (6.5% ABV)
-Rich toasty malt pairs with a clean flavorful German hop impression to balance Crankenstein's mild sweetness – Wonderful herbal and spicy hop aromas top off what is the beer that is a must for the fall season
4:00pm
Elysian Brewing Company Night Owl (Pumpkin Ale, 6.7%)
-Made with Pale, Munich and Crystal malts green and roasted pumpkin seeds, pumpkin in the mash, boil and fermenter (Bittered with Horizon hops. Spiced in conditioning with nutmeg, clove, cinnamon, ginger and allspice)
Bell's Brewing Bloktoberfest (Marzen, 5.5% ABV)
-With herbal hop aromas, this balanced amber lager focuses on lightly toasted malt that lends body without too much sweetness. Perfect for a week-long wedding celebration in Germany or the start of the Michigan autumn.
4:15pm
Founder's Brewing Harvest Ale (IPA, 7.6% ABV)
-Impossibly aromatic and bright IPA bursting with fresh pine, melon and citrus notes
Perrin Brewing Company Black Goat (Lager, 8.5% ABV)
-Black Goat is a Double Black Lager; sure to please the harshest of critics. Caution: this billy kicks!
4:30pm
North Peak Brewing Company 20th Anniversary Ale (Barley Wine, 9% ABV)
– American-style barleywine, brewed with lots of Michigan malts & hops
Sherwood Brewing Fest Bier (Oktoberfest style Lager, 5.25% ABV)
-A crisp German style Oktoberfest Lager
4:45pm
Cranker's Brewery Big In Japan (4.5% ABV)
-Crisp Citrus Session IPA
Blake's Hard Cider Company Applelantern (6.5% ABV)
– Experience the warming flavor of our handpicked apples balanced with the oven roasted richness of pumpkin & molasses. Refreshingly crisp & perfectly spiced our Apple Lantern brings you the taste of autumn that can only come from Blake's Orchard.
5:00pm
Founder's Green Zebra (Ale, 4.6% ABV)
-Subtly sour and a little sweet, this ale is a refreshing take on a nearly extinct German style, gose. Watermelon is the highlight of this lightly-hopped treat and gives it a hint of satisfying juiciness. The soft mouthfeel and dry finish comes courtesy of the addition of sea salt, a traditional gose ingredient.
New Belgium Brewing Transatlantic Kriek (6.5% ABV)
-50% Sour Golden Ale blended with 50% Traditional Cherry Lambic Ale leads to an intense cherry nose, a sour flash across the palate and a refreshing, mouthwatering finish.
5:15pm
Griffin Claw Brewing Company Barrel Aged Screamin Pumpkin (BIP, 9% ABV)
-The blending with the spices, hops, and malt creates in our opinion the ultimate pumpkin beer
Brooks Brewing Tillson Street Stout (7% ABV)
-Original Moji stout but with double the coffee and chocolate flavor
5:30pm
Breckenridge Brewery Autumn Ale (Old Ale, 6% ABV)
-This fall seasonal combines the malty goodness of a German lager with the clean crispness of an American ale. Brewed with Munich malts and a delicate blend of Bavarian hops, it's a full-bodied treat with a nutty-sweet middle, a warming alcohol level and notes of toasted grains.
Blue Point Brewing Company Oktoberfest (Marzen, 5.5% ABV)
-Blue Point Octoberfest is another palate-pleasing seasonal brew. Originally brewed in 1810 to celebrate the betrothal of the Crown Prince of Bavaria, Blue Point continues the celebration by traditionally brewing this special malty amber lager every October.
5:45pm
Sherwood Brewing Houlihan Irish Stout (6% ABV)
-A rich Irish Export Stout with big roast flavor
Bell's Brewing 20th Anniversary Imperial Voodoo Vadar
6:00pm
Perrin Brewing Company Blackberry Ale (IPA, 5% ABV)
-This seasonal brew combines the tart sweetness of ripened Blackberries along with an aromatic floral bouquet of fresh Michigan bittering hops, sit back with this beer and enjoy the change of the seasons wherever you are.
Founder's Brewing Mosaic Promise (IPA, 5.5% ABV)
–Mosaic Promise showcases two unique ingredients: Mosaic hops and Golden Promise malt. The versatility of the hop's pleasing aroma and flavor characteristics and the traditional barley's depth of flavor comprise this clean, rich, golden beer.
6:15pm
Cranker's Brewery Brazilian Brown (Brown Ale, 5% ABV)
– Rich in color and body, with sweet and toasty tones, and a fresh roasted coffee finish
North Peak Brewing Company Torrent Oak (6.7% ABV)
-Oat IPA
6:30pm
Elysian Brewing Company The Great Pumpkin IPA (Pumpkin Ale, 8.1% ABV)
– Pours deep copper with ghostly white head. Intense pumpkin, sugar and spice on the nose with a nice bready and malty backdrop to tame all those autumn spices into a remarkably smooth, balanced and delectable fall treat.