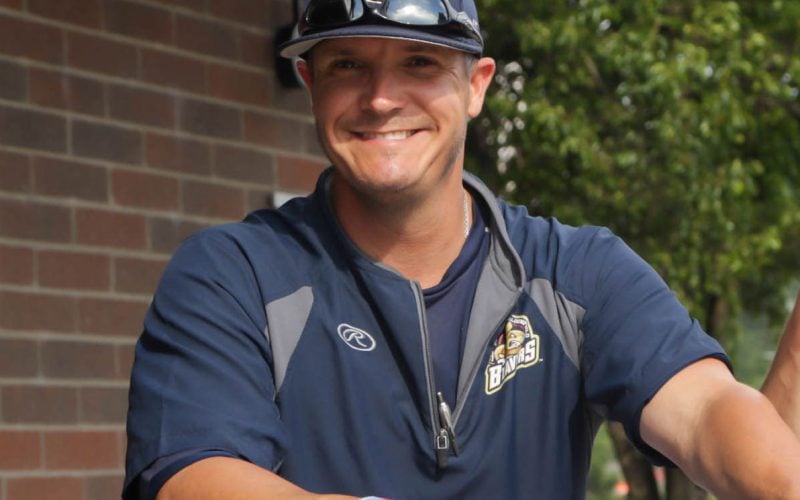 Metro Detroit Native And USPBL Manager Makes Major League Moves
February 4th, 2020
ROCHESTER, Mich. – The United Shore Professional Baseball League is happy to announce the promotion of former Birmingham Bloomfield Beavers' Manager Chris Newell, who has joined the New York Mets organization as Field Manager for the Kingsport Mets in the Appalachian League.
From 2016 to 2019, Newell managed the Beavers and helped the team take home two back-to-back championship titles in 2017 and 2018. Newell's contributions included the Beavers holding the USPBL's best record in the 2016, 2017, and 2018 seasons.
"It was an honor and still is to have been named the USPBL's first ever Manager. First and foremost, I'd like to thank Andy Appleby for believing in me and trusting me to represent his league the right way both on and off the field. He trusted me to bring in the right players and we certainly did that. I'd like to thank all of my players for not only giving me their very best each and every day, but for also being people who the young fans could look up to on a daily basis! They set the bar very high and created a culture that all professionals should strive to be like. They are the biggest reason for this wonderful new opportunity that I have with the New York Mets Organization. I will always cherish my time as the Skipper of the Birmingham-Bloomfield Beavers, as well as Andy's friendship. Andy's vision has provided so many opportunities for so many people, and I'm very proud to be living proof," said Newell.
Newell, a Waterford native, has been in professional baseball since 1997 as a player, manager and scout. After a successful college career, Newell played parts of two years in professional baseball in 1997 and 1998. Following his playing career, Newell began a career as a professional scout, coaching and private baseball instructor.  Through his private instruction, Newell has trained 44 players who have either been drafted professionally or signed professional contracts. His former students include MLB All-Star and 2016 National League Batting Champion DJ LeMahieu and Tampa Bay Rays' draftee, Jacob Cronenworth.
"I'm very happy for Chris and this terrific opportunity.  Chris had 10 players sign big league contracts while he was with the USPBL, and I know he will continue to succeed with the New York Mets Organization" said USPBL Founder, Owner and CEO Andy Appleby. "The USPBL is leading when it comes to overall development of baseball players and coaches. We are not only signing players to MLB organizations, but our coaches are advancing as well. We are a stepping-stone to the big leagues, and Chris now joins numerous other former USPBL players and coaches who have taken that next step."
Along with the 37 former USPBL players signed by MLB baseball organizations, five USPBL alums, including Chris Newell, are now coaching for MLB organizations.  Other USPBL alums coaching for MLB organizations are:
Adan Ordonez– The former Birmingham Bloomfield Beaver is now a Player Development Coach in the Philadelphia Phillies minor league system. Ordonez spent the full 2019 season with the USPBL as a utility player for the two-time league championship team.
Casey Chenoweth – Chenoweth was the first former USPBL player to make a career within the majors when he began as a Hitting Coach in 2018 for the San Francisco Giants in the Dominican Summer League. Chenoweth is now with the Arizona Diamondbacks serving as a Short Season Hitting Coach. Chenoweth played as an infielder for the Eastside Diamond Hoppers in 2017.
Ray Ortega– Ortega joined the San Francisco Giants organization in 2019, and he is the Bullpen Coach for the Sacramento River Cats (AAA).  Ortega spent the 2016 and 2017 seasons in the USPBL as a catcher for the Birmingham Bloomfield Beavers before becoming the Assistant Manager of the Birmingham Bloomfield Beavers in 2018.
Jared Gaynor – Gaynor has joined the Minnesota Twins organization as a Pitching Coach in the Dominican Summer League. Gaynor pitched for the Eastside Diamond Hoppers in 2016 and the Westside Woolly Mammoths during 2017 USPBL season.