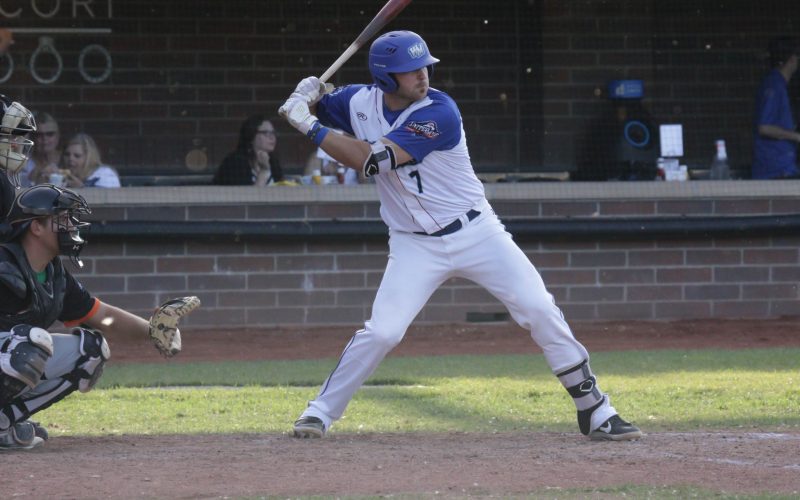 Mammoths Walk-Off Hoppers, 5-4, in Extra Innings
June 21st, 2019
UTICA, Mich. – Daniel Williams lined one off the left-field wall to drive in the game-winning run to lead the Westside Woolly Mammoths (7-11) to a 5-4 extra-inning win over the Eastside Diamond Hoppers (9-10) in front of another sell out crowd on Friday night at Jimmy John's Field.
Jake Pulcheon hit a two-run home run and JaVon Shelby added a solo home run for the Mammoths. Right-handed pitcher Matt Cronin settled in after giving up three runs in the first inning, throwing 5.0 scoreless innings after the first to finish with 6.0 innings pitched and four strikeouts.
Picking up the win in relief was RHP Josh Hejka, throwing 1.2 innings and struck out one. Alec Craig scored two runs for the Mammoths and went 1-for-3 with one RBI.
Pat Adams continued his hot bat for the Diamond Hoppers, extending his streak of consecutive games of reaching base safely to a league-best 20 games. Adams went 2-for-5 with a pair of doubles and drove in one run. Luke Johnson finished 2-for-3 and drove in two runs.
The Woolly Mammoths are the hottest team in the USPBL, picking up their fourth straight win tonight. They will take on the Birmingham Bloomfield Beavers, winners of four of their last five games, on Saturday at 7:05 p.m. It's 80's Night at Jimmy John's Field with Square Pegz Band playing from the Michigan Schools & Government Credit Union Sound Stage and a Postgame Dance Party following the game. Gates open at 6 p.m.
#YourSummerDestination #TrustTheTusk