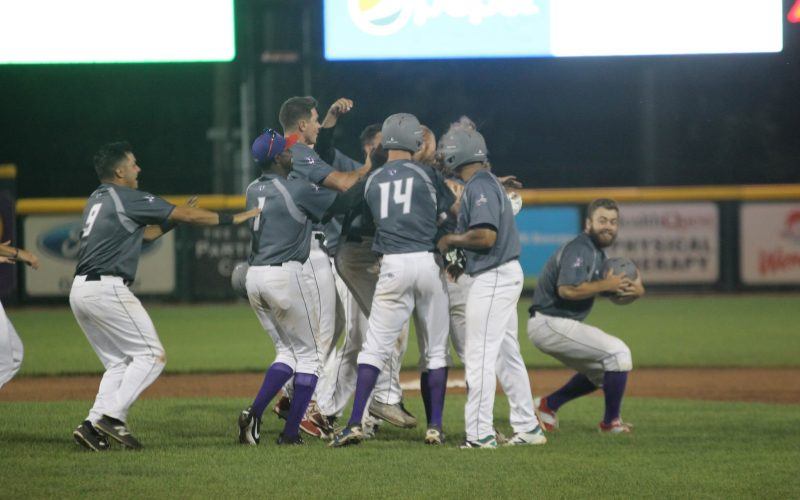 Lollio Hits Walk-Off Unicorns in 3-2 Victory
July 15th, 2017
By Steve Marowski
Utica Unicorns 3 vs. Eastside Diamond Hoppers 2
Utica — Eastside Diamond Hoppers starting pitcher Devin Alexander was perfect through 5 2/3 innings, but it was Unicorns first baseman Nicco Lollio who got the last laugh as he hit a sacrifice fly in the bottom of the ninth inning to secure a 3-2 victory for the Unicorns.
With the bases loaded, Lollio came up and hit a 3-2 pitch to right fielder John Menken. Taylor Grzelakowski hustled home to score the winning run.
"Ced gave me the green light on 3-0, and I might've tried to do a little too much with the swing," Lollio said regarding his at-bat. "This was a big team win and it feels good to get the win tonight."
The Diamond Hoppers got on the board first with a two-RBI double from Menken who was 2-4 with two RBI's on the night.
For the first six innings, the Unicorns bats were quiet as Alexander allowed just one baserunner. However, in the seventh, the Unicorns tied the game at two on a two-RBI single by Brandon Shaffer.
Lollio's sacrifice fly in the ninth put the Unicorns ahead for good.
Unicorns starting pitcher Randy Dobnak was also strong in his seven innings of work. He gave up two runs on just three hits and tallied five strikeouts.
"It was brilliant pitching performances on both sides," Unicorns Manager Jim Essian said. "We needed the win, and we're delighted with the victory."
Upcoming Games
Sunday, July 16, Westside Woolly Mammoths vs. Birmingham-Bloomfield Beavers, 1:35 p.m. (Buzz Bobblehead Giveaway)
Thursday, July 20, Birmingham-Bloomfield Beavers vs. Utica Unicorns, 7:05 p.m. (The World Famous Team Ghost Riders/Wayne State Night/Thirsty Thursday)
Friday, July 21, Eastside Diamond Hoppers vs. Westside Woolly Mammoths, 7:05 p.m. (Fireworks Friday presented by XFINITY)
Saturday, July 22, Utica Unicorns vs. Eastside Diamond Hoppers, 7:05 p.m. (Rockin 4 Hunger)
Sunday, July 23, Birmingham-Bloomfield Beavers vs. Westside Woolly Mammoths, 1:35 p.m. (Lego Day)
Standings
1. Utica Unicorns 15-13
2. Eastside Diamond Hoppers 14-13
3. Westside Woolly Mammoths 13-13
4. Birmingham-Bloomfield Beavers 12-15