Playing in the USPBL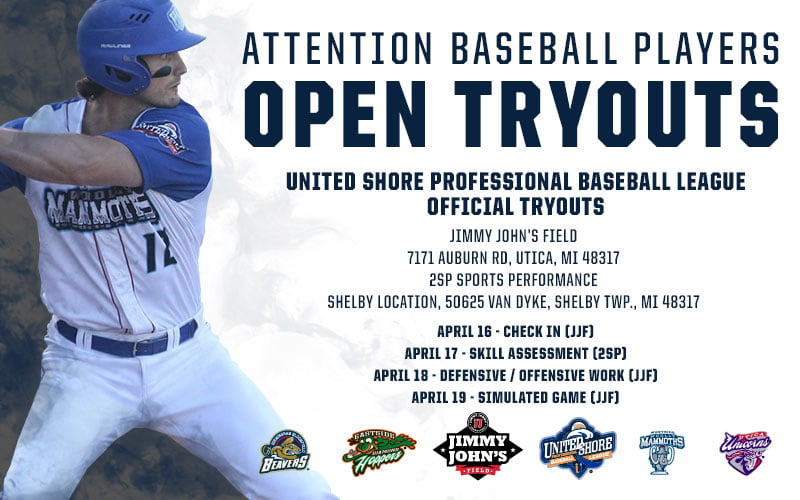 2019 United Shore Professional Baseball League Open Tryout
We are no longer taking online registrations. We will be taking in person registrations – April 16 from 4 p.m. to 5 p.m. at Jimmy Johns Field, and April 17 from 7:30 a.m. to 8:00 a.m. at 2SP Sports Performance Shelby Twp. We will be accepting in person registration (cash only) on the dates above.
Tryout participants will be evaluated by all USPBL Managers and staff. The USPBL has produced 26 players that have signed with MLB organizations in the first three seasons.
Evaluations will include:
Running – 60 yard dash & baseball specific running
Throwing – catchers pop time & position player's velocity
Hitting – exit velocity & situational batting practice
Fielding – position specific drills
Pitchers – range of motion, mechanics & velocity
Video Analysis – hitters: swing & pitchers: mechanics
Simulated games & Situational games
Physical measurables
The United Shore Professional Baseball League will embark on its fourth season after a tremendous first three seasons with over 70,000 fans walking through the gates. A total of 26 USPBL players had their contracts purchased by MiLB clubs since 2016 and a couple players have made it to AA and AAA in affiliated ball. Our season begins May 10th and concludes September 8th. The USPBL offers customized programs to help accelerate player's development that include:
USPBL & DVS throwing program that allowed for 4500+ innings pitched with just one major-throwing related injury
Our USPBL pitching staff averaged an increase of 1.46 MPH during the 2018 season
Customized hitting programs including BATS video breakdown
Integrated technology with FlightScope
Players must be at least 18 years old, been born on or after January 1, 1993 and a United States Citizen. No player may have attained the age of 26 prior to January 1, 2019. Please note that players with college eligibility remaining should check with their school compliance office before registering.
Contact:
USPBL Front Office – 248-601-2400
Baseball Operations email: baseballoperations@uspbl.com
Basic Info:
Cost: Pitchers – $75 & Position Players – $125
April 16th: Check in at Jimmy John's Field
4- 6 pm Check in
6 pm Tryout Briefing
April 17th: Position Player Skill Assessment and Pitcher Assessment
7:30 am

 Pitchers & Catchers Report to 2SP Shelby Twp
11:30 am Position Players Report to 2SP Shelby Twp
April 18th: Breakout Groups- Morning and Afternoon Sessions – Defensive and Offensive work
7:00 am Groups 1 – 3 Report to Jimmy Johns Field
11:00 am Groups 4 – 6 Report to Jimmy Johns Field
April 19th: Simulated Games- Morning Sessions
8:00 am All Players Report to Jimmy Johns Field
Addresses:
Jimmy Johns Field: 7171 Auburn Rd, Utica MI 48317
2SP Sports Performance: 50625 Van Dyke Ave, Shelby Township, MI 48317