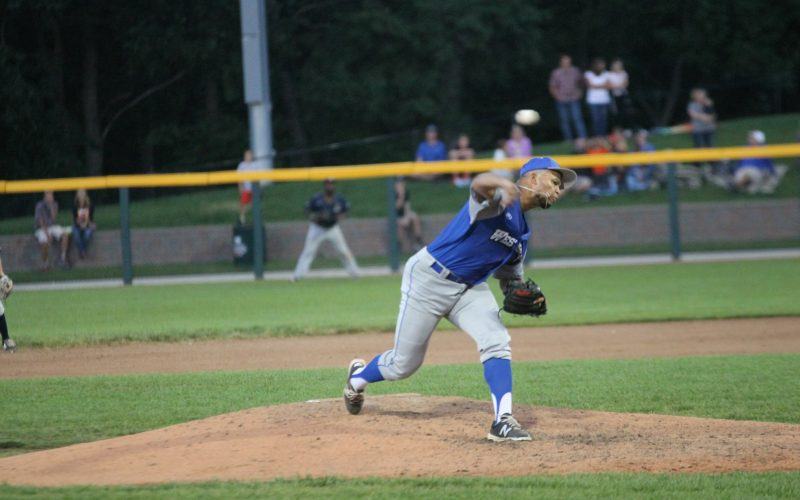 Kimber Win All-Star Game MVP, Wilson Wins Home Run Derby
July 8th, 2017
By Steve Marowski
East 2 vs. West 2
Utica — On Saturday, July 8, Nic Wilson was the winner of the USPBL's inaugural home run derby, and Corey Kimber took home All-Star Game MVP honors with a perfect inning pitched.
"It's always enjoyable to hang out with the other guys, and we get to see each other pretty often, but it was fun being in the same locker room and hanging out with the other teams," Mammoths Manager Shane McCatty said.
Home Run Derby
Wilson was dominant in the Home Run Derby as he blasted home runs off the scoreboard throughout the competition.
In the final round, he went head-to-head with Diamond Hoppers outfielder John Menken. After Menken hit eight homers, Wilson came up and won the competition on his last swing.
All-Star Game
In the second annual USPBL All-Star Game, the Utica Unicorns and Eastside Diamond Hoppers represented the East, and the Westside Woolly Mammoths and Birmingham-Bloomfield Beavers represented the West. In seven innings, the East tied the West, 2-2.
Mammoths relief pitcher Corey Kimber was named the All-Star Game MVP. In one inning pitched, he struck out all three batters he faced in the seventh inning.
"My velocity felt great and my arm felt really good," said Kimber. "It's a great feeling when you strike out the side."
In the top of the first inning, Nic Wilson hit a shot to left-center field, but John Menken went over the fence to rob Wilson of a two-run home run.
The scoring was opened in the top of the second inning when DJ Martinez hit a two-RBI single to give the West a 2-0 lead.
"It was nice to see DJ Martinez square up a couple balls in an environment like this," Beavers Manager Chris Newell said.
The East pulled within one after an RBI double from Chris Cruz. Following the double, Brett Balkan hit an RBI groundout to tie the game at two.
Upcoming Games
Sunday, July 9, Eastside Diamond Hoppers vs. Westside Woolly Mammoths, 1:35 p.m. (Superhero Day)
Thursday, July 13, Birmingham-Bloomfield Beavers vs. Eastside Diamond Hoppers, 7:05 p.m. (Teen Angels/Michigan State Night/Thirsty Thursday)
Friday, July 14, Westside Woolly Mammoths vs. Utica Unicorns, 7:05 p.m. (Fireworks Friday presented by Metro PCS)
Saturday, July 15, Eastside Diamond Hoppers vs. Utica Unicorns, 7:05 p.m. (WCSX Classic Rock Saturday/Girl Scouts Sleepover)
Sunday, July 16, Westside Woolly Mammoths vs. Birmingham-Bloomfield Beavers, 1:35 p.m. (Buzz Bobblehead Giveaway)
Standings
1. Eastside Diamond Hoppers 13-11
2.Utica Unicorns 13-12
3. Westside Woolly Mammoths 12-12
4. Birmingham-Bloomfield Beavers 11-14