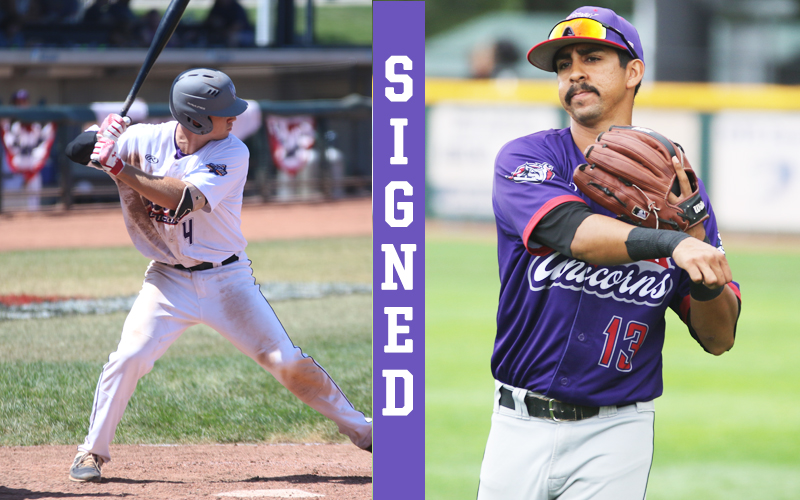 Guzman and Jones Sign with Minnesota Twins Organization
August 22nd, 2019
Players Signed with MLB Organizations
ROCHESTER, Mich. – Utica Unicorns Adrian Guzman and Eric Jones have signed contracts with the Minnesota Twins organization, announced by the United Shore Professional Baseball League's Director of Baseball Operations Justin Orenduff on Thursday. Guzman and Jones are the eighth and ninth players to earn MLB contracts this season, and 36 players overall have signed out of the USPBL.
"Guzman will go down as one of the all-time best Unicorns and one of the most liked players in the USPBL," said Orenduff. "His soft hands, range, arm and ability to play multiple infield positions allowed him the opportunity to play at the next level.
"Eric Jones absolutely hit everything from day one in the USPBL," said Orenduff. "As an accomplished hitter at Davidson University, Eric didn't skip a beat during his entire stay in the USPBL. His tireless work ethic combined with a passion for the game will help him excel in the Twins organization."
Guzman started in 38 games at shortstop for the Unicorns, posting a .970 fielding percentage. A native of La Puente, Calif., Guzman drove in 17 runs and hit two home runs. Over his two seasons in the USPBL, he played 83 games and had one of the quickest releases from shortstop that made him a very strong defensive player.
"My time in the USPBL is unforgettable," said Guzman. "They gave me an opportunity to further my career while also allowing me to grow as a person. The almost two years I was in the USPBL I created so many relationships with people there on and off the field and it has made me a better person overall. I'm grateful that Skip Johnson (Jim Essian), Willi Martin and everyone else involved took a chance on me."
Jones quickly became one of the top offensive players when he came to the USPBL. After a successful college career at Davidson, Jones batted .390 in 20 games, smacking four home runs and posted a .597 slugging percentage. A native of Charlotte, N.C., Jones ranked 10th in the league with 22 runs batted in.
"My time in the USPBL was awesome," said Jones. "Getting to play in front of thousands of fans on a regular basis and play professional baseball at a high level was a dream come true. The USPBL created a situation where I could develop and excel on the field, and I left the league a much better player than I arrived. From top to bottom, the USPBL is full of great people who create a fun and exciting environment to play ball. I'd highly recommend the USPBL to anyone who's got the chance to be apart of it."
#MakeTimeForFun
#YourSummerDestination