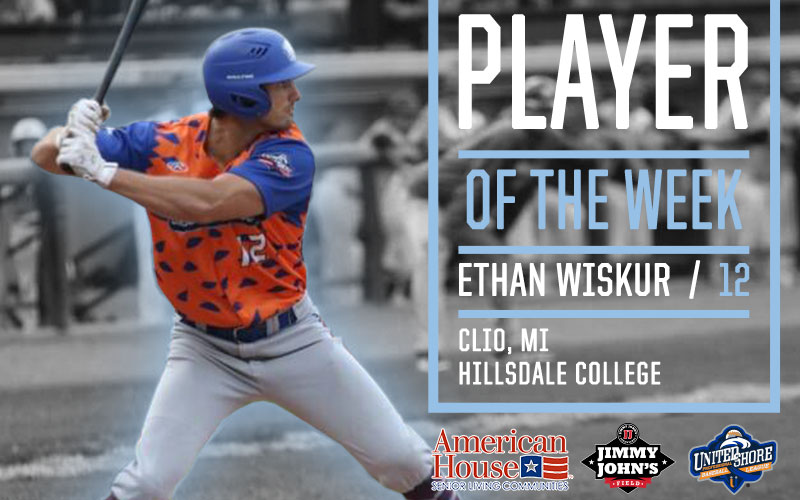 Ethan Wiskur Repeats as USPBL Player of the Week
August 27th, 2018
ROCHESTER, Mich. – Westside Woolly Mammoths Ethan Wiskur was named as the United Shore Professional Baseball League American House Player of the Week for the second consecutive week, announced by the league office on Monday. Wiskur becomes the first player to earn the honor in back-to-back weeks and for the third time this season (5/21, 8/20, 8/27).
Wiskur led the Woolly Mammoths to a pair of victories over the Eastside Diamond Hoppers over the weekend by slugging three home runs and going 5-for-9, driving in five runs. He hit consecutive home runs in the third and fourth innings on Friday night in a 14-1 rout over the Hoppers.
A native of Clio, Mich., Wiskur hit .462 (6-for-13), with three home runs, five RBIs, five runs scored and two walks. He posted a 1.231 slugging percentage and a .533 on-base percentage for the week of Aug. 20-26.
There are just seven games left in the 2018 USPBL season. This weekend will be the final regular season games, with Championship Weekend coming on Sept. 7-9. The USPBL will recognize the amazing Little World Series run by Grosse Pointe Woods-Shores on Saturday, Sept. 8.
To purchase tickets or read more about upcoming games and promotions, please click here.
PLAYERS OF THE WEEK
Week 1 (May 11-13) – Chris Mangus, 1B/DH, Eastside Diamond Hoppers
Week 2 (May 14-20) – Ethan Wiskur, OF, Westside Woolly Mammoths
Week 3 (May 21-27) – Jalin Lawson, 2B, Westside Woolly Mammoths
Week 4 (May 28-June 3) – Spencer Ibarra, OF, Utica Unicorns
Week 5 (June 4-10) – Carter Grote, INF/OF, Utica Unicorns
Week 6 (June 11-17) – Ryan Smith, OF, Birmingham Bloomfield Beavers
Week 7 (June 18-25) – Cody Brown, RHP, Utica Unicorns
Week 8 (June 26-July 1) – Dan Ward, 3B, Utica Unicorns
Week 9 (July 2-8) – Jimmy Latona, C, Utica Unicorns
Week 10 (July 9-15) – Jack Hranec, 1B, Birmingham Bloomfield Beavers
Week 11 (July 16-22) – Gunnar Buhner, INF, Eastside Diamond Hoppers
Week 12 (July 23-29) – Dan Ward, INF, Utica Unicorns
Week 13 (July 30-Aug. 5) – Brandon Rawe, OF, Birmingham Bloomfield Beavers
Week 14 (Aug. 6-12) – Dan Elliott, 1B, Utica Unicorns
Week 15 (Aug. 13-19) – Ethan Wiskur, OF, Westside Woolly Mammoths
Week 16 (Aug. 20-26) – Ethan Wiskur, OF, Westside Woolly Mammoths
#YourSummerDestination