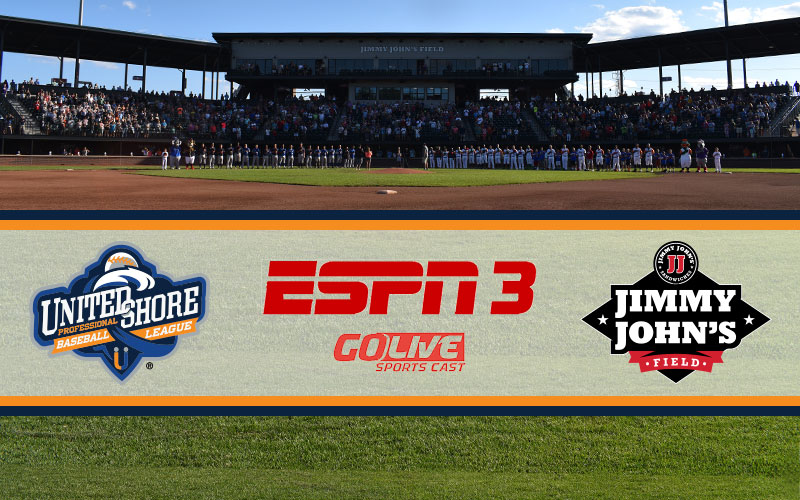 ESPN3 To Feature USPBL Games This Season
April 5th, 2018
ROCHESTER, Mich. – The United Shore Professional Baseball League will broadcast selected games on ESPN3 this season at Jimmy John's Field in historic downtown Utica, announced Owner and CEO Andy Appleby on Thursday. The USPBL is the only professional baseball organization to feature games on ESPN3.
"To have our games on ESPN3 is another wonderful milestone in the development of the USPBL," said Appleby. "This national platform will give us a tremendous opportunity to show off our great ballpark, family-fun atmosphere and the quality baseball being played every weekend in historic downtown Utica."
There will be 10 games featured on ESPN3 for a Game of the Week series that will broadcast two games per month. Some of the highlights will include the season opener on Friday, May 11, the Home Run Derby and All-Star Game on Saturday, July 7, and all the playoff games from Sept. 7-9.
The USPBL has produced 20 players that have signed with MLB organizations in just two years of competition. Director of Baseball Operations Justin Orenduff, former first-round MLB draft pick of the Los Angeles Dodgers in 2004, knows how important it is to have the players compete in front of a national audience.
"We consider the USPBL as a developmental professional baseball league for Major League Baseball," said Orenduff. "Therefore it's important for our players to compete on a national stage and our games on ESPN3 will allow them to do that. We look forward to this great partnership moving forward to help promote these highly-skilled players."
Neal Ruhl will serve as the play-by-play commentator for the USPBL for all ESPN3 games. Ruhl has called over 100 contests on ESPN3 during his outstanding career, served as a special guest for 7 Sports Cave Weekly Show on WXYZ-TV and worked as play-by-play announcer for the Detroit Pistons Radio Network alongside NBA champion Rick Mahorn.
"Neal is one of the most talented commentators in metro Detroit and we are excited to have him as part of our team," said Scott MacDonald, Vice President of Marketing and Public Relations. "I had the privilege of working side-by-side with Neal at Oakland University and look forward to continuing that great working relationship at the USPBL."
Go Live Sports Cast will produce the games for ESPN3 through a partnership with the USPBL on their site Go Live Sports Cast which is also available on Apple TV and ROKU. Along with the 10 featured games, GLSC will carry the remainder of the USPBL's regular season games streamed live through September 2018.
"We're excited to partner with the USPBL," said Frank Mazzella, Owner of parent company Soundque Entertainment."We're looking forward to bringing the league, teams and players national exposure on ESPN3."
Opening Weekend will be May 11-13 at Jimmy John's Field. Fans can purchase single-game tickets, including the contests on ESPN3, by clicking here.
POTENTIAL GAMES ON ESPN3
Friday, May 11 / 7:05 pm – Woolly Mammoths vs. Beavers
Sunday, May 20 / 1:05 pm – Beavers vs. Diamond Hoppers
Saturday, June 9 / 7:05 pm – Unicorns vs. Diamond Hoppers
Thursday, June 21 / 7:05 pm – Unicorns vs. Woolly Mammoths
Saturday, July 7 / 5:30 pm – Home Run Derby and All-Star Game
Friday, July 27 / 7:05 pm – Beavers vs. Woolly Mammoths
Thursday, Aug. 16 / 7:05 pm – Diamond Hoppers vs. Unicorns
Friday, Sept. 7 / 7:05 pm – Playoffs
Saturday, Sept. 8 / 7:05 pm – Playoffs
Sunday, Sept. 9 / 1:05 pm — Championship
* Schedule subject to change
#YourSummerDestination