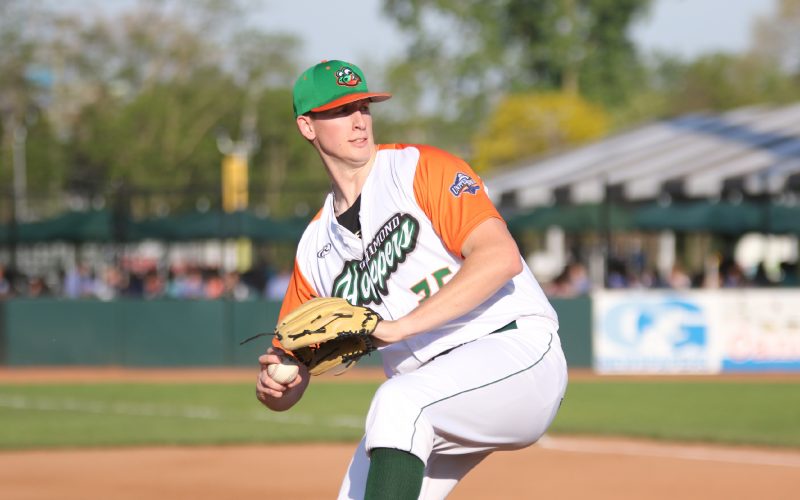 Diamond Hoppers Down Beavers, 2-1
May 24th, 2018
Box Score | Photo Gallery | Tigers Matt Boyd Interview
UTICA, Mich. – Gunnar Buhner went 3-for-4, with a double and RBI, while right-handed pitcher Tyler Palm (1-1) threw six strong innings, scattering five hits and struck out six to lead the Eastside Diamond Hoppers (3-3) to a 2-1 victory over the Birmingham Bloomfield Beavers (3-3) on Thursday night at Jimmy John's Field.
RHP Logan Gillaspie tossed scoreless seventh and eighth innings, and RHP Torey Deshazier earned the save with a scoreless ninth, striking out two.
The Beavers' RHP Mark Seyler (0-1) threw five innings, allowing five hits, two earned runs and struck out four. RHP Brian Heldman pitched scoreless frames in the sixth and seventh innings, and LHP Ross Vance threw a scoreless eighth inning.
UPCOMING GAMES:
Friday – Eastside Diamond Hoppers vs. Utica Unicorns, 7:05 p.m., gates open at 6 p.m.
PROMOTIONS: XFINITY Fireworks Spectacular after the game, Meet the Unicorns where fans can get autographs before the game
Saturday – Utica Unicorns vs. Westside Woolly Mammoths, 7:05 p.m., gates open at 6 p.m.
PROMOTIONS: WCSX Classic Rock Saturday with Square Pegz, 80's Night at the ballpark, Stranger Things and Postgame Dance Party for one hour on the field after the game … Afterglow party in the AAA Clubhouse immediately following Dance Party … Anyone dressed up in 80's gear will be entered in for a chance to win a prize
Sunday (DH) – Westside Woolly Mammoths vs. Birmingham Bloomfield Beavers, 1:05 p.m., gates open at Noon — Second game starts 30 mins after the first — both games will be 7 innings
PROMOTIONS: Sunday Fun Day with Beauty and Beast, presented by Fairytale Entertainment … Beauty and Beat will be at the front gates at Noon and will only be at the ballpark until 2 p.m. … Anyone that purchases a ticket to the first game will be able to stay for game two
Monday, Memorial Day – Eastside Diamond Hoppers vs. Utica Unicorns, 1:05 p.m., gates open at Noon
PROMOTIONS: First 750 fans receive USPBL Star Spangled Sunglasses … All Veterans receive a FREE grandstand ticket, and family members get $2 off any grandstand ticket … $1 Hot Dogs, $1 Chips, $1 Soft Drinks
#YourSummerDestination