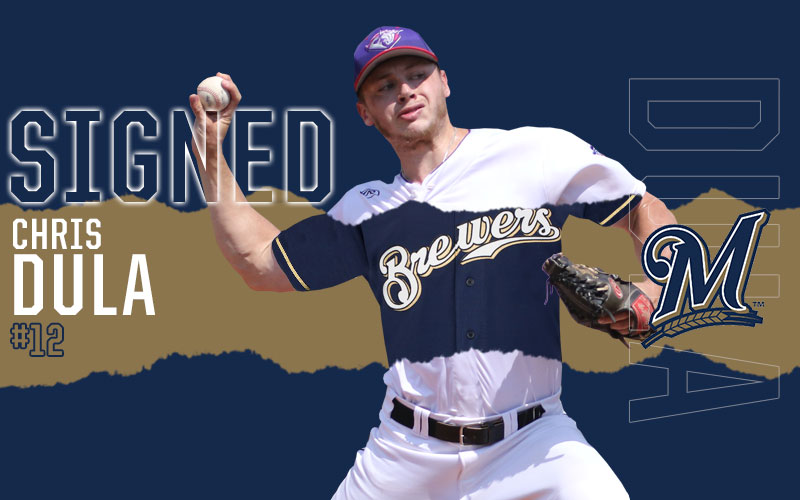 Chris Dula Signs with Milwaukee Brewers
December 18th, 2018
ROCHESTER, Mich. – Utica Unicorns pitcher Chris Dula signed a contract with the Milwaukee Brewers organization, announced by Director of Baseball Operations Justin Orenduff on Tuesday. Dula set a United Shore Professional Baseball League record by throwing a 102 miles-per-hour fastball and becomes the 26th player to sign with a Major League Baseball organization since 2016.
"Chris Dula arrived in the USPBL after previously being a part of the Texas Rangers organization," said Orenduff. "The USPBL allowed Dula to have time to work through aspects of his pitching delivery that had previously led to inconsistencies with command during his career. Dula has possibly the best arm we will ever see in the USPBL, setting and breaking his own velocity records time and time again with a fastball that exceeds 100 miles per hour. He now leaves the USPBL with a new opportunity in the Milwaukee Brewers organization."
Dula, a right-handed pitcher from Ferrum, Va., appeared in 35 games in 2018 for the Unicorns. He struck out 49 in 31.0 innings pitched and earned one save. Dula threw numerous pitches over 100 miles per hour, including a dazzling All-Star Game performance where his average fastball was 99 miles per hour. He was named Co-MVP of the 2018 USPBL All-Star Game.
"Thanks to the USPBL for giving me the opportunity to continue to chasing my dream," said Dula. "The DVS System allowed me to further develop my skills, while also staying healthy."
#YourSummerDestination