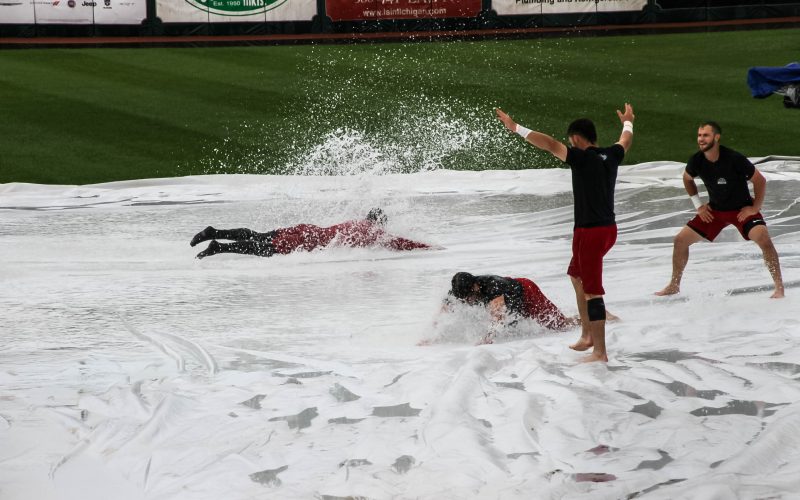 Beavers-Hoppers Game Suspended Due to Weather
August 18th, 2019
UTICA, Mich. – Due to severe weather the United Shore Professional Baseball League game between the Birmingham Bloomfield Beavers and Eastside Diamond Hoppers has been suspended, announced by the league office. The teams played one scoreless inning before the heavy rains swept through Jimmy John's Field. The game will be resumed a later date.
RAIN OUT PROCEDURE

If the game is OFFICIALLY cancelled, postponed or suspended, which means the game never started or we failed to complete an official game, fans should keep their ticket stubs with that game's date. In most instances, a game that is cancelled, postponed or suspended due to weather will be made up as part of a double header. Fans are NOT REQUIRED to use their tickets for the make-up game. Rainout tickets may be used for a similar ticket location to a scheduled make-up or restart of a suspended game or may be exchanged for any remaining regular season USPBL game during the 2019 season at Jimmy John's Field, based on availability. All tickets are based upon availability, and are valid for an equal, or lesser value, ticket. No full or partial refunds will be given for a difference in ticket price. Fans should redeem their tickets early once they know what game they would like to attend to avoid that game being sold out.


DAVE & BUSTER'S RAINOUT OFFER
In the event a USPBL game is cancelled, postponed or suspended due to rain, fans will receive a $20 free game play with a $20 game play purchase or reload. Rainout tickets are required for redemption. Only one offer per guest, per day may be redeemed. Offer to be redeemed at Dave & Buster's only (offer cannot be redeemed at Jimmy John's Field). Valid for up to three (3) days after USPBL rain out game date.

#MakeTimeForFun
#YourSummerDestination