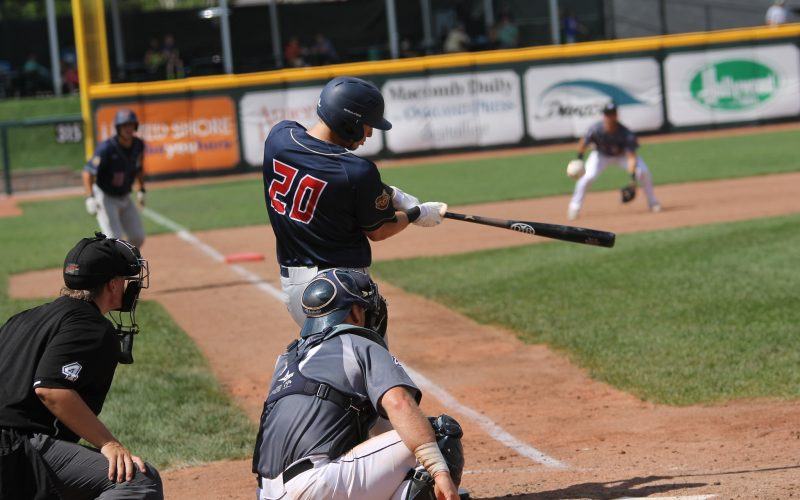 Beavers Come From Behind to Win 7-6
July 3rd, 2017
By Steve Marowski
Birmingham-Bloomfield Beavers 7 vs. Utica Unicorns 6
Utica — The Birmingham-Bloomfield Beavers overcame a 2-0 deficit to defeat the Utica Unicorns, 7-6.
Unicorns starting pitcher Donny Murray threw five perfect innings, but a four-run sixth inning from the Beavers made the game much more interesting.
"This was a great team win," Beavers Manager Chris Newell said. "Guys are starting to settle in, know their roles and believe in themselves."
The Unicorns got off to a 2-0 lead in the top of the fifth inning on a two-run home run by Chris Cruz. They would add another run later in the inning on an RBI single by Taylor Grzelakowski to make it a 3-0 ballgame.
In the top of the sixth, Brandon Rawe hit a bases-loaded single to score two runs, and Robert Lucido hit a two-RBI single to give the Beavers a 4-3 lead.
The Unicorns retaliated with RBI singles by Mike Rampone and Brett Balkan in the bottom of the sixth to take a 5-4 lead.
The Unicorns lead would not last long as the Beavers took a 6-5 lead in the top of the seventh on a sacrifice fly by Rawe.
After the Unicorns tied the game at six on an RBI single by Greg Jones, the Beavers took the lead for good on an RBI single by DJ Martinez.
"Our guys kept battling. They saw [Murray's] patterns and adjusted well," Newell added.
Rawe finished the game 1-4 with three RBI's, and Lucido was 1-4 with two RBI's.
Upcoming Games
Thursday, July 6, Eastside Diamond Hoppers vs. Birmingham-Bloomfield Beavers, 7:05 p.m. (Viva Las Vegas Elvis Night/University of Michigan Night/Thirsty Thursday)
Friday, July 7, Utica Unicorns vs. Westside Woolly Mammoths, 7:05 p.m. (Fireworks Friday presented by XFINITY)
Saturday, July 8, 2017 USPBL All-Star Game, 7:05 p.m. (USPBL All-Star Game presented by Dave & Buster's featuring America's Got Talent Quick Change)
Sunday, July 9, Eastside Diamond Hoppers vs. Westside Woolly Mammoths, 1:35 p.m. (Superhero Day)
Standings
1. Eastside Diamond Hoppers 12-10
2.Westside Woolly Mammoths 12-11
3. Utica Unicorns 12-12
4. Birmingham-Bloomfield Beavers 10-13