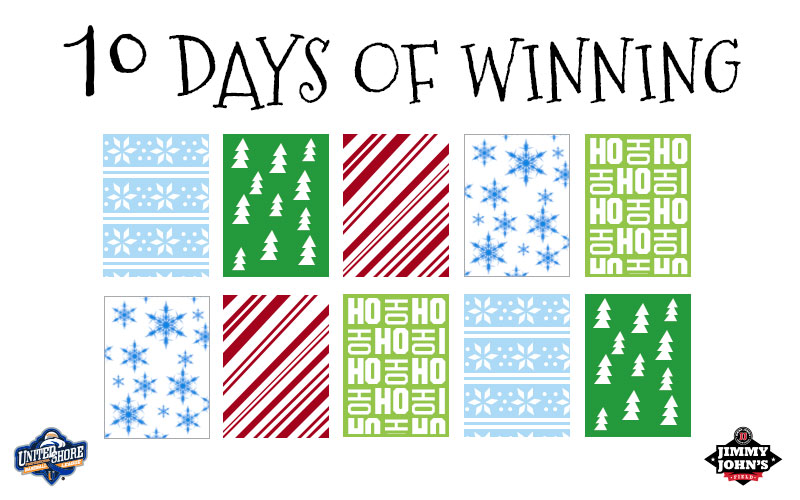 10 Days of Winning
December 2nd, 2019
ROCHESTER, Mich. – The United Shore Professional Baseball League announces 10 Days of Winning, starting on Monday, Dec. 9 and running through Friday, Dec. 20. The promotion includes creative experiences for fans to win while picking up their favorite season ticket package, holiday gift packs, booking a group outing or suite rental.
The promotion will run until Dec. 20 at Noon, with daily drawings for prizes on 10 consecutive work days, Dec. 9-13 and Dec. 16-20.
There are several ways for fans to become eligible to win daily prizes:
Season Tickets
10-Game or More Flex Plan ($90 Value or more)
Merchandise Store ($90 or more, in-store or online)
Cabana Suite Rental (Deposit or Paid in Full)
Founder's Suite Rental (Deposit or Paid in Full)
Group Outing (Deposit or Paid in Full)
Summer Picnic (Deposit or Paid in Full)
Gift Certificate ($90 or more)
To order your ticket package, please call 248-601-2400 ext. 2 or e-mail tickets@uspbl.com, to reserve a company outing or summer picnic package please call 248-601-2400 ext. 4 or e-mail groups@uspbl.com. For merchandise purchases, click here for online or call 248-923-1963, and for any suite rentals please contact 248-601-2400 ext. 3 or e-mail at suites@uspbl.com.
Any fans that have committed to the 2020 season are already eligible to win prizes. The winners will be announced on Facebook, Twitter, and USPBL.com.
The 2020 season will get underway on Friday, May 8 and will run through Sunday, Sept. 13. For a look at the entire schedule, please click here.
10 Days of Winning Prize Schedule (Any purchases made from Dec. 3-20 are eligible)
Week 1
Day 1 – Monday, Dec. 9 – Throw out a ceremonial first pitch
WINNER: Andrew Burland
Day 2 – Tuesday, Dec. 10 – Watch the fireworks spectacular show from the dugout
WINNER: Lisa Harper
Day 3 – Wednesday, Dec. 11 – Receive one Beavers Superman specialty jersey from the 2019 season
WINNER: Stephen Dawson
Day 4 – Thursday, Dec. 12 – 2019 USPBL Champion Mascot, Lancelot, to deliver Jimmy John's to you for lunch
WINNER: Terry Gniewek
Day 5 – Friday, Dec. 13 – Guaranteed promotional giveaway for every game this season that we have a giveaway item
WINNER: Jill Ortlieb
Week 2
Day 6 – Monday, Dec. 16 – Receive one Hoppers LEGO specialty jersey from the 2019 season
WINNER: Kimberly Pirtle
Day 7 – Tuesday, Dec. 17 – Four Front Row Club tickets to any 2020 game (excludes Opening Day / based on availability)
WINNER: Thomas Nellenbach
Day 8 – Wednesday, Dec. 18 – Signed bat from your favorite 2020 USPBL team (Utica Unicorns, Westside Woolly Mammoths, Birmingham Bloomfield Beavers, Eastside Diamond Hoppers)
WINNER: Mary Parkhill
Day 9 – Thursday, Dec. 19 – The "One Day Contract" winner will receive a professional baseball player experience by being in uniform for pregame festivities and sit in the dugout for the game
WINNER: Brad Jones
Day 10 – Friday, Dec. 20 – Sit next to the teams in a Manager's Suite (16 tickets) and VIP Parking Pass for a game (based on availability)
WINNER: Katherine Kreft
#YourSummerDestination
#MakeTimeForFun
#TheresNoAppForThis