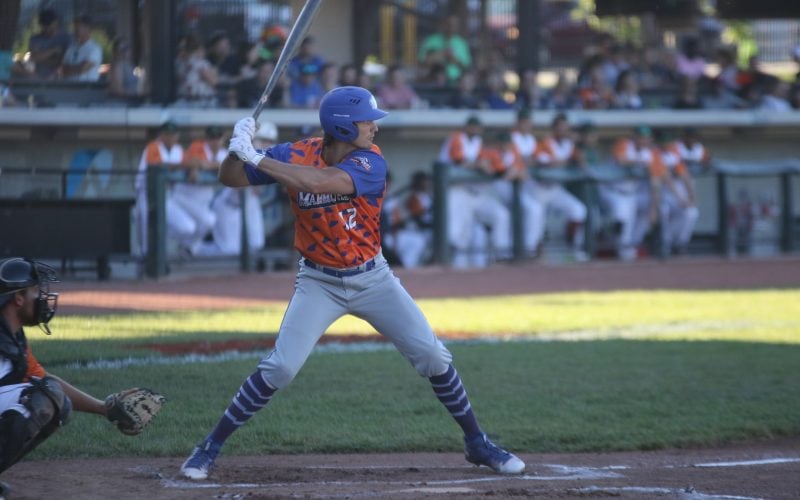 Woolly Mammoths Upend Diamond Hoppers, 5-3
July 6th, 2018
UTICA, Mich. – Ethan Wiskur went 3-for-5 and drove in a run, while Jackson Smith finished 3-for-5 to lead the Westside Woolly Mammoths (11-10) past the Eastside Diamond Hoppers (11-11), 5-3, in front of a enthusiastic crowd on Friday night at Jimmy John's Field.
Right-handed pitcher Clifton Landess III earned his first professional save, striking out two in the ninth. He played his collegiate baseball locally at Madonna University and hails from Carleton, Mich.
Fresh off his selection to the All-Star East roster, the Diamond Hoppers' Gunnar Buhner led all offensive players with a 3-for-4 performance, adding a double and drove in a run. Kody Ruedisili was perfect at the plate, going 2-for-2, with a sacrifice fly and two RBIs.
Earning the win on the mound for the Mammoths was RHP Michael Klein (1-1), working 5.0 innings, giving up two runs and struck out six. Westside's bullpen threw three scoreless innings to close out the game.
Metro Detroit Chevy Dealers Fan of the Game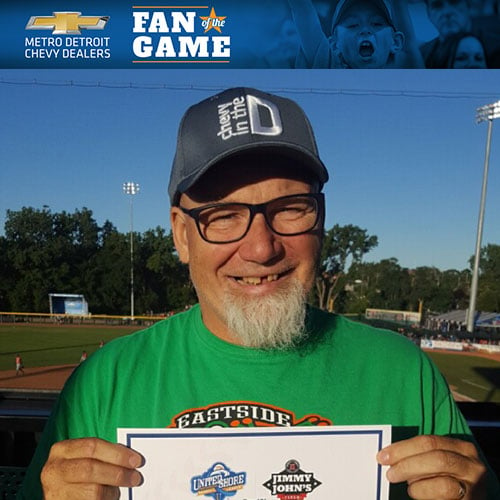 Mike Bellish
UPCOMING GAMES:
Saturday, July 7
Rawlings Home Run Derby and All-Star Game, 5:30 p.m. (Gates open at 5 p.m.), There will be a 7-inning game immediately following the Home Run Derby
Promotions:
WCSX Classic Rock Saturday
Joe Fabulous Bad Company Tribute
Autographs from players and mascots on the field immediately following the game
WCSX personalities and promotions team will be on site
Sunday, July 8
Utica Unicorns (11-11) vs. Westside Woolly Mammoths (11-10), 1:05 p.m. (Gates open at Noon)
Promotions:
Sunday Fun Day with Princesses
Kids Crafts
Costume contest, all dressed up kids will be able to take part in a field parade
Prince and Princess Brunch (Tickets)
— Purchase a $25 ticket for the Princess Brunch, which includes a Left Field Patio ticket. Add $15 to any grandstand ticket to participate in the Princess Brunch as well. Brunch starts when gates open at Noon. Princess Brunch menu includes: Scrambled Eggs, Sausage Links, Potato O'brian, Pancakes, Fruit Salad , Grilled Chicken Caprese and Mini Cupcakes & Cookies.
#YourSummerDestination