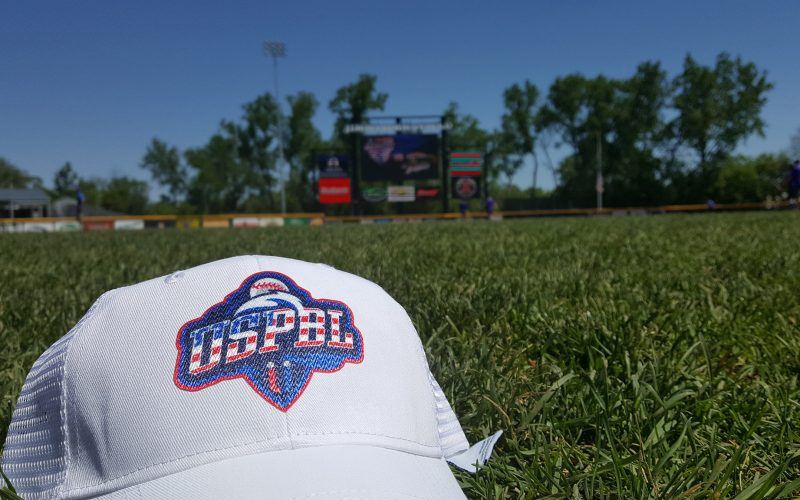 Week in Review: Week Fourteen
August 13th, 2017
By Steve Marowski
Utica — In the 14th week of the 2017 USPBL season, each team picked up a victory. Mammoths starting pitcher Jeremy Holcombe threw a one-hitter and Beavers outfielder Rob Paller capped off the weekend with a two-homer game.
Thursday, August 10: Eastside Diamond Hoppers 5 vs. Birmingham-Bloomfield Beavers 3
The Diamond Hoppers were down 2-0 in the sixth inning, but they rallied for one run in the bottom of the sixth, two in the seventh and two in the eighth to take down the Beavers, 5-3.
Diamond Hoppers first baseman Esteban Gomez was 3-4 with an RBI and a run scored in the victory.
Beavers starting pitcher Jake Welch threw 6.1 innings, allowed only two runs on three hits and struck out five. His counterpart, Tanner Kiest, gave up two runs, four hits and struck out 12 Beavers batters.
Beavers first baseman Christian Helsel was 2-4 with a walk and two runs scored.
Friday, August 11: Westside Woolly Mammoths 3 vs. Utica Unicorns 1
Earning his league-leading seventh win of the season, Mammoths starting pitcher Jeremy Holcombe had arguably his best start of the season in a 3-1 victory against the Unicorns.
Over 7.1 innings, Holcombe allowed only one hit, walked three and struck out nine. The lone hit for the Unicorns was a solo shot from Tanner Levine.
Mammoths first baseman Ethan Wiskur was 2-3 with a walk, an RBI and a run scored.
In his first USPBL at-bat, Jalin Lawson hit an RBI single to left field. He finished the game 1-3 with an RBI.
Saturday, August 12: Utica Unicorns 10 vs. Eastside Diamond Hoppers 2
Although the Unicorns only had five hits, they put together some great at-bats and took advantage of walks in their 10-2 victory over the Diamond Hoppers.
Tony Rosselli was 1-4 with a grand slam, a walk, three runs scored and four RBI's. Justin Erlandson was also 1-4 with a walk, a run scored and two RBI's.
Unicorns starting pitcher Donny Murray threw 5.2 innings, scattered seven hits, gave up just two runs and tallied six strikeouts.
Murray is now second in the league with five wins. His 2.83 ERA puts him fourth among active pitchers.
Sunday, August 13: Birmingham-Bloomfield Beavers 11 vs. Westside Woolly Mammoths 6
Rob Paller had four of the Beavers 18 hits in a 11-6 victory over the Mammoths. Paller had two home runs, a double and four RBI's in the victory.
Seven different Beavers players had multiple hits and three had at least two RBI's. Brandon Rawe was 2-5 with two RBI's and three runs scored and Thomas Roulis was 3-5 with two runs scored.
Roulis now leads the USPBL with a .358 batting average.
Active Offensive League Leaders
AVG: Thomas Roulis, .358
HR: Kam Stewart/John Menken, 8
RBI: Brandon Rawe, 32
Active Pitching League Leaders
Wins: Jeremy Holcombe, 7
Strikeouts: Donny Murray, 88
ERA: Jake Welch, 2.29
Upcoming Games
Thursday, August 17, Birmingham-Bloomfield Beavers vs. Westside Woolly Mammoths, 7:05 p.m. (Woolly Bobblehead Giveaway)
Friday, August 18, Eastside Diamond Hoppers vs. Utica Unicorns, 7:05 p.m. (Fireworks Friday)
Saturday, August 19, Westside Woolly Mammoths vs. Birmingham-Bloomfield Beavers, 1:00 p.m and 7:05 p.m. (Day-Night Doubleheader/Italian Heritage Night)
Sunday, August 20, Utica Unicorns vs. Eastside Diamond Hoppers, 1:35 p.m. (MJC Stars of the USPBL Poster Giveaway)
Standings
1. Birmingham-Bloomfield Beavers 22-19
2. Eastside Diamond Hoppers 20-20
3. Utica Unicorns 20-22
4. Westside Woolly Mammoths 19-20