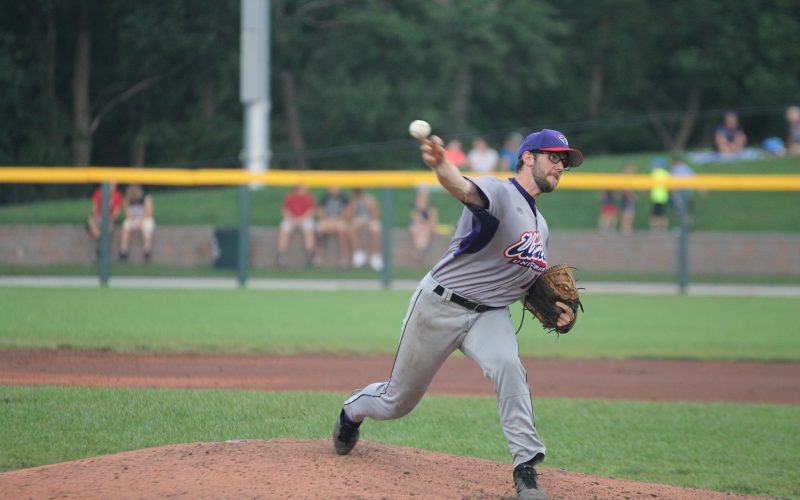 Week in Review: Week Eleven
July 23rd, 2017
By Steve Marowski
Utica — In the eleventh week of the 2017 USPBL season, each team picked up one win with strong starting pitching. Randy Wynne, Torey Deshazier, Randy Dobnak and the entire Mammoths staff threw the ball extremely well and were big reasons for the successes of their respective teams.
Thursday, July 20: Birmingham-Bloomfield Beavers 4 vs. Utica Unicorns 2
Beavers starting pitcher Randy Wynne threw eight innings on the mound and gave up just two runs to help the Beavers to a 4-2 victory.
Wynne struck out seven batters and didn't allow a walk in his outing.
Beavers first baseman Nic Wilson was 1-4 with a home run and two RBI's. Unicorns right fielder Chris Cruz was 2-4 with a triple and Brett Balkan was 2-4 with a double and an RBI.
Friday, July 21: Eastside Diamond Hoppers 5 vs. Westside Woolly Mammoths 1
Torey Deshazier threw 6.2 innings for the Diamond Hoppers and allowed just one run in their 5-1 win over the Mammoths.
Deshazier got the win, allowed just three hits and had seven strikeouts on the night.
Diamond Hoppers first baseman Esteban Gomez was 3-5 with a run scored and designated hitter Mark Krueger was 2-5 with an RBI.
Saturday, July 22: Utica Unicorns 9 vs. Eastside Diamond Hoppers 2
Unicorns starting pitcher Randy Dobnak threw a complete game and led his team to a 9-2 victory over the Diamond Hoppers.
Dobnak scattered four hits over nine innings, gave up just two runs, had seven strikeouts and didn't walk a batter.
Unicorns second baseman Connor Reynolds was 2-4 with three RBI's and first baseman Tyler McVicar was 2-3 with three RBI's.
Diamond Hoppers center fielder John Menken was 2-4 with a home run and an RBI.
Sunday, July 23: Westside Woolly Mammoths 7 vs. Birmingham-Bloomfield Beavers 1
The Mammoths used five different pitchers to defeat the Beavers, 7-1.
Travis McQueen threw four shutout innings and Josh Mason followed with two perfect innings of his own.
Kent Blackstone was 2-4 with a walk, a run scored and two RBI's, and Alex Abbott was 2-3 with a run scored in the Mammoths victory.
Offensive League Leaders
AVG: Kam Stewart, .356
HR: Taylor Grzelakowski, 9
RBI: Kent Blackstone, 26
Pitching League Leaders
Wins: Jeremy Holcombe, 5
Strikeouts: Donny Murray, 62
ERA: Jordan Pannell, 1.98
Upcoming Games
Thursday, July 27, Westside Woolly Mammoths vs. Birmingham-Bloomfield Beavers, 7:05 p.m. (Human Cannon Ball/Parade Company Big Heads Night/Thirsty Thursday)
Friday, July 28, Birmingham-Bloomfield Beavers vs. Eastside Diamond Hoppers, 7:05 p.m. (Fireworks Friday presented by XFINITY/Turn the Park Pink)
Saturday, July 29, Westside Woolly Mammoths vs. Utica Unicorns, 7:05 p.m. (Jake the Diamond Dog presented by Dogtopia/WYCD Country Music Night)
Sunday, July 30, Eastside Diamond Hoppers vs. Utica Unicorns, 1:35 p.m. (Fan Home Run Derby/Harry Potter's Birthday/Jake the Diamond Dog presented by Dogtopia)
Standings
1. Eastside Diamond Hoppers 17-14
2. Utica Unicorns 17-16
3. Birmingham-Bloomfield Beavers 15-17
4. Westside Woolly Mammoths 14-16