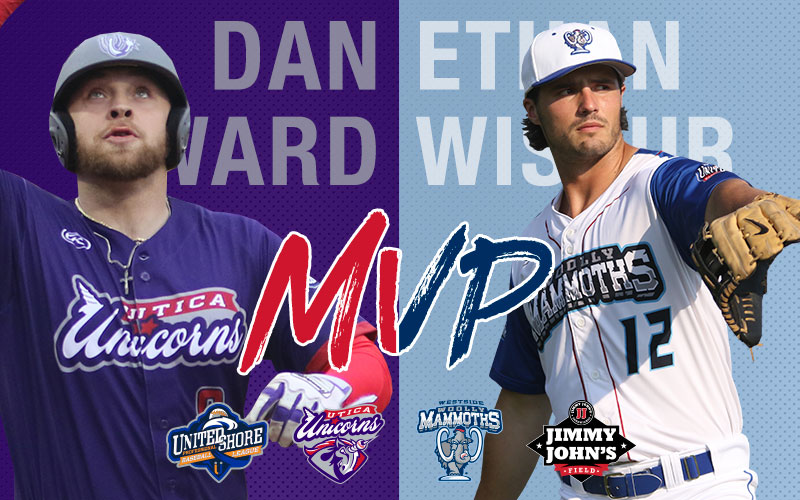 Ward and Wiskur Named USPBL Co-MVPs
September 7th, 2018
ROCHESTER, Mich. – Dan Ward and Ethan Wiskur have been selected as Co-Most Valuable Players, voted on by the league's coaches and baseball operations staff, announced by the United Shore Professional Baseball League on Friday. Ward plays third base for the Utica Unicorns, while Wiskur plays outfield for the Westside Woolly Mammoths.
Ward, a native of Garfield Heights, Ohio, led the league with 12 home runs and finished third in batting average (.293) and fourth in runs batted in (32). He started in 47 games for the Unicorns and is riding a seven-game hitting streak, tallying four home runs in those seven games.
Wiskur, a native of Clio, Mich., led the USPBL with 34 runs batted in and finished second in home runs (10) and batting average (.304). He finished second in the league with 11 doubles and tallied 14 multi-hit games for the Woolly Mammoths.
Earning Pitcher of the Year accolades was Josh Mason, right-handed pitcher from Chesapeake, Va. Mason led the league with an 8-2 record and posted a 2.87 earned run average. He led the USPBL with 78 strikeouts in 94.0 innings pitched.
Cameron Coons earns the Sportsmanship Award from the Eastside Diamond Hoppers. Coons, a native of Albertville, Ala., started in 32 games and hit .556 over the last two weeks of the season. He exemplified gamesmanship at all times and represented his team and the league at the highest level.
The Most Improved Player Award goes to left-handed pitcher Michael Scimanico of the Utica Unicorns. A native of Dumont, N.J., Scimanico improved his average fastball from 89 to 93 miles per hour, and led the USPBL with seven saves. He averaged an astounding 18.4 strikeouts per 9 innings.
In a season where two players earned spots on the Emmy-Award Winning Show ESPN SportsCenter Top 10 Plays, the Defensive Player of the Year Award was a very close vote as Kevin Whatley earned the distinction from the Eastside Diamond Hoppers. Whatley, a native of Port Orchard, Wash., led the league with 130 assists. He started in all 48 games for the Hoppers at shortstop.
New this year is the Harvey Red Bluhm Champion Spirit Award, presented by the Anderson Bluhm Freedom Foundation. The Harvey Red Bluhm Champion Spirit Award recognizes a player that has overcome adversity in their career to make it to professional baseball. Harvey Red Bluhm was a major league baseball player with the Boston Red Sox and played with the great Babe Ruth. This year's recipient is the Unicorns' Dan Ward. The Anderson Bluhm Freedom Foundation will donate $500 to a charity of Dan's choice.
#YourSummerDestination