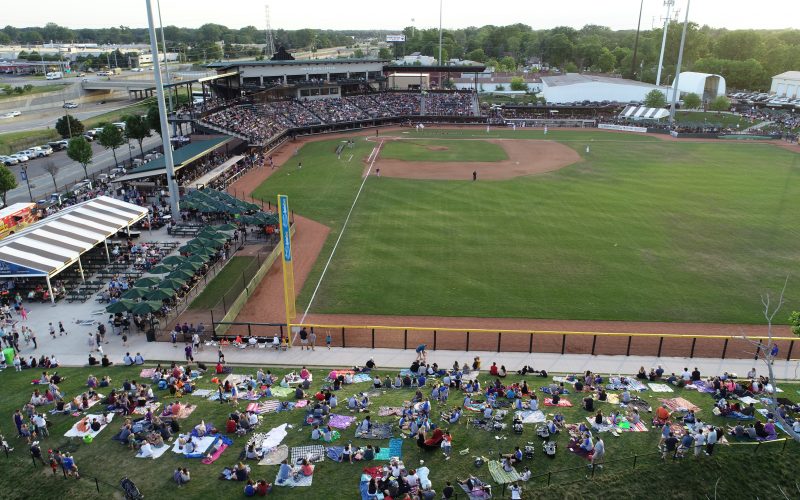 USPBL Reaches New Heights in 2018
October 2nd, 2018
ROCHESTER, Mich. – The United Shore Professional Baseball League completed its third season of competition, setting attendance records, producing five players that signed with Major League Baseball organizations, welcomed a lovable bat dog, JJ The Field General, USPBL Dance Crews and added a Speed Pitch Machine to the Kids Zone Area. The USPBL was also featured on ESPN3 for the first time in league history and 61 of 75 games were sold out.
The league also had nearly 50,000 students that enrolled in the USPBL Reading Program, and served over 1,000 charities and non-profits that were able to leverage the ballpark to raise funds for their causes during the course of the season, and company picnics and group outings also approached the 1,000 mark at Jimmy John's Field. The ballpark was selected by Stadium Journey as the second-best independent stadium in America to attend in 2018.
The USPBL Kids Club significantly increased this past season, which included a MVP Club that provided free tickets to games and discounts on merchandise.
Here is a look at the 2018 season by the numbers:
2 – Plays that were featured on ESPN SportsCenter's Top 10 Plays; Westside Woolly Mammoths Drew Kitson and Utica Unicorns Carter Grote
5 – Number of players that signed with MLB organizations; Number of games that set single-game attendance records at Jimmy John's Field
10 – Games featured on ESPN3 this season
25 – Overall number of players signed with MLB organizations
61 – Sell outs this season
102 – All-time USPBL fastball record set by Utica Unicorns Chris Dula
1,000 – Nearly 1,000 groups held outings at the ballpark – from companies to churches to little league teams to non-profits holding fundraisers to high school marching bands and sports teams
4,499 – New single-game attendance record at Jimmy John's Field
45,739 – Reading Program members that encourage children to read and earn free tickets to a game for hitting a grand slam
#YourSummerDestination