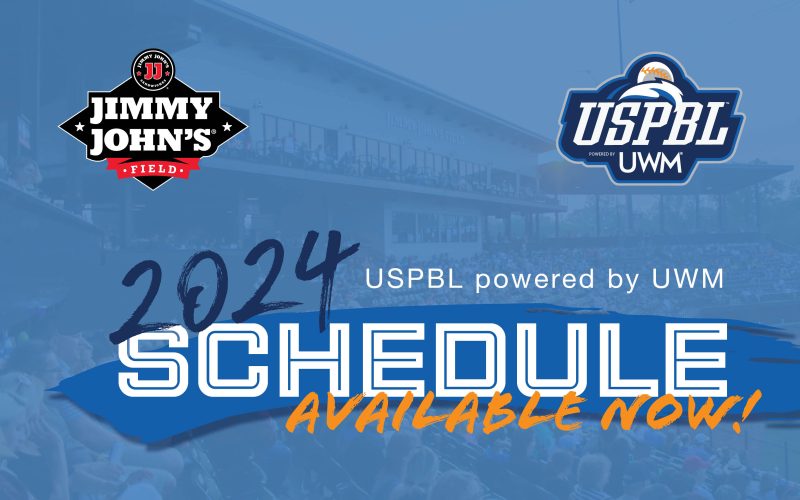 USPBL Announces 2024 Schedule
October 30th, 2023
ROCHESTER, Mich. – The United Shore Professional Baseball League (USPBL powered by UWM) released its 2024 schedule, announced by the league office on Monday. The 70-game schedule will run from May 17 through Sept. 7 at Jimmy John's Field in historic downtown Utica, Mich.
"We are very excited about our 2024 schedule," said Owner and CEO Andy Appleby. "Each year we play only during the best months of weather that Michigan has to offer, and with almost all of our games on the weekends. And when you combine that with our wonderful ballpark and terrific promotions, it is an experience you can't afford to miss."
The 2023 USPBL champion Utica Unicorns will face the Westside Woolly Mammoths on opening day, Friday, May 17, in a rematch of last year's championship game. First pitch is scheduled for 7:05 p.m.
This year's Home Run Derby and All-Star Game will take place on Friday, July 5, beginning at 6:15 p.m., with a Fireworks Spectacular show following. Championship Weekend will again start on a Thursday. The no. 4 and no. 3 seeded teams will battle in a single elimination game format in playoff game one on Thursday, Sept. 5 and the Championship Game will be Saturday, Sept. 7. All three playoff games will begin at 6:30 p.m.
"We just finished one of our best seasons yet. All the things people love about our games will be back – kids run the bases, fireworks, our beloved bat dog, JJ the Field General, and great promotions every night," said Appleby.
In 2023, five USPBL players were signed to contracts by MLB Organizations, bringing the total number of USPBL players signed to MLB contracts to 51 since the league was launched in 2016. This year there were also two more USPBL alums who played on MLB rosters – former Birmingham Bloomfield Beaver Randy Wynne with the Cincinnati Reds and Joey Wiemer with the Milwaukee Brewers. That brings the total number of former USPBL players who have made it to the majors to five!
All USPBL games can be watched live at Jimmy John's Field, 7171 Auburn Road, Utica, Mich., or on the USPBL Network, which streams on Facebook and YouTube.
2024 season tickets, suites, and group outings are on sale now. For more information, visit uspbl.com or call 248-601-2400.