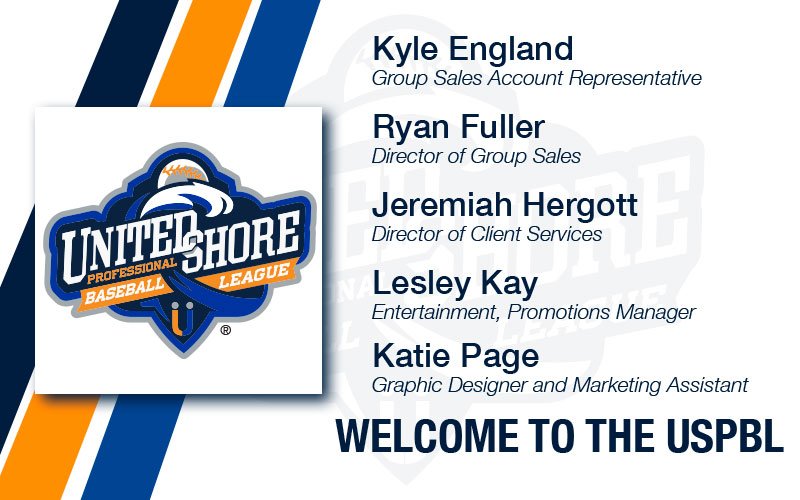 USPBL Adds New Staff for the 2018 Season
February 7th, 2018
ROCHESTER, Mich. – The United Shore Professional Baseball League announced the addition of Kyle England, Ryan Fuller, Jeremiah Hergott, Lesley Kay and Katie Page to its staff on Wednesday. Entering its third season, the USPBL has four teams (Birmingham Bloomfield Beavers, Eastside Diamond Hoppers, Utica Unicorns, Westside Woolly Mammoths) that play out of Jimmy John's Field in Utica, Mich., and will host the season opener on Friday, May 11.
"We are very excited about the high-quality additions to our staff here at the USPBL," said owner and CEO Andy Appleby. "The combination of these new folks with our current staff will help us continue to provide a premium experience at a less than premium price point for all of our fans. It is going to be a very exciting third season with some really talented players, staff, innovative promotions and a great food menu that we will be launching at Jimmy John's Field."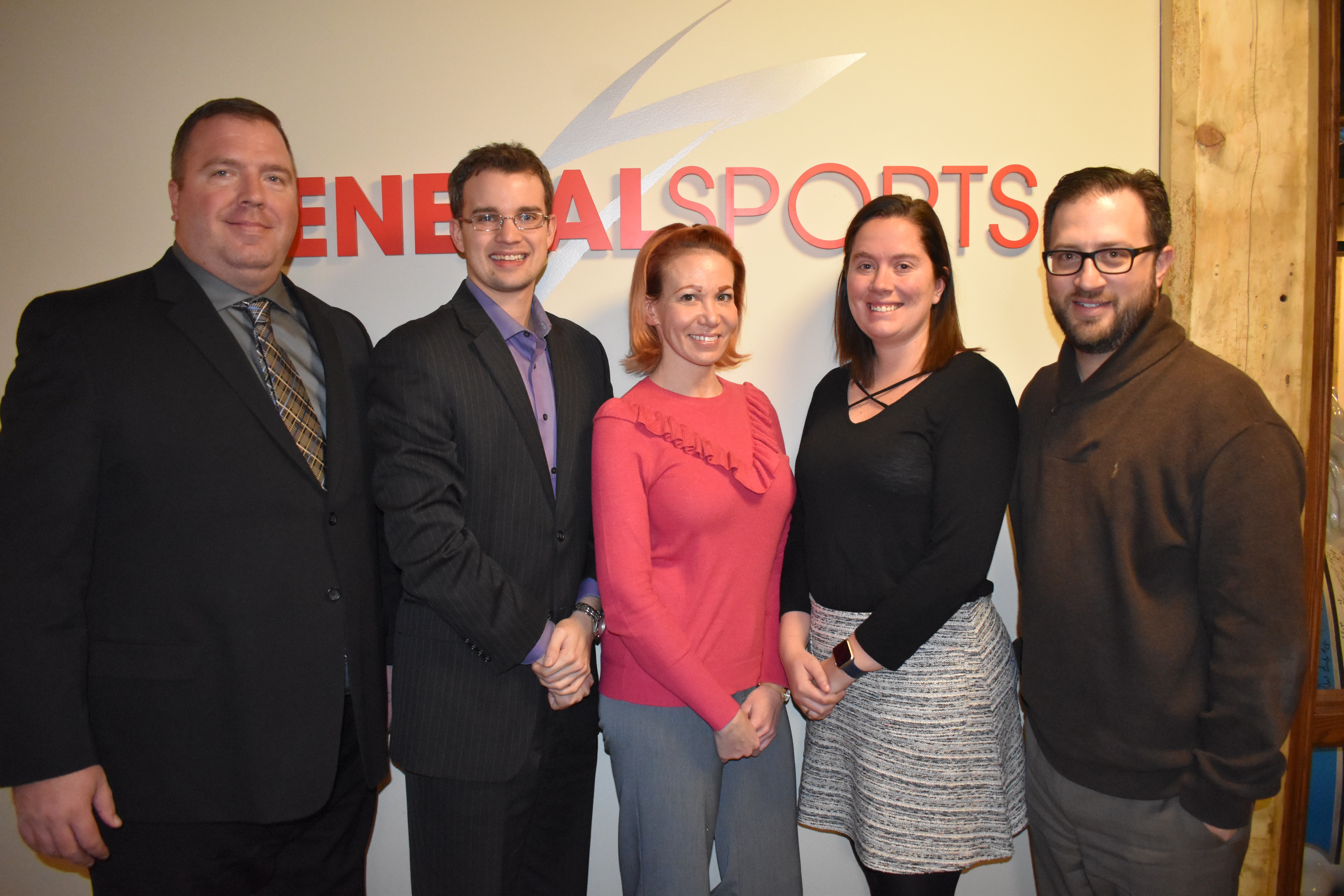 (L-R): Ryan Fuller, Kyle England, Lesley Kay, Katie Page, Jeremiah Hergott
KYLE ENGLAND, GROUP SALES ACCOUNT REPRESENTATIVE
Kyle England has previously worked for the Saginaw Spirit, Lansing Lugnuts and Great Lakes Loons. He recently served as a sales consultant for The Aspire Group Inc. over the last two years, working with the University of Toledo. England graduated from Central Michigan University with a bachelor's degree in sports management in 2013 and earned a master's degree in sports administration in 2015.
RYAN FULLER, DIRECTOR OF GROUP SALES
Ryan Fuller brings 10 years of experience reacting quickly to the changing needs of the customer while improving each step of the sales cycle. He has previously worked for Oakland University Athletics, Acclaim Entertainment, Dell Computers, Dun & Bradstreet and the University of Texas. He played collegiate baseball at St. Andrews University (1996-98) and Monroe Community College (1994-96), and was drafted by the Chicago Cubs in the 1994 MLB Draft. Fuller earned a bachelor's degree in business administration at St. Andrews in 1998.
JEREMIAH HERGOTT, DIRECTOR OF CLIENT SERVICES
Hergott spent the last six years working intercollegiate athletics at the University of Detroit Mercy, responsible for brand, marketing, promotions and corporate sponsorships. Prior to working at Detroit Mercy, Hergott served as the Director of Athletic Communications at Colgate University for a total of four years and spent one year working at the University of Michigan in the athletic communications office. He earned a master's degree in sport and athletic administration from Gonzaga University in 2015. Hergott attended Ferris State University, graduating in 2007 with a bachelor's degree in public relations.
LESLEY KAY, ENTERTAINMENT AND PROMOTIONS MANAGER
Lesley Kay has been instructing dance for over 25 years. She was the Head Choreographer on Walt Disney Picture's "Oz The Great and Powerful." Kay was formally a member of the Detroit Piston's Dance Team, Detroit Lion's On-Field Promotions Team, Head Choreographer of the Detroit Lions Thanksgiving Halftime Show, Director of The Detroit Dolls Dancers, Dance Professor at Oakland University and choreographed commercials in L.A./Las Vegas for Little Caesars. She currently teaches dance at Detroit Country Day School, several dance studios and musical theater groups in metro Detroit, plus Valley Dance Theater in Staunton Virginia.
KATIE PAGE, GRAPHICS DESIGNER AND MARKETING ASSISTANT
Katie Page joins the USPBL after spending the last three years working at Oakland University. Page assisted with all marketing duties for the Golden Grizzlies and served as the Graphics Coordinator for the last year-and-a-half. She was instrumental in the creation of Infographics for all game recaps, and ran in-game promotions for baseball, men's basketball, women's basketball, men's and women's soccer, softball and volleyball.
ABOUT THE UNITED SHORE PROFESSIONAL BASEBALL LEAGUE
Rochester, Michigan-based General Sports and Entertainment founded the United Shore Professional Baseball League (USPBL), an independent professional baseball league in metro Detroit in 2015. The league plays in the new state-of-the-art $17 million dollar ballpark named Jimmy John's Field, located in downtown Utica, Mich. The first of its kind for the region, the USPBL provides a fun and exciting family atmosphere while showcasing top baseball talent from across the country and world to fans of all ages. The USPBL currently features four teams – the Utica Unicorns, Eastside Diamond Hoppers, Birmingham Bloomfield Beavers and Westside Woolly Mammoths. The USPBL's 2018 baseball season will begin May 11 and will run through Sept. 9. Additional teams and ballparks will be added in future years.
#USPBL